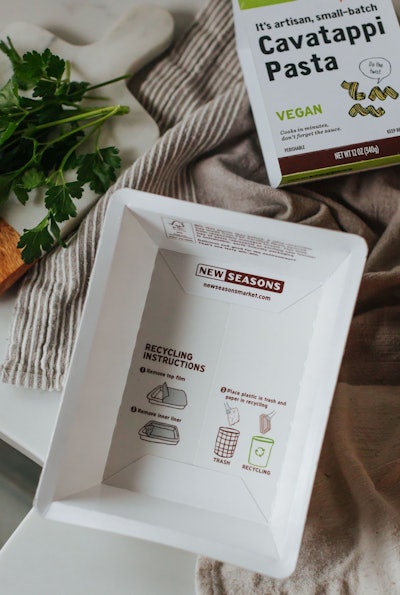 New Seasons Market, a neighborhood grocery chain with 18 stores in the Pacific Northwest offering a mix of locally sourced and organic items, classic grocery favorites, and chef-made grab-and-go meal solutions, aims to be the sustainability leader in what it says is one of the most climate-friendly communities in the nation, while influencing sustainability practices within its industry at a national scale. Says New Seasons, "We integrate sustainability into all elements of our business with objectives rooted in three impact areas: preventing food waste, reducing single-use packaging, and mitigating climate change."
Earlier this year, the grocer unveiled a change to its pasta packaging 12 months in the making that unquestionably affects all three areas. In April 2022, it switched from a plastic clamshell for its Partner Brand Fresh Pasta to a modified atmosphere package (MAP) comprising a recyclable paper tray with a film liner and film lid that eliminates 120,000 plastic packs per year and increases the pasta's shelf life by 11 days, if not longer. With this introduction, New Seasons became the first company in the U.S. to deploy Graphic Packaging International's PaperSeal tray, a collaboration between GPI and tray-sealing equipment company G. Mondini.
---
---
"Single-use packaging is a considerable concern for our customers, and we get comments daily about our plans to find packaging solutions other than plastic," shares Chris Tjersland, Director of Brand Development for New Seasons Market. "We connected with a local rep for Graphic Packaging, and he talked about a MAP tray they have created that has become a gold standard in Europe for fresh food packaging, and we liked the fact it would be 91% less plastic than we were using currently."
The PaperSeal tray is constructed of Forest Stewardship Council-certified fibers and is made from a flat, precut paperboard formed on a G. Mondini machine that also applies a thin barrier-film layer in one step. New Seasons is using a 205 x 160 x 51.76-mm tray made from 605-micron virgin board onto which is applied a 100-mm polyethylene film liner that can be easily removed by the consumer after use to allow for recycling of the tray. GPI offset-prints the paperboard and forms and lines the trays, which are sent in a nested format to New Season's partners, local pasta producers Classic Foods and Rallenti Pasta, for MAP packing.
Shares Tjersland, New Seasons repurposed two MAP machines from its commissary kitchen and donated them to Classic Foods for the project. It also supported them with additional funding to purchase the correct sealing heads for each machine. For its gluten-free line of pasta, it provided funding to Rallenti to acquire a MAP machine, as the program was exclusive to the New Seasons' pasta brand.
---
---
Among the sustainability benefits of the new package for New Seasons' pasta products are its significant reduction of plastic and the ability of the tray to be recycled through existing curbside collection programs when the liner is removed. Another is its effect on food waste, given that the MAP format extends the shelf life of the pasta product. "With our existing packaging, we got a 10-day shelf life," explains Tjersland. "With the PaperSeal tray, our goal is 21 days and possibly beyond as we learn to refine production. This additional shelf life significantly impacts potential waste in our stores."
"We expect an increase in sales as customers become accustomed to the new packaging and see our commitment to sustainability," he adds. "The trays merchandise easily, and we have increased holding power on the shelf."
At press time, New Seasons had just finished rolling out its core group of products in the PaperSeal tray and shared that it would be adding new items at the end of the second quarter, for a total of 20 items in the new trays when the project is complete. "To my knowledge, we've received positive comments from customers on social media and no complaints or negative feedback," concludes Tjersland. "It's been a win so far."
Companies in this article