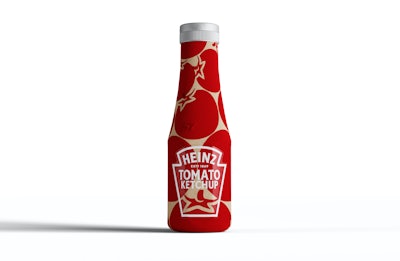 Kraft Heinz announced in May that it's teaming up with Pulpex to develop a paper-based, renewable, and recyclable bottle for its ketchup. While it's not the first Consumer Packaged Goods brand to explore the use of Pulpex paper bottles—Diageo, PepsiCo, Unilever, and Estée Lauder, among others are already exploring the technology—Heinz is the first sauce brand to test the potential of the bottle for condiments.
Says Rashida La Lande, EVP & Global General Counsel and Chief Sustainability and Corporate Affairs Officer at The Kraft Heinz Company, "We hope to bring this bottle to market and to be the first sauce brand to provide consumers this choice in their purchasing decisions, as many consumers today are looking for more sustainable packaging options."

Notes the company, its collaboration with Pulpex is the latest step in its journey to reduce its environmental footprint. The new packaging is expected to help advance the company's sustainable packaging ambitions as it aligns with Kraft Heinz's goal to make all packaging globally recyclable, reusable, or compostable by 2025. It is also an innovation the company says will help it to achieve net-zero greenhouse gas emissions by 2050.
---
---
"Partners like Pulpex are critical to achieving our goals," explains Jonah Smith, Global Head of ESG at The Kraft Heinz Company. "We're confident in the sustainability performance of Pulpex bottles; they're made with sustainably sourced pulp from 100% renewable feedstocks and FSC- [Forest Stewardship Council-] certified, responsibly managed forests. The Heinz Pulpex bottles are made with proprietary, food-grade coatings that are compatible with the product inside the bottle. All coatings are PET-, HDPE-, and BPA-free. Working with collaborators like Pulpex helps us reduce our overall environmental footprint."
Unlike some other paper bottle technologies currently on the market that use a plastic bladder or liner to provide a barrier, Pulpex bottles are sprayed on the inside with a proprietary food-grade coating, customized to handle either oil- or aqueous-based products. This means the bottle is curbside-recyclable with no new recycling infrastructure required. According to the company, its patented bottle technology also allows the packaging to be easily incorporated into any packaging manufacturer's current filling operations.
In addition to its use of sustainably sourced feedstocks and its ability to be recycled, Smith says another advantage of the paper bottle that drove Kraft Heinz's interest in the technology is its lower carbon footprint versus traditional packaging materials—90% less than glass and 30% less than PET—on a bottle-to-bottle basis.
---
---
Heinz and Pulpex are currently developing a prototype to test how the technology could be used for the Heinz Tomato Ketchup bottle and other packaging formats in years to come. Given that the bottle is still in the early stages of development, Smith reports that Heinz is unable to announce a launch date for the new packaging. "Developing a whole new packaging format is a long and complicated process, and we need to ensure that the new product packaging is as safe and convenient as our other formats, and that the product retains its famous great taste, too," he says.
For Pulpex's part, it's in the midst of scaling up its capabilities, with high-speed production lines scheduled to be mass producing the bottles by the end of 2022. The company's goal is to be able to produce over 750 million bottles per year for an array of global brands by 2025.
Says Pulpex CEO Scott Winston, "We are delighted to work with Heinz to bring our patented packaging technology to such a famous name in food and are excited about the potential of this collaboration. We believe that the scope for paper-based packaging is huge, and when global household names like Heinz embrace this type of innovative technology, it's good news for everyone—consumers and the planet."
Companies in this article