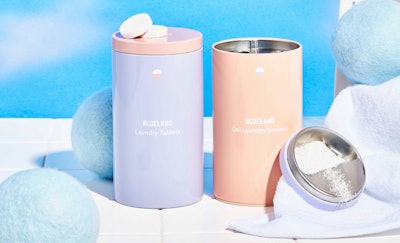 Called by eco-friendly, sustainable e-commerce household cleaning brand Blueland the "must-have laundry companion for everyone looking to eliminate single-use plastic from their laundry routine," the company's new Oxi Laundry Booster and Dryer Balls duo employs packaging that is recyclable, compostable, or both. And, when paired with its reusable Forever Tin, its laundry booster powder ticks all the eco-friendly boxes.
---
---
The new products, launched in mid-August 2021, expands on Blueland's Laundry Starter Set, which comprises 40 laundry tablets, packaged in a compostable pouch, along with one steel Forever Tin that can be used to store the "naked" tablets, protecting them from moisture and humidity. Following receipt of the first Starter Set, refills are available in the pouch.
Unlike many better-for-you and better-for-the-planet brands, Blueland was created to address household cleaning product packaging first, with its eco-friendly, clean-ingredient products formulated to support that mission—versus product first, packaging often an afterthought.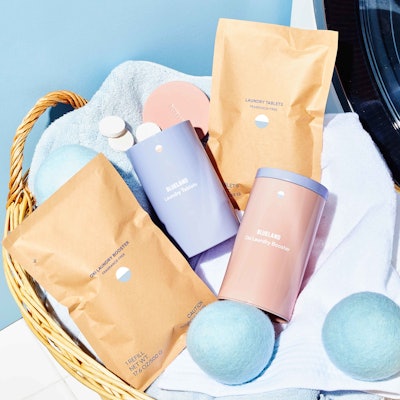 Explains founder and CEO Sarah Paiji Yoo, "My journey to use single-use plastic began when I became a new mom. I was horrified to learn that all the plastic I was throwing away was contaminating our water supply and generating hundreds of microplastics in the water and food I was feeding my baby. I wanted to do my part to help, but it was impossible to find household products like window cleaner, lotion, and toothpaste that didn't come packaged in plastic. From there, Blueland was born."
In its mission to create more sustainable packaging, Blueland is not only eliminating single-use packaging, but also reducing the amount of packaging needed, by formulating its products without water. As noted, its laundry detergent comes in a tablet form, the laundry booster, in a powder.
---
---
Says Paiji Yoo, all ingredients in Blueland's products are "safe for your family and the planet." The fragrance-free Oxi Laundry Booster is Leaping Bunny certified, meaning it is non-animal tested, and is made without phosphates, parabens, chlorine bleach, dyes, or petroleum-based chemicals. Its Dryer Balls, designed as a low-waste alternative to single-use dryer sheets, are made from 100% New Zealand wool and can be reused up to 1,000 times.
As with the Laundry Starter Set, the laundry booster powder comes in a compostable three-layer pouch constructed of stain-resistant paper, metallized cellophane, and compostable film. All layers are made from compostable materials in accordance with EN13432 and ASTM D6400/ASTM D6866 standards. Explains Paiji Yoo, "To ensure proper performance, our team has worked closely with our supplier [proprietary] to do extensive testing to ensure the packaging can withstand even the most extreme conditions without any damage to the product inside the pouch."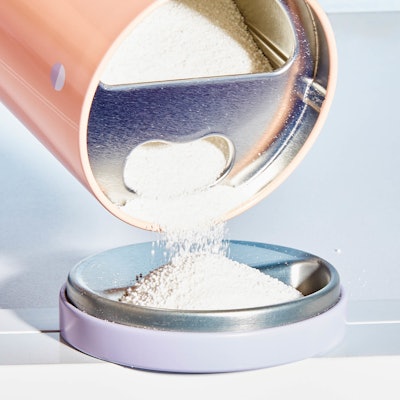 The product starter set comes with a 17.64-oz-capacity cylindrical steel Forever Tin that holds 500 g of the powdered product, or one pouch-full. The container lid is designed to help consumers portion out the right amount of powder; one capful is enough for one full load of laundry. The tin, like the one for the laundry detergent tablets, is decorated in a soothing, solid pastel color that matches the brand's aesthetics.
From start to finish, says Paiji Yoo, Blueland's packaging design is led by the company's internal product development team. "Where relevant, we bring in experts in industrial design, engineering, and manufacturing to make sure our product is not only beautiful, but also easy to use and manufacturable," she adds.
The pouch and tin are shipped in a recyclable, corrugated case, as are the dryer balls, which require no additional packaging.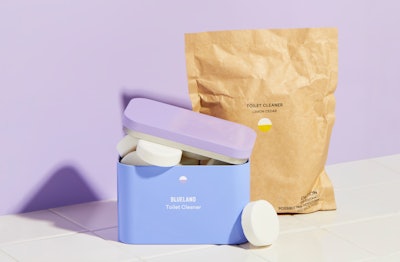 Since the launch of its new laundry products, Blueland has added another plastic-free option in the household cleaning category: a toilet bowl cleaner in tablet form that acts like "a bath bomb for your toilet." The new, mild-formula product, in a Lemon Cedar scent, uses the same successful packaging strategy as its laundry products, with a compostable pouch and an oblong steel container, perfect for the toilet top, that holds 14 tablets.
Blueland's Oxi Laundry Booster Starter Set is available for $18; refills are $12 per pouch. The Dryer Ball Starter set, which comes in a set of three, is also $18. The toilet cleaner starter set is $20, with a 14-tablet refill pouch priced at $14.
According to Blueland's website—which tracks the company's environmental impact in real-time—at presstime, it had diverted more than 1.9 billion single-use plastic bottles from landfills and oceans since its launch in 2019.