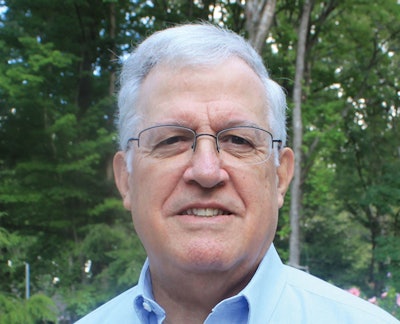 Small numbers. To almost no one's surprise, action to keep global warming from rising 1.5º C (2.7º F) above pre-industrial levels failed to materialize at COP26, the United Nations Climate Conference in November.
Marine packaging waste wasn't part of the COP26 agenda, although bulging black plastic bags, overflowing dumpsters, and mounds of trash from an eight-day garbage collectors' strike in Glasgow, Scotland where the meeting was held reminded delegates that post-consumer waste and rising sea levels are aspects of the global warming problem that scientists say are triggering "worsening storms, wildfires, droughts, and sea-level rise."
"We must end fossil fuel subsidies, phase out coal, put a price on carbon, protect vulnerable communities from the impacts of climate change and make good on the $100 billion climate finance commitment to support developing countries," said UN Secretary General Antonio Guterres at the conclusion of the conference. "We did not achieve these goals at this conference, but we have some building blocks for progress."
Big numbers. When I was a kid, "a mile-a-minute" was very fast. One million was higher than I could count. I knew a gazillion wasn't a real number, and I wasn't sure about a trillion, either, although I was told it was an immense amount. Living in Tokyo, Japan, the closest connection I had to recycling was a small fleet of toy cars made out of used soft drink and beer cans. Wish I'd kept them, but I wrecked most of them on the living room mat a week or so after I got them.
Today, plastic packaging and marine waste are what some people think of when they hear a number in the millions. No one knows exactly how much plastic marine waste there is, but it's estimated that 8 million metric tons (more than 17 billion pounds) of the stuff is released into the oceans every year. It makes up 80% of all marine debris, according to the folks who make those estimates.
More big numbers. A study in 2016 found that the U.S. was the largest producer of plastic waste worldwide, creating 42 million metric tons of plastic waste out of an estimated total of 321 million metric tons. The study, entitled "The United States' contribution of plastic waste to land and ocean," published in the October 2020 issue of ScienceAdvances, notes that the U.S. was "the third largest contributor to mismanaged plastic waste with as much as 1.45 million metric tons of plastic debris estimated to have entered the coastal environment from the United States."
Biggest packaging number. I used "quintillion" in this publication in 2012 (click this link to read the article) when reporting on a unique glass bottle decorating technique that enabled Absolut Vodka and Ardagh, their development partner, to offer up to 94 quintillion "one-off" bottle designs, each individually numbered. I still have numbers 231 187 and 798 690.
Reduce. Walk through any Costco, Sam's, or BJ's Wholesale outlet and it becomes immediately evident why they're called "big box stores." They're full of them! Shelved and racked and palleted; contents held snugly by vinyl shrink bands, bags-in-boxes, bliss boxes, and "dog bone" handles in two-, three-, and multipack configurations. We don't know if this is a fact, but the big box stores around here seem to have the lowest package-to-contained-product ratios of any retail trade class. In a market that's transitioning to e-comm, their package-to-product ratios are something that are worth emulating.
Eliminate supply chain numbers. Speaking of e-commerce, Amazon, which has been pushing to reduce packaging through its Frustration-Free Packaging (FFP), Amazon Standard Identification Number (ASIN), and Ship in Own Container (SIOC) certification initiatives, is now looking to further streamline its packaging supply chain by buying a minority stake in CMC Machinery, an Italian firm based near Perugia that makes customized (sized-to-product) shippers that reduce or eliminate the need for plastic void packaging in ecommerce shippers. By bringing CMC in-house, Amazon will have better control over its fulfillment operations while potentially reducing supply chain friction for its shipping boxes. CMC claims its technology can save customers up to 40% on the cost of shippers.
Eliminate sizes. Small numbers can have a big impact on sustainability. Bottled water provides a good example. In Northeast Ohio where our family lives and shops, popular drinking water brands are commonly available in 8-, 10-, 12-, and 20-oz PET bottles topped with 28 mm continuous thread screw closures with shallow skirts. Here's a radical thought: why not eliminate the 8- and perhaps the 10-ounce bottles and sell water only in the larger bottles in the range? While you're at it, why not switch to larger-diameter closures? These small packaging changes would make opening and drinking from single-serve containers—not to mention blow molding, filling, capping, labeling, and case packing them—a lot easier while having big carbon reduction footprint advantages over smaller packages. Eliminating the smallest in a 3- or more member family of bottle sizes poses some intriguing sustainability possibilities. Agree? Disagree? Let me know.
Collaborate. Many innovative and important packaging advances are outputs of joint ventures. Two-piece metal cans, thermoformable paper, barrier rigid and flexible plastics, form/fill/seal machinery, aseptic packaging, standup pouches, the 100% plant-based polyester bottle—all resulted from ventures that reached beyond the boundaries of a single individual or corporation. These innovations were the brainchildren of teams of inventive men and women.
To skeptics, supporters, and critics of the men and women who participated in COP26, U.S. Climate Envoy John Kerry said the Glasgow climate pact, "although imperfect," brought the world "closer than we have ever been before to avoiding climate chaos and securing cleaner air, safer water and a healthier planet… Thanks to the work here in Glasgow, the goals we are setting ourselves are much, much closer. As we leave Glasgow, our code words are going to be implementation, follow-up, and follow-through."

---
Ben Miyares, Packaging Sherpa, is a packaging market and technology analyst and is president of The Packaging Management Institute, Inc. He can be reached at bmiyares@packmgmt.org.