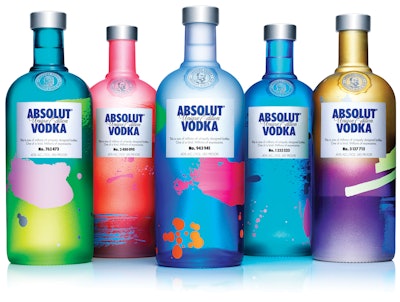 Bottle decorating is approaching a tipping point.

Sometime next year we expect to see more in-market evidence that direct bottle decorating will challenge—and may ultimately replace—full-body shrink sleeves.

Hints of this coming deco-revolution were evident at Pack Expo 2012. Hartness International, for one, was showing a bottle of Lips of Faith ale from New Belgium Brewing that is screen printed with UV Hartness Ink. The Hartness process runs faster and uses less energy than a traditional applied ceramic labeling (ACL) line. To us, the resulting Lips of Faith label had a higher def quality than an ACL screen. Elsewhere at the show, at least two other exhibitors were holding private discussions about their direct-to-plastic bottle decorating initiatives. And a quick check of recent patent activity suggests interest in direct bottle decorating is definitely being stirred.

"Shaken, not stirred" is how some elements of the labeling industry are reacting to the dramatic global rollout of a limited (four-million bottle) run of "one of a kind" Absolut Unique vodka bottles, each having a different color coating and pattern as well as its own unique label number. "We developed a computerized valve and control system to automatically and continually change colors and spray patterns on the bottles," says Fredrik Källqvist, development manager Glass Sweden & Denmark at Ardagh Group, producer and decorator of the bottles.

Eric Näf, Absolut's director of packaging development, tells us that at Ardagh's Limmared, Sweden plant, flint glass 700-mL, 750-mL and 1-L bottles are conveyed through a gauntlet of computer-controlled printers: three color feeds connected to 7 spray heads stacked to apply top-, upper-, lower- and bottom-of-the-bottle base coats, plus a final "loose cannon" station spraying a constantly changing mix of translucent and opaque inks from Ernst Diegel GmbH.

Bottles then move to a screen printer from Fermac, s.r.l. where, using inks from Ferro Corp., a variety of anamorphic designs is added. Absolut's website offers a general description of the operation: "Splash guns and color-generating machines were set up and complex coating, pattern, and placement algorithms were programmed in to ensure that no two bottles would be alike. Thirty-eight different colors were used, and 51 pattern types were applied to the bottles. A striking look was achieved by color contrasts and a white, matte paper label that features each bottle's unique number." Absolut's printing algorithm is unfathomably capable of producing 94 quintillion (that's 94 with 18 zeros) distinctly decorated bottles—no two alike. This YouTube video gives you a peek at the line, and some of the thinking behind it: http://youtu.be/toHQCrb4a38.

Been there, more or less done that (a long time ago).

The idea of variously coloring glass bottles was famously achieved 50 years ago for Lestoil household cleaner as a limited edition promotional item. As I remember it, the limited edition glass bottles were produced by Alfred Glass, a unit of Alfred University in upstate New York.

Molded to resemble colonial glass whiskey flasks, the bottles were blown from gobs that oozed out of a single tank to which amber, blue, green and purple colorants were added without purging the tank. The result was a seemingly infinite array of bottle colors on the shelf.

To this day, the Lestoil colonial bottles, faux antiques though they are, can be found on eBay and shops selling collectibles.

For Absolut, the launch of four million uniquely decorated bottles has set collectors clamoring for the rarest five digit-and-below Unique bottles. And the launch is adding new urgency to a number of bottle decorating developments expected to see market light in the next year or so.
About the author: Ben Miyares, Packaging Sherpa, is a packaging market and technology analyst and is president of The Packaging Management Institute, Inc. He can be reached at bmiyares@packmgmt.org.