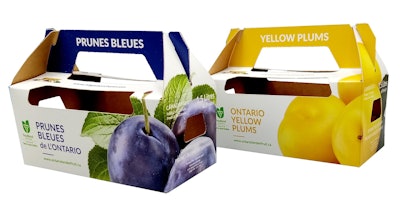 "We tried a similar paper package about 10 years ago, but it just didn't hold up," says Sales Manager Spenser Greenfield. "But now with so many retailers and consumers trying to move away from single-use plastic packaging, we wanted to sit down with WestRock to figure out how to make it work, and WestRock had a lot of good ideas."
The WestRock auto-erect carriers are part of WestRock's EverGrow™ Fiber-Based Produce Packaging Collection. The formats used by Niagara include 1.5-, 2-, 3-, or 5-L sizes. They're made of 24-pt Coated Natural Kraft and are printed by WestRock in six colors. Niagara has used them for plums, pears, nectarines, peaches, and grapes. Growers order the paperboard carriers from Niagara, which then ships them out as knocked-down flat blanks in 200-count corrugated shippers. Operators in packing sheds open and fill each carrier and then put 10 carriers into a master corrugated shipper for distribution into retail channels.
For another look at an innovative application of paperboard packaging, go here
Greenfield acknowledges that until Niagara increases the number of these paperboard carriers it uses, they do cost a little more than the PET thermoforms they replace. But he expects the cost to be closer to parity once volumes increase. In the meantime, he says consumers like the new format. And Niagara likes the way that the high-impact graphics showcase the fruit in-store.
Companies in this article