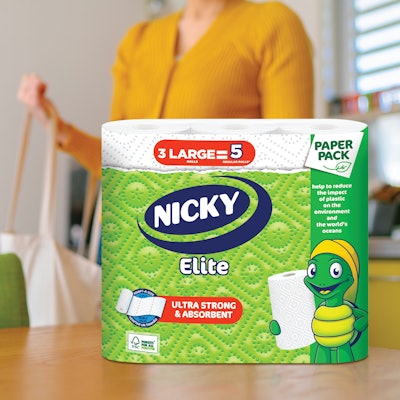 The fifth largest producer of tissue paper in the world, Sofidel in 2012 expanded beyond its established 13-country European footprint to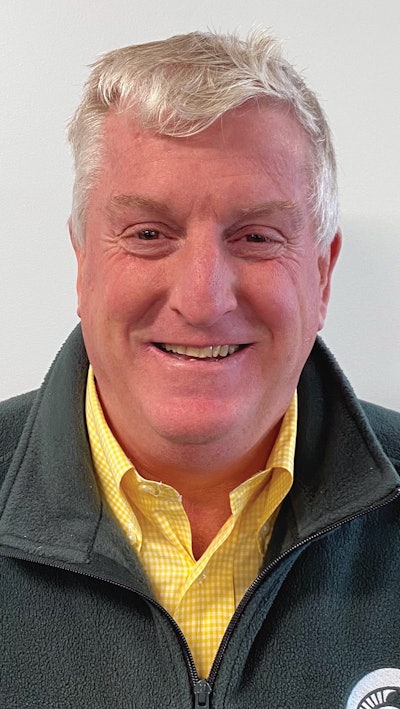 enter the American market. Packaging World sat down (via Zoom) with Derek Dafoe, a Sofidel Executive Vice President of Sales & Marketing, to learn more about their new own-brand, Nicky, that has a unique paper packaging format that could disrupt the tissue aisle at U.S. retailers.
Packaging World:
What Sofidel's current U.S. footprint look like?
Derek Dafoe:
We came into the U.S. in 2012 with an acquisition of a more B2B-side mill called Cellynne Paper in Haines City, Fla. We've since added three converting locations, and we've added two state-of-the-art, greenfield integrated paper mills. One is in Circleville, Ohio, the other in Inola, Okla. We're in Oklahoma, Ohio, and Florida making paper, then converting paper into finished goods. Also, we're in Las Vegas, Nev., Green Bay, Wis., and Hattiesburg, Miss. converting parent rolls into end consumer products.
Our business in the United States is roughly 70% retail private label—so the Walmarts or the Krogers of the world. Then roughly 25% is the away-from-home B2B side [institutional], including janitorial and sanitation. What's left are mixed accounts, where we sell some jumbo reels on the open market—not a lot, but a few.
The entrance of our own brand, Nicky, is the newest piece on the consumer brand side.
Explain the genesis of Nicky, a new, own-brand complement to Sofidel's U.S. store brand portfolio.
Nicky had existed in Europe before it came to the U.S. It does have a portfolio of products in poly-based packaging, and they launched into this new paper pack slightly before us. Nicky is not a traditional big brand play. It's what we would call a B-brand in Europe, and it tends to be something that we do in smaller markets with smaller customers. In the United States, though, Nicky has never existed until now. The Nicky paper packs you see pictured on these pages is the first time we're even seeing Nicky in the U.S. market. So we're taking that brand that already existed, but making it more North American-friendly. Here, it's focused specifically on sustainability, and specifically on the innovation around the product and the paper packaging format we're using. That's the groundbreaking difference here.
Then give us the genesis of the new paper pack.
Most of Nicky's legacy packaging was the standard poly-pack that you see when you're dealing with standard consumer products—Charmin, Bounty, or other big national brands. But the real impetus to go to a paper pack was that Sofidel has a commitment around reducing plastic from its production by 50% by 2030, compared to 2013. One thing that's a little different about Sofidel comes from our founders Giuseppe Lazzareschi and Emi Stefani—it's a privately owned company. They're honestly looking out for the future of the planet. It's not so much about just making a product to meet a need, as much as it's about making a product both to meet a need and also do something that's giving back.
The fact that you make paper didn't directly contribute to your opting for paper packaging, then?
Some of that contributed to the decision, but it was also about changing our plastic format in a lot of our other areas. It wasn't as simple as just saying, "Hey, we make paper. Let's package the product in paper." It really started about three and a half years ago, and the initial thought from our CEO Mr. Luigi Lazzareschi was, "well, we could wrap it in paper." As it turned out, it wasn't quite that simple to accomplish. But that literally was the environmental consideration: paper makes sense, it's recyclable, we're good at it, so we should be able do it. Then, of course, we had a hard time finding a packaging supplier that could actually give it to us in a format we could use.
What were the challenges that came with launching an all-paper pack for roll-based tissue products?
Our initial tests reminded me of wrapping Christmas presents; if you wrap the paper too tight around the present, it pops around the edge, right? The result is puncture, then tear. We don't want that in a retail brand, so we had to work on that.
Then we've got to seal the paper pack at the seams. But all of our existing equipment used heat mold formers to melt what used to be plastic film together. That doesn't work so well on paper, it tends to light it on fire. So, there were a lot of developmental issues around this project. But the main impetus was that we think paper is better for the environment and we really want to move away from plastic as much we can. So instead of trying different types of plastic that might incrementally improve our sustainability profile—post-consumer resins and such—we wanted to try and go all the way to a totally different substrate and see if we could do it. That's what resonated in the paper pack.
OK, so no plastic at all? Company-wide, and in other applications I understand that Sofidel has taken measures to down-gauge plastic film thickness, for instance. But it sounds like you're saying this Nicky pack moved away from plastic entirely. Is that correct?
That's correct. Nicky is a fully paper pack. It has a limited coating of a natural adhesive barrier—only applied in certain areas—to enhance the seal-ability of the package structure. But that's not over the whole packaged product. So, the reality is we are using 100 percent kraft paper that is then printed on with adhesive as a sealing mechanism, as well inks for the usual branding and messaging. There is no plastic in the product.
What's unique about the sealing adhesive?
Save for inks, it's only coating we're putting on the package, and it doesn't affect the pack's recyclability. And from an operations standpoint, the adhesive layer allows for us to run and heat seal rolls of tissue on our existing heat-sealing equipment, with only a few retrofits, without the heat damaging the paper product. Or worse yet, starting a fire, like I mentioned earlier. This helped us avoid buying new sealing equipment for all of our lines.
Interesting that you're able to run this all-new substrate on existing equipment. But speaking of inks, how do you keep the ink from bleeding through the paper into the tissue?
While the paper itself is a standard kraft, we use a special ink substrate that resists bleeding. The best way I can describe it is that both the paper and the ink are designed together in a way that the ink doesn't permeate through the package, even when it's wet.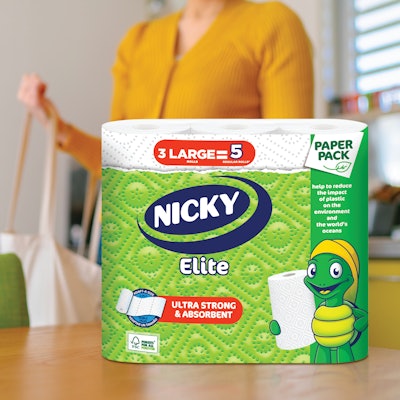 That brings me to my biggest question about the pack structure. You make tissue paper with a primary function of absorbing moisture and wetness. How does this paper pack protect against moisture?
This is the interesting part, and I realize it's counterintuitive. But in consumer products like this one, this moisture barrier piece isn't really a concern. How often do you take your toilet paper or paper towel out in the rain? And once in the home, people don't tend to put their paper towels right next to the sink, they're tucked into a cabinet or storage closet. It turned out that we didn't need to be concerned whether the package would get wet. We were more concerned that if the package got wet through any residual moisture, that the package ink wouldn't bleed through to the product itself. That's just messy, it doesn't look right, and it's the wrong feel for a product associated with sanitation and hygiene.
We've put this package through its paces without any problems. We've done drop tests, crush tests, wet tests, etc., and it's held up. Also considering all the upstream supply chain, from the pallet all the way down to the retailer, there have been no concerns about stability in corrugated cases or on a wrapped pallet. From the packaging machine, through to the warehouse, on to the truck, all the way to the retailer, we haven' had any problems.
There have to be some functional differences between the traditional poly-based pack though, correct? What tradeoffs are you making for sustainability's sake?
Compared to plastic film, paper lacks some flexibility. If you were to grab ahold of a three- or six-pack of paper towels in poly, and clasp in the open space between rolls, your thumbs would be able to stretch that poly a bit before puncturing it. Paper is certainly sooner to puncture, it doesn't have that give, and we're OK with that. There may be some increased appearance of minor damage at a retail level, and that's a tradeoff we're making. But it's not significant damage, since the thickness of the gauge of the paper is such that the pack is still structurally sound after minor punctures. It's just another example of packaging having to balance between thickness, strength, flexibility, and in this case, sometimes long fingernails!
Is the paper packaging 2-D, with a single sheet wrapping around the rolls to cover the front, sides, and back? Or is there a top and bottom element of kraft to fully enclose each pack?
It's fully enclosed, and that's where that printed adhesive comes in. We're able to crimp and heat seal a top wall and a bottom wall to the single sheet of kraft that makes up the front, back, and side wall layers. In doing so, the pack becomes fully enclosed and fully sealed. There's no ink in that joint between kraft paper sheets to distort with a seal, just the adhesive layer on the top and bottom. It bears mentioning that there's also a vertical adhesive strip on the back of the pack, where the wrapped strip of sidewall paper comes together. There is ink in that spot, proving it's possible to heat seal over ink, you just can't put a lot of intricate text or graphics in that specific spot.
As we speak, Nicky is only three months in market in the U.S. Was there any beta testing, and how's the go-to-market going?
The reality is we're kind of in our beta testing right now. We're not yet out in every retailer on the shelf. We're not positioning Nicky to go side-by-side with other national brands at every retailer you can find. Currently [Nov. 2021], we're in one key retailer in the North East (Wegman's) and we're monitoring how the product sells, how it's received, and we're working on some of our in-store communications. We're also on Amazon, so we have an Amazon store. We could reach any consumer, but we're targeting more of the Millennial and younger consumer.
It sounds like this package style might have implications for your private label and store brand customers.
That's the next piece. Yes, we're trying to establish Nicky as a North American brand for Sofidel. But more primarily, we want to introduce some innovative things to our customers in our private label world, as well. Most private labels position themselves in the context of a national brand equivalent, so they're not necessarily trying to be the leader in the market. But there are a few, Wegman's being one, that will lean out a little bit to compete with the national brands.
So, in the end, Nicky serves three purposes. First, it helps us get learnings on communication and how to connect with U.S. consumers, understand what they're doing, and establish an in-road for the future of Sofidel having a consumer-packaged brand. Two, it shows innovative, environmentally sustainable ways to develop paper and packaging. While Nicky is innovative on the packaging front and different in the U.S., the paper inside is also different—it's far more energy efficient in how it's made, and performs to the level of a national brand without using as much input energy. The third part is to test out the e-commerce messaging and see how that channel works.
This paper pack is a test-and-learn for Nicky, and we believe it has legs, but we believe the package is also something that could benefit our private label customers in the long run. We're just putting in the testing on our own brand, and we'll be able to share our learnings with our customers. -PW