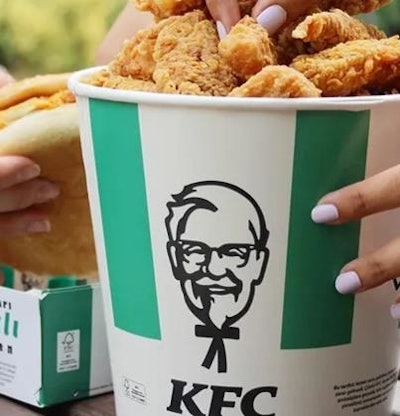 ThePackHub
Despite the shift to online purchases, packaging that get noticed continue to come to our attention. The importance of standing out on supermarket shelves or even in kitchen cupboards cannot be understated.
Also, creating an impact in the hands of consumers is important. A challenge for brands and retailers is to deliver pack finishes and decorations that meet the need to be sustainable.
Learn more about ThePackHub's Innovation Zone here.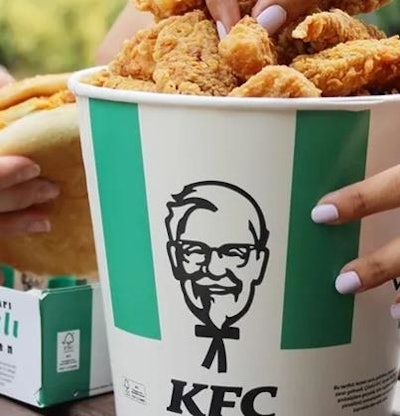 Fast Food Chain Goes Green with New Paper Pack

American fast-food company KFC has completed their switch to more sustainable packaging for the Turkey market. They are now using FSC certified paper in their packaging. Using the slogan "Kağıtları Farklı Cidden" which roughly translates to "The Papers Are Seriously Different", they are replacing the iconic red KFC logo with a limited edition green one. They will be using 950 tons of paper annually, all from controlled sources which protect the biodiversity and productivity of forests. This aligns with KFC's goal to make all plastic consumer packaging recyclable or reusable by 2025. In 2019 KFC Canada removed all plastic straws and bags, resulting in the elimination of 50 million plastic straws and 10 million bags. In 2020 they moved from plastic to bamboo for some of their containers, and estimate that they will have replaced 12 million plastic containers by the end of 2021.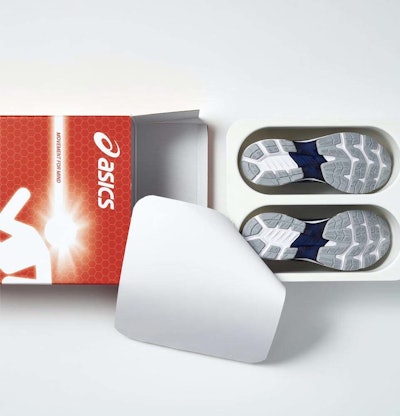 Fitness Brand uses Blister Pack to Support Health Benefits of Exercise
Japanese multinational sports equipment corporation Asics have created humorous and eye-catching packaging to cleverly associate the health benefits of exercise with that of medicine. The pack for the UK and Netherlands markets involves Asics running trainers packaged in oversized blister packs, evoking the cues commonly used in pharmaceutical packaging. The introduction of the pack signals the start of Asics' "Movement for Mind" program which hopes to get people doing exercise in support of their mental health. It is unclear about the recyclability of this initiative compared to a traditionally-used paper-based shoe box may not be as good for the environment. The pack is for a small direct marketing campaign and is unlikely to ever be a consumer-facing initiative.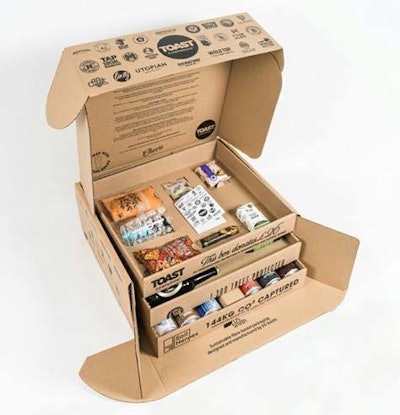 Creative Design Helps to Promote Fiber-Based Packaging
UK multinational packaging business DS Smith have used their Circular Design Metrics tool to create a fiber-based beverage container. The tool's function is to compare the circularity of packaging solutions of designs across several metrics, giving a clear and useful indication of a pack's sustainability. In this scenario, they used the tool and found a method to create a fiber-based beverage container. The pack is fully recyclable. Over two and a half thousand of these boxes will be used by beverage company Toast Ale, in collaboration with more than 20 British and Irish breweries. The box has an engaging design with various useful trays to hold the product.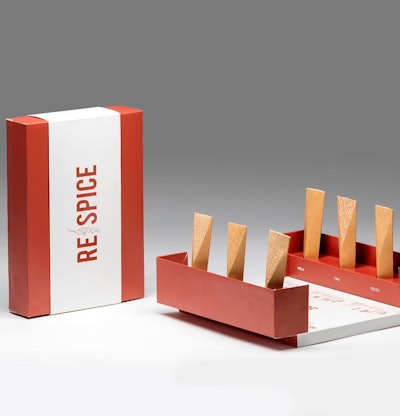 Spice Packaging Concept Delivers Premium Gourmet Experience
The winner of the 16th annual PIDA (Packaging Impact Design Awards) organized by BillerudKorsnäs has been announced. The winner has been selected from the four winners of PIDA France, PIDA Germany, PIDA Sweden and PIDA UK/USA entrants. The winning theme, 'Awaken The Senses' was won by three French design students, with their 'Respice' concept. The design was described by the judging panel as challenging today's conventional packaging, inspiring the consumer to an extraordinary gourmet experience. The exterior is considered visually appealing with a terracotta color, that could be used as an interior feature in the kitchen. When opened, sounds are created, and more information can be obtained about the spices via a QR code.

Learn more about ThePackHub's Innovation Zone here


Companies in this article