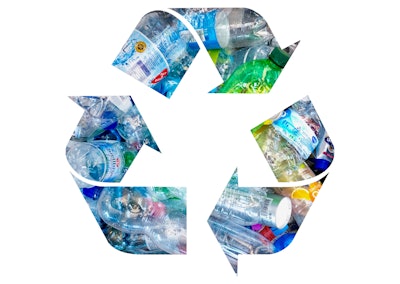 The recently released 2020 PET Recycling Report from the National Association for PET Container Resources (NAPCOR) reveals a 10% increase in end-use consumption of recycled PET in the U.S. and Canada. Says NAPCOR, this increase signals strong support of post-consumer content in brand packaging, and demonstrates the resiliency of PET's value in recycling-minded communities—even during a pandemic.
Examining the use of rPET in specific end markets, the 2020 report positions the industry at a pivotal point where Food/Beverage and Non-Food/Beverage Bottle categories grew by 32% in total, surpassing fiber for the first time as the largest end-market user of PCR PET bottles.
In addition, over the past decade, there has been a cumulative increase in rPET consumption in U.S. and Canadian markets, climbing from 1 billion pounds in 2010 to 1.8 billion pounds in 2020.
---
---
"This continued increase of postconsumer rPET usage in bottles and jars is encouraging and points to a commitment toward a circular economy by brand owners," states Tom Busard, NAPCOR Chairman, Chief Procurement Officer for Plastipak Packaging, Inc., and President of Clean Tech, Plastipak's recycling affiliate.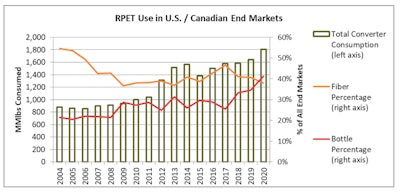 NAPCOR's analysis shows the higher market demand outpaced collection, which drove PET reclaimers to rely more heavily on imports, after depleting their existing inventory.
While demand was strong, collection of PET bottles decreased by approximately 2.3% in the U.S., which resulted in a 26.6% recycling rate for PET plastic bottles, a decrease from the 2019 rate of 27.9%. The decline in recycling rate is not surprising, given the challenges faced in 2020, including closure of redemption centers and disruption in curbside recycling due to the COVID-19 pandemic.
---
---
The 2020 North American PET recycling rate is 33.9%, which incorporates statistics from Mexico and Canada, in addition to the U.S. This is a slight drop from the 35% reported in 2019.
New in the report is an in-depth PET Thermoform Market Analysis, including PCR collection volumes of these packages, which surpassed 2019 numbers. "PET thermoforms have been a significant and growing end market over the years. By expanding our discussion and analysis of PET thermoforms, we have additional data points illustrating that thermoform-to-thermoform recycling is occurring," states Darrel Collier, NAPCOR Executive Director. "We have worked to better understand the challenges involved with recycling PET thermoforms, which still exist, and are encouraged with the work being done by our PET reclamation and thermoform industry to incorporate into packaging; thus, closing the loop."
NAPCOR continues to work to address the industry's ongoing challenges, with particular focus on methods to increase the amount of PET that gets recycled. This is the 26th year that the PET Recycling Report has been issued. The full 2020 PET Recycling Report is available for purchase on the NAPCOR website.