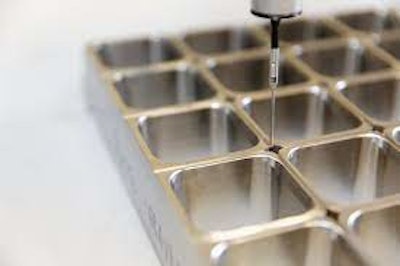 Synerlink, a Barry-Wehmiller company that specializes in form fill seal (FFS) technology, is showcasing its in-house Snapcut PET Cutting Technology, designed to cut and pre-cut PET, PP, and other recyclable and recycled plastics (PLA, rPET) at a thickness of 0.6mm for the food and dairy industries, allowing, for example, yogurt processors to reduce plastic thickness.
This technology further enables the company to use more sustainable materials and less plastics in packaging on their lines. The Snapcut technology is a custom-made cutting system, adapted to customer specifications, for fill-seal (FS) and form-fill-seal (FFS) machines.
Different configurations that the technology can work with include:
Cutting tools installation on FFS machines with a large range of cup shapes and materials.
In-line lid-cutting system integration on cup-filling machines.
In-line label cutting for conical or straight labels at very high speeds (up to 80,000 units per hour).
Brice Parker, account executive, Synerlink, said, "We developed this because a lot of our customers are starting to move to more sustainable materials with their packaging, and to be able to do this, you need to utilize a very recyclable plastic, such as PET, which is very difficult to work with. So, we have invested a lot of time and money into making a PET-cutting tool where we can qualify different plastics and different types of PET."
---
Companies in this article