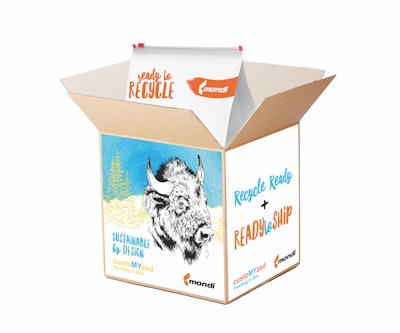 The new packages from Mondi are
• FlexiBag in Box, which supports online and omnichannel pet food marketing
• FlexiBag Recyclable, a recyclable flat-bottom bag with a zipper reclosure feature, and
• FlexiBag Recycle Handle, a recycle-ready, rolled-glue-bottom bag with an easy-to-carry handle. Each package is designed to capture consumer attention--on retail shelves or through e-commerce channels--and earn brand preference among environmentally aware end users.
Options for all FlexiBag packages include premium rotogravure and up to 10-color flexographic or ultra high-definition flexographic printing. Bags are available with clear windows, laser scores, and gussets.
One thing that makes Mondi's new FlexiBag in Box format so notable is that bag-in-box is rarely if ever seen in the pet food market. "Our qualitative and quantitative consumer research identified a consumer need for this format in the pet food sector," said William Kuecker, Mondi Consumer Flexibles Vice President of Marketing, North America. "There is a demand for a package that allows consumers to easily serve from and yet reliably reclose. This should replace the current widespread practice of pouring pet food into a bin or tub at home. The inclusion of the slider on the package was also key to consumer interest in our research."
Kuecker also noted the steady growth in pet food sold via e-commerce, where SIOC (Ships In Own Container) is all the rage. The FlexiBag in Box meets this requirement. Plus it enables brands to promote their products on both their product packages and the shipping containers in which they are delivered to end user customers.
"FlexiBag in Box is designed for the growing online and omnichannel petfood market," said Kuecker. "The SIOC-compatible box combination is based on insights gleaned from extensive consumer research. The packaging equips pet food manufacturers with a powerful branding-through-use tool that supports retailers' online marketing efforts and strengthens brand preference among end users. At the same time, it helps retailers to satisfy sustainability goals, while assuring environmentally-aware customers that the products they purchase conform to high sustainability standards."
Kuecker adds that FlexiBags are compatible with existing filling equipment currently handling large pet food side-gussetted bags, including machinery from Cetec, Thiele, General Packer, and others. As for the flexible film material, Kuecker describes it as a PE/PE monomaterial lamination developed by Mondi to be suitable for holding dry pet food in quantities up to 30 lb.
The recycle FlexiBag in Box arrangement consists of flat, rolled-glue, or pinch-bottom bags and ready-to-ship boxes. Both the bags and boxes can be custom printed with a brand's graphics, logo, and promotional and sustainability messages, as well as nutrition content information.
Moving on to Mondi's new PE FlexiBag Recyclable bags, these are available with performance reclosability features, including press-to-close and pocket zip. The entire package, including the zipper, is recyclable, said Kuecker. The packages are designed specifically to meet the shelf appeal and production efficiencies required by the pet food industry. The bags come in flat, rolled-glue, or pinch-bottom configurations. They incorporate high fat, aroma, and moisture barriers, offer good shelf stability, are 100% airtight, and are suitable for filling weights up to 44 lb. (20 kg).
As part of Mondi's EcoSolutions approach that helps customers meet their sustainability goals with new packaging solutions, the FlexiBag Recyclable is approved for the Sustainable Packaging Coalition's How2Recycle Store Drop-off Program. The How2Recycle Store Drop-off approval is product-specific, so even though this package is approved a brand will need to obtain separate approval for each product.
Last but not least, the new Flexible Recycle Handle is available in rolled-glue and pinch-bottom configurations. The handle makes FlexiBag easier to carry and pour products.
Companies in this article