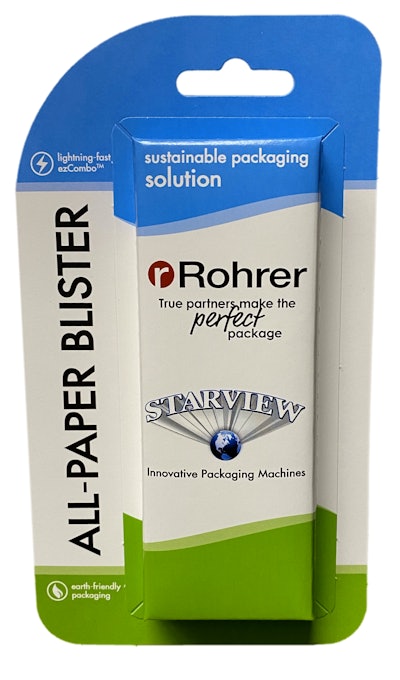 "The conversations between Rohrer and Starview have been going on for quite a while," said Sarah Carson, Head of Marketing at Rohrer. "But in the past year or two the pressure on consumer packaged goods companies to deliver on ambitious sustainable packaging goals by 2025 was increasing considerably, to the point that customer demand started to really ramp up. That included one significant customer who was so serious about the idea that it gave us a powerful business reason to invest in the R&D that it was going to take. Fortunately, we had already established a great partnership with Starview from the machinery side."
"We had both intended to actually launch this last year at PACK EXPO in Chicago," said Robert van Gilse, Director of Sales and Marketing at Starview. As we all know, COVID-19 put the kibosh on that plan. But then when customer interest in the concept grew the way that it did, says van Gilse, "We knew it was time to get really serious."
On the machinery side, a key goal throughout the development process was to come up with tooling that would make it possible for existing customers already running automated Starview blister machines to get in on the all-paper blister option by simply adding an auxiliary feeder to any one of Starview's FAB (Fully Automated Blister) Series of machines. With this tooling in place, a flat paper blister is picked from a magazine feed and, thanks to precision scoring done by Rohrer, is erected and made ready to receive whatever product the customer happens to be packaging. Then it's just a matter of applying the blister card and heat sealing card to blister.
As for the paperboard components that come from Rohrer, at the PACK EXPO booth demo the blister was a 14-point SBS and the blister card was a 20-point SBS. The virgin board is FSC-certified, notes Carson. She also says that Rohrer, a member of the Sustainable Packaging Coalition, worked with that organization to make it possible for customers to easily get permission to use the SPC's How2Recycle logo on their blister packages.
Printing, meanwhile, is done on an offset press, and both blister and card get an aqueous heat-seal coating. If customers so choose, a window can be die cut into the blister card to provide product visibility. Keep in mind that customers using this all paper blister are producers of products like kitchen gadgets or tooth brushes or pens as opposed to pharmaceutical or healthcare products where such a window would of course be out of the question.
When asked what the All-Paper Blister will cost compared to comparable alternatives, both Carson and van Gilse said there are so many supply chain variables percolating right now that it's difficult to say.
Companies in this article