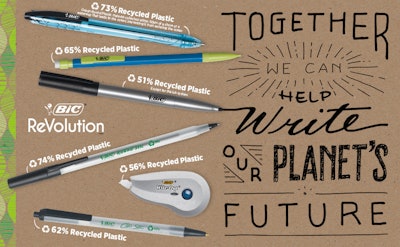 Founded in 1944, Clichy, France-based stationery, lighter, and shaving products company BIC has built its business around bringing everyday essentials—most of them made from plastic—to consumers around the world. Now, in an era where products and packaging made from plastic are in consumers' and legislators' crosshairs, BIC is taking its circular economy journey, begun in 2003, to the next level by transforming its approach to plastic.
This transformation is being guided by ambitious commitments made by the company as part of its "Writing the Future, Together" 2025 Sustainable Development Program, first announced in 2018. By 2030, BIC aims to have 50% of its products made from non-virgin petroleum plastic, with an intermediate goal of 20% by 2025. In the area of packaging, it has pledged that by 2025, 100% of its consumer plastic packaging will be reusable, recyclable, or compostable.
Furthermore, BIC has committed that by 2025, 100% of its paper and carboard packaging will be provided by certified sources and/or will be recycled, 100% of its plastic packaging will be PVC-free, and 75% of the material used in its plastic packaging will be recycled. According to the company, plastic represents 21% of its carbon footprint. By reaching these commitments, BIC estimates it could reduce its emissions by 10% by 2030.
---
---
Said BIC CEO Gonzalve Bich at the time of the announcement of these goals, "BIC has been at the forefront of sustainability for more than 15 years; it is a core element of everything we do, from how we operate to the products and solutions we bring to consumers. We know shoppers are increasingly looking for more sustainable options, and that is what we will continue to deliver. It's our 4R philosophy: reducing the amount of raw materials used to make our products, including as much recycled or alternative materials as possible, making more refillable products, and improving the recyclability of our products and packaging."
Driven by a proprietary science- and data-driven design tool and scorecard that is integrated into its product development process and will soon be used for its packaging as well, BIC is making impressive progress toward its goals. At year-end 2020, the company reported that it had transitioned to 49.3% reusable, recyclable, or compostable plastic in its consumer packaging, was using 48.9% recycled content in its plastic packaging, 94.4% of its packaging was PVC-free, and 97.3% of its cardboard packaging was coming from a certified and/or recycled source.
BIC uses 'just what's necessary'
BIC's environmental journey began in 2003, when it launched its Sustainable Development Program, with the first report on the program published in 2004. According to the company, Sustainable Development is about generating economic growth while respecting people and nature. In BIC's 2020 Universal Registration Document, it explains, "This exhaustive program encompasses all key sustainability issues as well as the related risks to which BIC, in order to fulfill its corporate responsibility, must respond."
But it could be argued that BIC has always been about a reduced footprint. In 1950, co-founder Marcel Bich invented the company's flagship BIC Cristal pen, the symbol of Bich's philosophy of "just what's necessary" and now the world's best-selling disposable ballpoint pen.
Affirming this minimalist philosophy, BIC Director of Product Lifecycle Management Thomas Choulet says, "One of our founding principles is to offer fairly priced products made with as few materials as possible, and that includes packaging."
To this end, he explains, in 1994, BIC began conducting LCAs of its products. The first was undertaken to compare a non-refillable shaver with a refillable one, the results of which indicated remarkably similar impacts. In 2004, with the launch of its Sustainable Development Program, BIC extended that work and commissioned a "normalized" LCA along with several simplified LCAs for three category-leading products.
---
---
"More recently, we've developed a tool called the Environmentally & Socially Measurable Advantage scorecard [EMA]," Choulet says. "In 2020 the digital development of the EMA was completed, and the scorecard was integrated into the product development processes. An extension of the EMA tool for evaluating BIC products is underway for packaging. This tool makes it possible to evaluate new packaging in order to optimize it and reduce its environmental footprint and will be used by packaging development teams in their everyday decision-making process."
The scorecard encompasses BIC's 4R strategy, but goes beyond and integrates considerations such as design to recycle, green chemistry, substances, or societal aspects. To date, 90% of BIC products have been measured by EMA, and 50% of them have been shown to have environmental benefits.
Adds Choulet, "All of the innovation projects and new launches are tested within EMA before being launched. Specific criteria in terms of sustainability score have to be checked to validate the launch."
Another eco-conscious strategy the company has historically used is to offer the majority of its products without consumer packaging or in value packs to minimize the amount of packaging needed. In Europe, 77% of BIC's writing products are packaged in boxes, trays, or pouches of at least 10 products (81% in North America), 79% of lighters are sold in trays of at least 50 (64% in North America), and 81% of shavers are marketed in pouches of five, 10, or more.
BIC's current sustainability commitments, Choulet shares, are the result of several factors—from consumer demand to new R&D. "In particular, we know [from a 2020 Report from First Insight] that consumers are demanding more reusable, recyclable, or compostable products and packaging: 62% of Generation Z shoppers prefer to buy from sustainable brands, on par with Millennials, while 54% of Generation X says the same," he says. "Meanwhile, we have garnered a greater understanding of the impact of packaging on the environment, and our R&D team is continuing to research new ways to responsibly transform our packaging to best support the circular economy and minimize impacts on the environment."
Shaving products packaging evolves
One category BIC has recently been focusing on is its shaving products. The company is in the process of evolving the packaging for its entire shaver line to feature only recyclable materials. Thus far, in the U.S., it has transitioned seven of its razor varieties and complementary replacement blades from blister packs to paperboard hang-tag cartons made from 80% recycled content. These include the Hybrid Comfort 3, the Hybrid Flex3 Titanium, the Hybrid Flex4 Titanium, the Hybrid Flex5 Titanium, the Click 3 Soleil, the Click 4 Soleil, and the Click 5 Soleil.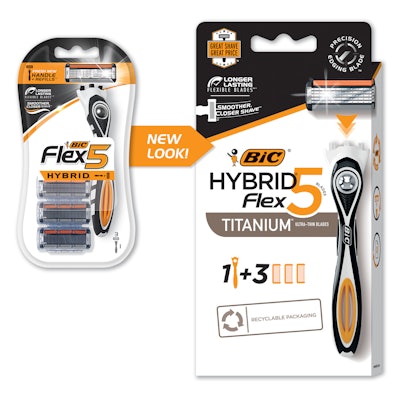 To hold the razor inside the carton, BIC has designed a recyclable paperboard insert made from 80% recycled content. Replacements blades are held in place using a paperboard wedge, also made from 80% recycled material.
Says Choulet of BIC's decision to go with paperboard, "We explored multiple options for material for our packaging and chose the option that could both perform at our standards and align with our sustainable development goals."
In addition to eliminating plastic from the packaging for its razors and blades, BIC has also made changes to the plastic used for several of its razor products. The Hybrid Comfort 3 and the Hybrid Flex3 Titanium now come with a handle made from 90% recycled plastic, while the Click 3 Soleil and Click 4 Soleil both have a handle that uses 30% recycled plastic.
These changes are also being rolled out in Europe, and combined, they are expected to reduce plastic packaging consumption by more than 200 tons in 2021. Advises Choulet, "We will continue to evolve our product and packaging portfolio across categories later this year and beyond to meet our ongoing goals."
Of consumers' response to the changes, Choulet says it's still too soon to tell. He adds, "We do know that consumers are looking for brands to provide more options that are made with recycled materials or are recyclable, so we are hopeful they will appreciate and support the changes and investments we are making to our business and our product lines."  

Several sustainability routes for stationery
Another area where BIC has recently made some significant sustainability strides is its stationery line. In April, the company announced the launch of BIC ReVolution, the brand's first full range of eco-friendly stationery items, including ball pens, mechanical pencils, permanent markers, and correction tape.
Each product in the BIC ReVolution range is made up of at least 50% recycled material. For example, the BIC ReVolution Ocean Retractable Ball Pen is made from 73% recycled ocean-bound plastic. Ocean-bound plastic, BIC explains, is plastic material that is collected within 50 km of a shore or a waterway that leads to the ocean, preventing it from entering the ocean. Other examples include the new BIC ReVolution Round Stic Ball Pen, which contains 74% recycled plastic, and the BIC ReVolution Mechanical Pencil, made with 65% recycled material.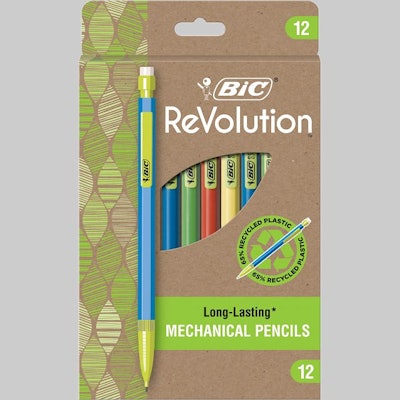 In addition, the paperboard packaging used for all products in the BIC ReVolution line is made from 100% recycled content and is entirely recyclable.
Said Mary Fox, General Manager of BIC North America, when announcing the new line on April 13, "We know today's consumers are craving more options for recycled or recyclable products they can use every day. This Earth Day, we're proud to launch the BIC ReVolution line of stationery products, continuing BIC's deeply rooted commitment to supporting the circular economy and transforming how we use plastic to better help serve the next generation."
Other recent sustainability advancements in the stationery category include the introduction of the Cristal Re'New Metal pen, a refillable pen launched in Europe in April that's packaged entirely in paperboard, and a move from plastic pouches to paperboard boxes for some products. Says Choulet, "In the U.S., the plastic pouch of the BIC Cristal 10-pack has been replaced by a 100% recyclable paperboard carton, which will save 25 tons of plastic over one year."
To promote the recycling of its used stationery products, in 2011 BIC partnered with TerraCycle in Europe to collect and recycle fully-used pens, mechanical pencils, markers, and other stationery products and parts of packaging. In 2019, the program was opened up to consumers in  Australia and New Zealand, and in 2020, to the U.S. market. For every shipment of used stationery products collected and sent to TerraCycle through the BIC Stationery Recycling Program, collectors earn points that can be donated to a school or charitable organization of their choice. To date, the program has resulted in 54 million pens being recycled between these four countries.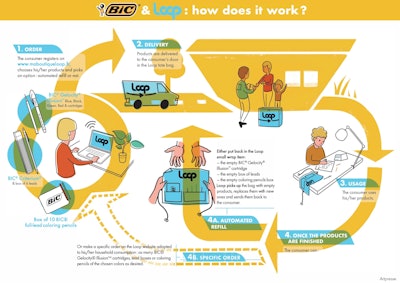 In another partnership with TerraCycle, BIC entered the reusable space in 2019 when it joined the Loop circular shopping platform in France, which was created by TerraCycle. Through Loop France, consumers can purchase a BIC Gel-ocity Illusion gel ink pen and cartridge, a BIC Criterium mechanical pencil and box of six lead refills, or a box of 10 coloring pencils in a durable, reusable box, and when finished with the product, return the empties to Loop. "For BIC, it's a unique opportunity to experiment with a new circular business model: selling how long one can write with our products, rather than the product itself," says the company.
BIC's work 'is far from over'
Partnerships, such as the one BIC enjoys with TerraCycle, are critical to moving its sustainability initiatives forward. In March 2020, the company announced it had joined the CE100 Network, a global circular economy network created by the Ellen MacArthur Foundation. Through CE100, BIC now has the opportunity to collaborate with more than 100 companies, governments, academics, and innovators to identify solutions to support the transition to a circular economy.
Said Thomas Brette, Group Insights & Innovation Officer at BIC, at the time of the announcement, "We are thrilled to join the CE100 Network and to work with the Ellen MacArthur Foundation and other partners to support the transition to the circular economy. BIC products are lightweight and long-lasting: some deliver more than 2 km of writing, up to 3,000 flames, and 17 shaves. But there is still more to be done. Joining other global brands, governments, and experts in the CE100 will help us identify new ways to use fewer materials, experiment with recycled or alternative materials, make more refillable products, and improve and test the recyclability of our products and packaging."
Concurs Choulet, "Our work is far from over. Over the next few years, consumers will see more BIC products in reusable, recyclable, or compostable packaging. At the same time, our R&D teams are continuing to look for new opportunities to further reduce thee environmental footprint of our products." 
---
PACK EXPO Las Vegas and Healthcare Packaging EXPO (Sept. 27-29, Las Vegas Convention Center) will reunite the packaging and processing community. With over 1400 exhibitors, no other event in 2021 will bring together a more comprehensive gathering of suppliers offering new products, technologies, and solutions. Attendee registration is now open.