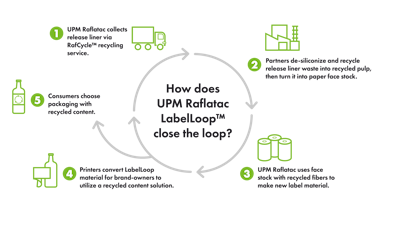 FGF Brands is a large, baked goods manufacturer with eight facilities in the Greater Toronto Area, Ontario, Canada, and two in San Antonio, Tex. Among its range of specialized baked goods are flatbreads, including naan—one of its most notable brands being Stonefire—pizza crust, and specialty flatbreads; sweet goods, such as muffins, loaves, sliced cakes, and decadent bars; and laminated products, including butter croissants, chocolate croissants, and Danishes. Its products can be found in retail and foodservice facilities across North America as well as in Australia and the U.K.
But despite the company's extensive lineup of savory and sweet baked goods, FGF says it doesn't consider itself a bakery. Rather, it views itself as a tech company that likes to bake. "We are a consumer-focused company, always in harmony with ever-evolving consumer preferences, and we master technology to create the food people want—affordable and artisan quality, with the cleanest possible ingredients," says Darren Rafter, Sustainability Program Specialist for FGF Brands.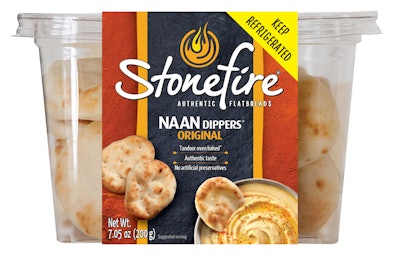 Started 17 years ago in a 5,000-sq-ft facility with six team members, the baked goods company has grown consistently, year over year, and now employs more than 3,000 team members in 10 facilities that cover more than 1 million sq ft.
With such a broad footprint, both product- and operations-wise, FGF is ever conscious of its impact on the environment and has made extensive commitments to improve its environmental sustainability performance across all its business areas. One of FGF's boldest sustainability goals is around waste reduction and diversion. Shares Rafter, "To ensure we initiated programs to reduce, reuse, and recycle our waste, we set a very ambitious target of having our facilities be certified zero-waste in 2022 to drive internal action."
One action that has so far netted significant waste-reduction benefits for FGF has been its participation in the RafCycle™ by UPM Raflatac label release liner collection and recycling program. Since joining RafCycle in October 2020, FGF has recycled over 210 metric tons of paper release liner, which, with the new UPM Raflatac LabelLoop™ solution, is being used to create new label facestock, resulting in a completely closed-loop solution for the label value chain.
Half-a-million pounds of liner recycled each year
In late 2018, pressure-sensitive label supplier UPM Raflatac brought to North America its label liner recycling solution, which had already achieved great success in Europe since it was launched there in 2010. Traditionally, up to 90% of release liner material—the siliconized paper or PET backing that carries a pressure-sensitive label until it's applied—ends up in landfill upon disposal. Through the RafCycle by UPM Raflatac program, converters and brand owners can gather their waste label liner for collection and recycling by UPM Raflatac and its partners. There are now more than 250 partner companies globally participating in the program.
In fall 2020, UPM Raflatac announced it had brought RafCycle full circle with its new LabelLoop portfolio of paper labels with facestock made in part from recycled paper label liner. Until LabelLoop, the waste liner material was going back into the typical pulp or PET recycling stream.
But, after a rigorous two-year process that involved extensive supplier vetting and R&D, UPM Raflatac developed a line of labels using facestock containing up to 30% post-consumer waste material, some of which is collected via RafCycle. Says Juha Virmavirta, Director, RafCycle Solutions, UPM Raflatac, "Silicone and adhesive residue on waste liner causes major contamination so liner that does get recycled is often downcycled into lower-quality material. However, through LabelLoop, we are developing truly closed-loop solutions where materials from the label value chain will remain there and will be given a possibility to remain in the label product chain for several circles."
Recycler has prowess to create premium fibers from liners
To supply recycled pulp material of the quality needed to produce the new label facestock, UPM Raflatac works with Sustana Fiber, a recycler that leverages cutting-edge technology and innovative proprietary processes to de-siliconize the waste materials and convert them into sustainable, FSC [Forest Stewardship Council]-certified fiber for use in the labels.
Mark Bond, Recycled Fiber Sales Manager for Sustana Fiber, explains how the waste release liner collected through RafCycle is handled once it reaches Sustana's facilities: "At our mill, the bales of release liner are placed into a hydropulper. A hydropulper is like a giant blender where the release liner material is mixed with water and spun together. It takes about 25 minutes for this mechanical process to break down and separate the usable fibers from any non-fibrous material."
---
---
Three release-liner processing steps follow: screening, cleaning, and washing. "The material goes through loops of screening to further filter out non-fiber material. Cleaning and washing steps include cleaners, flotation cells, and other advanced washing systems, including clarifiers," Bond explains. "Once the fibers are cleaned, it's time to cut them into sheets to make finished recycled fiber bales ready to ship to the paper mill to be made into new paper products."
The resulting product, Sustana's EnviroLife® brand premium, sustainable recycled fiber, is compliant with FDA standards, containing zero fluorescence, and is OBA (optical brightener agents) free. In addition, compared to virgin pulp, EnviroLife has a 26% lower impact on climate change and uses nine-times less water to produce.
Sustana has two mills—one in De Pere, Wis., and one in Breakeyville, Quebec, Canada—that together can process up to 1,100 tons, or 2.2 million pounds, of recovered material every day. "That's 55 truckloads of material diverted from landfill daily," says Bond. "Currently approximately 5% to 10% of the incoming collected material is release liner, and we are hoping to increase the input volume, as many of the paper-based release liner contains valuable fiber."
Partner selection, R&D critical
Finding a fiber supplier was one step in the process for UPM Raflatac. The other was finding a facestock supplier. Says Scott Conrad, Segment Manager, Prime Papers, Americas, for UPM Raflatac, "Being a big company, we have many suppliers, but we had to select one that was not just a high-quality supplier, but one that was a like-minded sustainability partner. We really put some of our suppliers through the ringer, if you will, to find someone willing to do this for us. We really needed someone who could use this pulp and turn it back into a high-quality facestock, and the only way they could do that was by taking extra care within their process and making sure they had all their quality stations in check."
Ultimately, UPM Raflatac selected Pixelle Specialty Solutions, which produces five facestocks, including four different semi-gloss, or prime, materials, and one laser direct-mail option for the LabelLoop line, using Sustana's EnviroLife fiber. As noted, the label facestock includes 30% PCW, including release liner material from RafCycle, along with a variety of other sources in Sustana's standard recycling stream.
After Pixelle creates the facestock, UPM Raflatac manufactures the label laminate stock, which is a sandwich of the recycled paper facestock, an adhesive, a silicone, and the label liner. From there, a label converter prints and die-cuts the label material to the end-user's specifications.
According to Conrad, a lot of work was required on UPM Raflatac's end as well to develop the LabelLoop products. "We had to think about whether the facestock was compatible with the adhesives we're using, was it going to function as a label out in the market, and was it strong enough to convert," he explains. "We also had to take printing into consideration and a lot of other technical parameters. All of that work was done behind the scenes by our technical team, and they did a fantastic job with this particular face."
According to UPM Raflatac, LabelLoop labels offer the same high standards of print quality and high-speed converting as its standard offerings and are suitable for a variety of end-uses. While the line currently comprises five products, Conrad says UPM Raflatac plans to expand the number of offerings in the future.
213 metric tons and counting of label liner recycled
With its 2022 deadline for achieving zero waste in its facilities fast approaching, in 2020, FGF Brands was eager to find new waste reduction strategies. Through an introduction to UPM Raflatac by its label printer, it learned about RafCycle.
"At UPM Raflatac we have a great relationship with the label printer," says Conrad. "Like UPM Raflatac, this label printer and FGF Brands share a commitment to sustainability and are constantly looking for ways to reduce their carbon footprint. FGF Brands was specifically looking for a way to reduce waste within their process and needed a solution. Label liner waste was a noted contributor to their total waste stream. With the help of the label printer to make a connection, UPM Raflatac was able to introduce the RafCycle liner recycling concept to FGF Brands."
Says Rafter, "We recognized RafCycle as a great way to reduce our waste that is sent for incineration. This program provides an important contribution to help us achieve our zero-waste goal."
In another nod to sustainability, FGF uses the UPM Raflatac RAFNXT+ label range, which Conrad says is the world's first label material verified by The Carbon Trust to help mitigate climate change. According to UPM Raflatac, RAFNXT+ enables a superior carbon performance compared to standard labels through the product design's smarter use and choice of natural resources. RAFNXT+ paper faces and liners are FSC™ certified, and the paper fibers originate in sustainably managed forests and other controlled sources.
---
---
Explains Rafter, FGF recycles the label release liner at all of its facilities in both U.S. and Canada, however, it is only recycled specifically through the RafCycle program at its eight Canadian plants. To prepare the material for recycling, FGF collects the waste liner on its production floors and then transfers it to gaylords on-site. Once the company has enough gaylords to fill a trailer, it delivers the trailer to a local paper recycling company active in the program, which then transports the material to Sustana.
Between October 2020, when it joined RafCycle, and the end of July 2021, Rafter reports that FGF recycled nearly 213 metric tons of label release liner.
The program has also resulted in cost savings for FGF due to no longer having to pay incineration fees. "As of March, we had saved approximately $9,200 CAD [approximately US$7,300] on regular waste disposal fees since the program started," Rafter shares. "However, the implementation of the release liner recycling program at FGF was never about cost savings. We found a waste stream that we could remove from our regular garbage and recycle it. The positive environmental results are what instigated this program and what continually drive its success."
---
PACK EXPO Las Vegas and Healthcare Packaging EXPO (Sept. 27-29, Las Vegas Convention Center) will reunite the packaging and processing community. With over 1400 exhibitors, no other event in 2021 will bring together a more comprehensive gathering of suppliers offering new products, technologies, and solutions. Attendee registration is now open.
Companies in this article