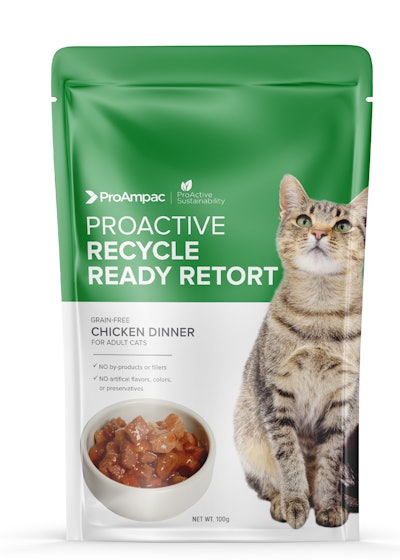 ProAmpac
Retort pouches are a popular option for moist and semi-moist pet food manufacturers because of their light weight. But finding a pouch material that can withstand aggressive retort conditions with excellent barrier properties while being recycle-ready has traditionally been too tall of an order.
Polyethylene, the choice among many pouch users, isn't the right material for retort products, which need a material able to withstand temperatures at 130ºC. So pet food manufacturers have had to depend on pouches made from mixed materials that are not recyclable.
To address this ongoing challenge, ProAmpac recently developed the ProActive Recycle Ready Retort RT- 3000. The newly patented packaging option, slated to be released to the market in late 2021, makes use of a mono-material while holding up to retort's challenges.
The material is compliant with European and U.S. Food and Drug Administration food contact standards and has been proven to maintain filling and processing speeds on existing equipment in a production environment.
"We saw demand for a mono-material structure, especially in Europe from large multinational companies, who want better sustainability for their packaging," says Nathan Klettlinger, Market Manager at ProAmpac. "Many brands are setting aggressive goals to advance their sustainability efforts. They want packaging that can be collected and recycled in the recycling streams of the future."
RT-3000 pouches are available in both stand-up and three-side seal configurations. Available in clear or opaque options, RT-3000 offers stiffness for stand-up shelf appearance and very high puncture and flex-crack resistance for safe product handling and distribution.
"The multi-year development included successful validation on commercial high-speed filling lines and qualification in commercial retort chambers. RT-3000 delivers exceptional thermal stability, excellent stain and grease resistance, easy-open tear performance, and a superior oxygen and moisture barrier. Able to withstand aggressive retort conditions of 130°C without sacrificing barrier properties, RT- 3000 has been successfully tested in advance of our commercialization," states Hesam Tabatabaei, Vice President of Product Development and Innovation for ProAmpac.
RT-3000 is the latest in ProAmpac's ProActive Sustainability portfolio, which includes products that add post-consumer or renewable content, and even offers compostable packaging.
Source: Packaging World Special Report, "Packaging Sustainability Trends for Pet Foods"
Download this FREE report below.


Companies in this article