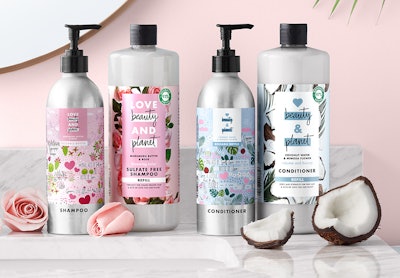 Unilever's hair and skincare brand Love Beauty and Planet was created with one goal in mind, says the company: "to make the planet a little cleaner, greener, and more beautiful through small acts of love—the little things we can all do to that add up to make a big difference." One "small act of love" consumers can now do to reduce their impact on the planet is to avail themselves of Love Beauty and Planet's new 16-oz reusable aluminum bottles for two formulas of its shampoo and conditioner: Coconut Water & Mimosa Flower and Murumuru Butter & Rose.
The reusable bottles were launched in April at Target, along with 32.3-oz refills. The refill bottles are made from 100% recycled PET and use 40% less plastic per ounce compared with Love Beauty and Planet's traditional 13.5-oz bottles. According to Sonika Malhotra, co-founder and Global Brand Director, Love Beauty and Planet, Unilever, after each reuse of the aluminum bottle and pump, 21.89 g of plastic is saved, resulting in a plastic reduction of 56.7% (compared to the standard, 13.5-oz bottle) over the course of a year.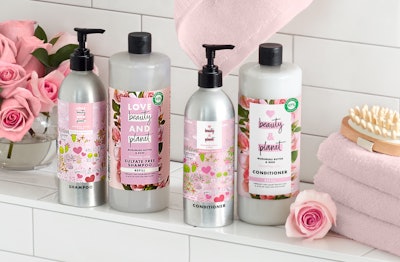 Malhotra shares that the refill system represents another step in Love Beauty and Planet's journey toward meeting its 2030 sustainability commitments. "We recently announced our commitment to making all our packaging 100% recyclable, refillable, or compostable by 2030, so as we move toward that goal, we plan to assess and adjust the packaging for all our products," she says. "There's lots to do in this space. We need to have all hands on deck to work on solutions that are good for our shopper and the planet, so we are eager to innovate in this space."
Since its launch, Love Beauty and Planet has focused on making sustainability accessible to its consumers—"or else it stays on the fringes," says Malhotra. Among the brand's eco-friendly offerings are bottles made from 100% PCR plastic or ocean-bound plastic, innovative product formats like shampoo bars, concentrated formulas that use 50% less plastic or water, and "air-powered" dry shampoos. The brand also offers body wash, shampoo, conditioner, and laundry detergent products in reusable aluminum packaging on the Loop online shopping platform.
---
---
The newly launched reusable bottles for purchase at retail are different than those created for Loop though. "These bottles were specially designed for consumers to pick their own refillable aluminum bottles conveniently with the option of buying refills as well. There is a role for both models," explains Malhotra. "Once you need to refill your aluminum bottle, you can scan the bottle's QR code and are directed to the order page for one of our lightweight refill bottles made with recycled and recyclable materials."
Label artwork for the reusable aluminum bottle was done by illustrator Leah Duncan and was inspired, Malhotra shares, by Duncan's love for the planet, with the message around refilling and reusing beautifully and creatively embedded within the design.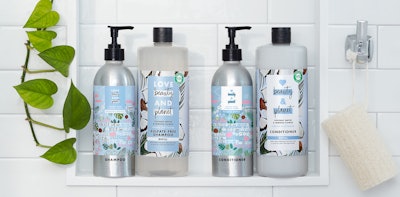 To source the packaging materials, Love Beauty and Planet worked with a number of proprietary suppliers. Aluminum was selected for the reusable component of the system due to its durability and its ability to be refilled, as well as its compatibility with the brand's formulas. According to Malhotra, typically for the aluminum bottle to be comparable to a plastic bottle in terms of its footprint, Love Beauty and Planet suggests the consumer use it five to six times, at least. "The bottles are designed to do that and much more," she adds. "In an industry of low brand loyalty and quick changes to routine, this is a tall task, but we believe our consumers will be excited to be part of this journey that helps reduce plastic waste to an extent."
According to the company, Love Beauty and Planet is the first beauty brand to introduce refillable aluminum bottles for shampoo and conditioner at mass retail. The shampoo and conditioner products are available from Target, both in-store and online, in the 16-oz aluminum bottle for $9.99 and in the 32.3-oz refill bottle for $14.99.
---
---