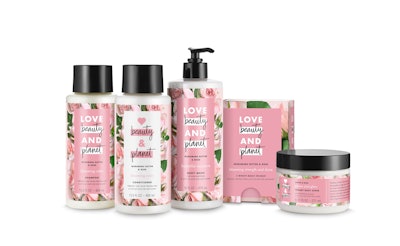 Bunches of delicate pink roses, soft lavender, bright yellow ylang ylang, and a tangle of tea tree leaves: These are just some of the sumptuous illustrations used as backgrounds on packaging for Unilever's new Love Beauty and Planet line of hair and skincare products. Under development for a year and introduced in January 2018, the brand was built on the interconnectedness of beauty and its environmental impact.
"Today's young consumers are looking for companies and brands to do more than simply sell them a great product," says the Love Beauty and Planet team. "They expect them to be more responsible and aware, and they want them to create brands that share their values and make the world a more beautiful place. That's at the heart of what Love Beauty and Planet is all about."
The line includes six fragrances/formulations of shampoos, conditioners, body washes, and hair and body treatments, for a total of 26 SKUs. Among their beauty- and planet-conscious features, the products use scents infused with ethically-sourced extracts as well as organic coconut oil, are vegan, contain no silicones or parabens, and were developed without animal testing.
Unilever also worked to minimize the environmental impact of the brand's packaging as well. Love Beauty and Planet products are packaged in custom bottles made from 100% transparent rPET. "The use of some recycled content in PET bottles for personal care is common, but using 100-percent recycled PET increased the technical challenge," explains Matthew Seal, R&D Partner, Love Beauty and Planet. "We had to ensure the bottle met our high standard of functional performance. Recycled PET has a greater level of variability than virgin resins, and therefore we had to ensure this variability did not impact the final packaging quality."
Seal adds that the inherent color variation of 100% rPET was another consideration—but one the brand decided to embrace: "We actually realized that just because the bottle isn't the perfect transparency you get from virgin PET, it doesn't mean it isn't as beautiful or unique."
The recyclability of the wraparound-labeled bottle was also taken into account. For this, the brand chose a proprietary adhesive designed by one of its label partners that, when used with a polypropylene label, ensures the label stays put during use, but peels off easily during the recycling wash process. To encourage recycling of the bottle by consumers, the label includes the How2Recycle logo.
The personal beauty delivered by the product is conveyed through its product ingredient-inspired package graphics, designed by Jones Knowles Ritchie. For example, the blushing roses are used for Murumuru Butter & Rose formulations, shea nuts decorate Shea Butter & Sandalwood product packages, and illustrations of coconuts make up the background of the Coconut Water & Mimosa Flower bottles.
The logo, which is front and center on a colored panel on the front of the bottle, speaks to the brand's purpose—"Love for your body and the beauty of it. Love for our planet and all it provides."—in an uncomplicated yet bold manner, says the brand team. "By pairing a handwritten script with a geometric sans-serif, we complement the elegance of beauty with the spirit of action. They dynamic identity can be used to start conversations on an emotional level, personalize the experience for consumers, and potentially extend outside of the category in the future."
Companies in this article