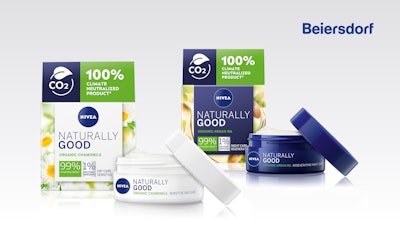 At the end of 2020, Germany-based Beiersdorf announced its cooperation with the global chemical manufacturer SABIC to produce more sustainable cosmetics packaging from SABIC's TRUCIRCLETM portfolio of certified renewable polypropylene. Beginning in June, Beiersdorf's Nivea Naturally Good face care product range will be on the shelves in about 30 countries around the world in packaging made from this material.
Says Beiersdorf, the project to replace petroleum-based plastics with alternative materials began with a comprehensive analysis of the market. Beiersdorf's requirements for the material were high, since the company aims to become more sustainable without any compromise on quality. "Our excellent skin care products obviously include a high-quality packaging, which has to fulfill many requirements," says Michael Becker, Head of Global Packaging Development at Beiersdorf. "On the one hand, this concerns visual and tactile features that our Nivea consumers are acquainted to, but packaging recyclability is also an important aspect for us—in line with our vision of a circular economy that we aim to support."
---
---
Because producing its cosmetic packaging from a source of food such as sugarcane or corn was out of the question for Beiersdorf, it chose SABIC's feedstock concept of second-generation raw material. The certified renewable PP is made from tall oil, which is a byproduct of the forestry industry. Explains Hannah Rasel, Senior Packaging Specialist at Beiersdorf, "The certified renewable plastic we source from SABIC has no visual effects or other adverse properties. Accordingly, the jar made of renewable PP is neither visually nor haptically distinguishable from the previous packaging. In addition, SABIC pursues a holistic sustainability approach with its feedstock concept. That convinced us."
From idea to implementation, the development of the new packaging took just nine months; Berry Global was brought in to manufacture the jars.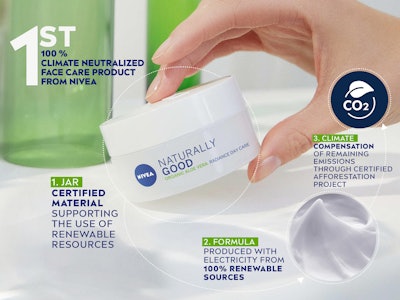 The new packaging for Nivea Naturally Good face care products is based on the principle of mass balancing, in accordance with the International Sustainability & Carbon Certification (ISCC PLUS) scheme. The raw material base of tall oil is replacing crude oil, and according to the mass balancing approach, it is integrated seamlessly in the manufacturing process—without the need to establish a separate production process. Says Beiersdorf, converting the packaging to renewable plastic not only has the advantage of conserving fossil resources, but also reduces CO2 emissions. Approximately 76 g of CO2e are saved per jar produced, a reduction of around 60% compared to the fossil-based jar. The project therefore also contributes to the company's climate target of reducing its greenhouse gas emissions by 30% absolutely across the entire value chain (Scope 1-3) by 2025. Any remaining emissions that cannot be avoided or further reduced during the manufacturing of the product are—for the first time—climate-neutralized via carbon offsetting, through afforestation projects.
---
---
The Nivea Naturally Good face care range of eight products will be clearly recognizable as "climate-neutralized" on-pack and on shelf.
Companies in this article