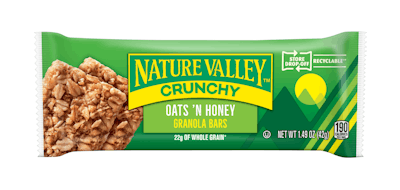 As its packaging declares, it's "For the Love of Nature" that General Mills has introduced a film wrapper for its Nature Valley Crunchy granola bars that is certified by How2Recyle as being fully recyclable through Store Drop-Off systems, of which there are currently 1,800 nationwide. Said to be the first in the snack-bar category to produce such a wrapper, General Mills is making the technology available to all comers in the hopes that others CPG brands will follow suit.
As General Mills spokesperson Mollie Wulff shares, this development puts Nature Valley a considerable step closer to meeting its commitment to make all its packaging 100% recyclable by 2025. She adds that the decision to go with a recyclable film versus alternatives such as compostable film or paper was made because Nature Valley believes recyclable film is the future of sustainable snack packaging.
"Less than 10% of Americans have access to industrial composting, but over 90% of Americans are within 10 miles of a Store Drop-Off location," she says. "Nature Valley's new Store Drop-Off-recyclable Crunchy granola bar wrappers will have a meaningful impact on reducing waste and increasing recycling through packaging improvements and consumer education."
---
---
The new film, a biaxially oriented polyethylene, was three years in the making and was developed by Nature Valley R&D scientists in partnership with film converter Printpack. According to Daniel Cluskey, Product Stewardship Engineer II at Printpack, BOPE works well in a mono-material construction because, when it comes to stiffness and heat resistance, it behaves much more like a biaxially oriented polypropylene—a film typically used in multilayer constructions for snack bar applications—than a cast or blown film. "That allowed us to maintain many of the physical properties that consumers are used to with the Nature Valley bar," he explains.
Those physical properties included the film's ability to provide the needed barrier, run on existing packaging lines, seal properly, and provide puncture resistance. The biggest challenge, Cluskey shares, was developing the cold-seal/cold-seal release lacquer. "BOPP films have been specialized over the past several decades to receive and release from the cold-seal adhesive, and Printpack needed to tackle that challenge on a completely new substrate," he explains.
The film, branded under Printpack's Preserve™ platform, is an adhesive lamination made from overprint varnish/BOPE/ink/adhesive/metallized BOPE/cold seal. The metallized layer provides the barrier, which allows for the same six- to eight-month shelf life provided by the (non-recyclable) multilayer plastic film it replaces. Says Cluskey, printability is enabled by "a treatment at Jindal Films and on Printpack's equipment." The film is decorated using five-color extended-gamut flexo printing.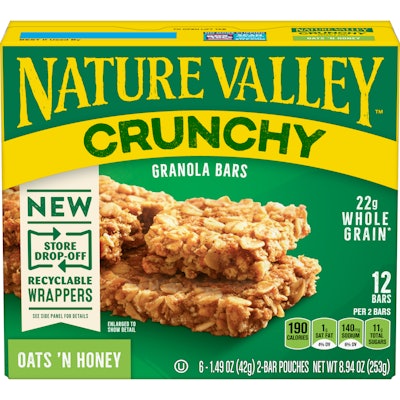 To bring the film to market, multiple rounds of material testing were required to ensure it could run successfully on Nature Valley's equipment. Dave McClain, Director of Sustainability for Printpack, says this is where the partnership between Printpack and the brand owner was critical. "The engineers at General Mills are incredibly knowledgeable and talented, as are the folks running the equipment," he notes. "When things didn't run exactly like the incumbent packaging, details on the 'failure modes' were required to make the necessary adjustments to the design of the package."
After the new film was put through its paces, General Mills submitted the substrate for testing under The Association of Plastic Recyclers – Film Critical Guidance Test protocol, which determined the material was indeed eligible to carry the How2Recycle Store Drop-Off label on its packaging.
This is a significant milestone for the company, which for some time has championed increased recycling through its involvement with recycling-focused industry organizations. Its new packaging provides the perfect canvas on which to educate consumers on recycling via Store Drop-Off programs. Both the new wrapper as well as the secondary paperboard carton that holds the product carry abundant messaging on what to do with the wrapper waste.
"We are working with several industry partners to make sure consumers have the information they need to participate in Store Drop-Off recycling," Wulff explains. "The two primary NGOs we are working with are The Recycling Partnership and the Wrap Recycling Action Program. Every recyclable Nature Valley Crunchy granola bar wrapper directs consumers to www.recycle4nature.com, which is the W.R.A.P. store drop-off directory to help consumers locate a program where they can drop off their recyclable wrappers and other eligible plastics.
---
---
"Furthermore, Nature Valley has created an informational webpage at www.naturevalley.com/recycle4nature, directing consumers to more information such as what materials, beyond our wrappers, are Store Drop-Off recyclable and examples of aftermarket uses for polyethylene film [synthetic lumber/decking equipment among them]."
The new packaging launched in spring 2021. The environmental impact of the switch, says Wulff, will depend on the wrapper's ability to inspire Nature Valley's 100 million U.S. customers to begin using the Store Drop-Off system for all their recyclable films. At this stage, even conservative estimates point to significant success: If just 1% of Nature Valley's customers start recycling 1 lb of film per person per year, 1 million pounds of plastic will be diverted from landfills annually.

Companies in this article