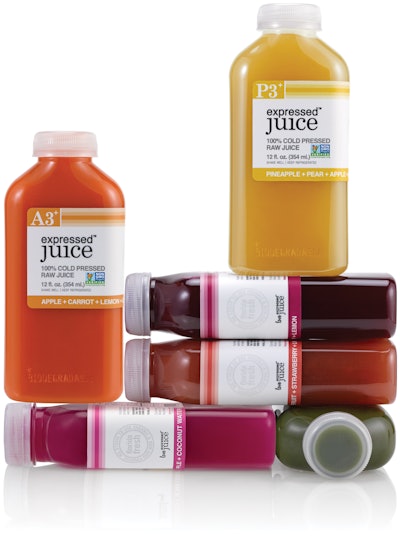 When Paul van Hamond arrived in the U.S. in 2012, he didn't expect he would end up staying nine years. A native of Queensland, Australia, van Hamond was taking what he thought would be a six-month sabbatical from running the five restaurants he owned in Australia to pursue another business venture.
"That venture didn't get legs," says van Hamond, also a chef who trained in Monaco and London. "But when life gives you lemons, you make lemon juice, and that's literally what I did."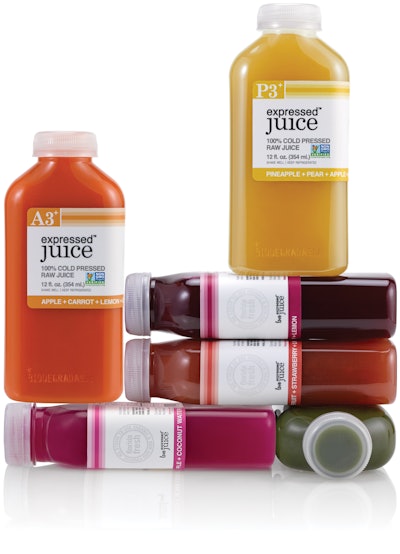 The Drinks Company, the premium juice distributor he founded by squeezing those lemons, has grown to be a dominant player in South Florida, he says. "Today, we distribute about 22 brands throughout South Florida and the Caribbean, focused mainly on our main sector in hospitality and cruise lines."
The rise of The Drinks Company reads like a case study in being in the right place at the right time: Not only did Drinks start in Miami—one the world's juice capitals—just as the fresh juice market had started to boom, but according to van Hamond it also was an early adopter of high pressure processing (HPP) to deliver juice, working with some of the technology's Miami-based pioneers.
'Better beverage company'
The Drinks Company was founded in 2014 by van Hamond and his business partner, Wilfredo Pinillos, who also brought a background in hospitality. With 11 employees and annual sales experiencing double digit growth, van Hamond calls his Miami Produce District company small, but with a big commitment to quality.
"We like to refer to ourselves as the 'better beverage company' because we don't do sodas, but nectars and other products packed with nutritional value," he says.
Besides its flagship product, Expressed™ Juice, which offers blends of colorful, fresh juice in seven flavors, the company also makes Mixology Maker, a range of cold-press cocktail mixers originally developed for use behind hospitality industry bars that has now expanded into liquor stores throughout South Florida, followed by a national rollout.
It all began in van Hamond's South Beach kitchen, where his kids would ask him for daily fresh juice, which he says is more prevalent in Australia than in the U.S.
Making those blends at home inspired the idea for a new venture: a cold-pressed juice franchise. He later pivoted back to his roots in hospitality, to supply the food service sector for Florida's hotels and cruise lines.
To succeed, van Hamond needed a way to keep his product fresh throughout distribution in a geographic region ranging from West Palm Beach, Fla. down to the Florida Keys, without the need for preservatives or heat pasteurization. Early in his quest for quality, he discovered HPP technology, pioneered by HPP machine builder Hiperbaric, which maintain offices in Doral, Fla., just outside Miami.
"It was an easy way for me to learn about HPP," van Hamond says.
After discovering how the technology renders pathogens in food inert without compromising taste, it was a "no-brainer" for Drinks to use HPP to launch Expressed Juice, its first brand.
"The best juice I can make is right now right in front of me in my kitchen," van Hamond says. "The next best is with HPP."
Building a brand around a bottle
Van Hamond's first bold move was to reduce container size. "Everyone in Florida seemed to be doing 16-oz bottles of juice, which for me is a significant amount of liquid," van Hamond says. "So, we decided that we would go under the market and bring it to what I think is more acceptable to the consumer, which is a 12-oz size."
Then, van Hamond reached out to Captiva Containers, a custom container business founded in 2013 with ties to Hiperbaric who had also entered the market during the specialty beverage boom. Most of Captiva's clients are small- and medium-sized companies in the HPP sector.
"We have hundreds customers on a monthly recurring basis and at least 60 percent use HPP," says Leon Morgenstern, chief operating officer at Captiva Containers.
Captiva worked with Drinks to design the Expressed Juice bottle using food-grade polyethylene terephthalate (PET) plastic, a highly flexible material that can withstand the high pressure of the HPP chambers. Then began the quest for the rigidity ratio.

"The bottle had to be somewhat flexible, but not too flexible," Morgenstern says. "In the HPP process, pressure is applied all around the bottle, so material distribution and wall thickness are key."
The bottle's closure also needed to withstand HPP, while preserving the bottle's thread and neck finish with perfect compatibility.
"We got a lot of guidance from Hiperbaric, and through some trial and error, we learned our way to what a successful HPP bottle design requires," Morgenstern says. (article continues after sidebar)
---
HPP Resources for Emerging Brands
Interested in learning more about high pressure processing? Take three minutes and get the scoop on how the use of HPP is growing for foods like juices and pet foods, enabling both emerging and mature brands to extend shelf life and broaden distribution from local to regional and beyond. ProFood World's Joyce Fassl brings you this brief video segment from PACK EXPO Connects with Jeff Williams from Universal Pure. Watch the video here.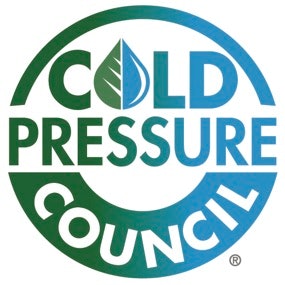 Also, get to know the Cold Pressure Council (CPC), which leads, facilitates, and promotes industry standardization, user education, and consumer awareness of high-pressure processing. The council addresses questions about HPP while developing and formalizing industry best practices. For instance, the council recently released a new set of High Pressure Certified® (HPC) Guidelines. The topic of the newest guideline is Wet Salads, also known as deli salads. This addition is one in a continuing series of CPC initiatives to raise the awareness and use of HPP and be the voice within the industry. The CPC has previously issued guidelines for juice, protein products, sauces, and dips. Also, the Cold Pressure Council also promotes networking among professionals using this processing technology. Learn more at coldpressurecouncil.org.
---
To sell juice in upscale markets, the Expressed Juice bottle also needed a design with strong shelf appeal. "We wanted to build a brand around the bottle," van Hamond says.
For inspiration, van Hamond looked to old-school medicinal bottles, which seemed to work well with a marketing plan he was simultaneously concocting in his kitchen, based on the nutritious ingredients in his juices.
"I would write the names of the juices in shorthand, like K-8, which has kale and eight other ingredients," van Hamond says. "We ended up using letter codes for our Expressed Juice products, which reminds consumers of vitamins."
The product needed to look edgy and new. "It's a lot of fun—we came up with a bottle that is a hybrid between a bourbon flask and a cough syrup bottle," van Hamond says. "And it fits in your back pocket."
The flat front of the Expressed Juice bottle acts as a picture frame, displaying the brightly colored juice content inside to maximum effect.
"With a round bottle, you only see a quarter of the product," van Hamond says. "But when you have eight of our Expressed Juice bottles sitting side-by-side on a shelf, you see the whole front and it creates great visual appeal."
Green challenge
Expressed Juice–delivered in Captiva's innovative bottle and using Hiperbaric's HPP technology to reach a shelf life of up to 45 days–was taking off.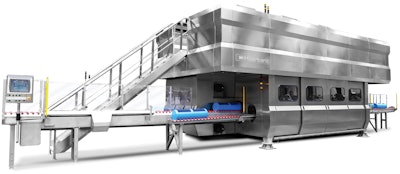 Then in 2018, another ingredient was added to the mix. Van Hamond got a call from one of his top clients, a luxury hotel, saying that they would be going plastics-free across the board. "Basically, we had to reinvent our packaging," van Hamond says.
With the notion that about 85% of plastic bottles go into landfills, Captiva's solution was EcoClear, an additive it makes to help PET plastic break down faster in landfills.
"EcoClear increases the appetite of microbes in a landfill to absorb or consume the plastic packaging," Morgenstern says. "Bottles with EcoClear can degrade up to 30 times faster than other plastic bottles in a landfill."
Morgenstern says EcoClear has several advantages. Only a small percentage of material is added during blow molding, enough to make it biodegrade in a landfill but also allowing it to be recycled. "And it only degrades in a landfill environment, not on store shelves," he says.
Under pressure
After receiving injection stretch blow molded bottles with EcoClear from Captiva, Drinks bottles Expressed Juice on its proprietary automated in-line filling, capping, and labeling machines.
The bottles feature a clear, tamper-evident closure from Silgan Closures that met Captiva's specifications to work with the bottle to handle the high pressure of HPP vats.
"It's a double seal screw top, with a double locking function—a plug on the inside of the cap and an outer lock along the thread so that process water will not get in," Morgenstern says.
Drinks works with a custom labeler, Pro Label, who developed a three-sided, peel-off label that provides further aesthetic appeal and promotes easier bottle reusability by the consumer.
The sealed and capped bottles are then shipped to the toller (see sidebar below), Seafarers, Inc., a Miami-based food processor specializing in seafood, who own a Hiperbaric 300 HPP machine for the final step of processing.
Seafarers first places the filled bottles into the Hiperbaric 300's cylindrical canisters, which are then sent into a high-pressure vessel that is flooded with cold water (4-25°C) that removes air, says Vinicio Serment, U.S. Applications Manager for Hiperbaric.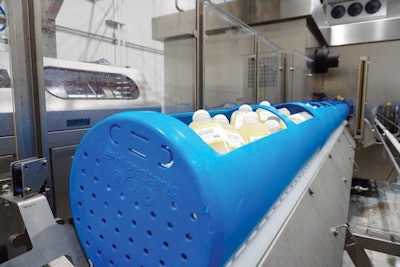 "Once flooded, high pressure pumps inject up to an extra 15 percent water volume into the full vessel to raise pressure up to 87 kpsi [87,000 lbs/sq in], which is equivalent of submerging foods close to 200,000 ft under the sea if this depth would actually exist."
Such pressurization of the bottles, which Seafarers runs for three minutes at 87 kpsi, inactivates most pathogens, such as listeria, e-coli, and other bacteria.
"It leaves the nutritional value intact and does not have any change on the product's color or on the palette," van Hamond says.
Van Hamond says he is proud of not only of how his product tastes but how the packaging looks and feels. "This packaging is like my fourth child," he says.
The industry also has taken note of the packaging: Drinks picked up a 2019 InnoBev Award in the Best PET Packaging category for its Expressed Juice bottles.
Morgenstern attributes the success of Expressed Juice's container in all its aspects—strength, aesthetics, and friendliness to the environment—to the close working partnership forged between The Drinks Company, Captiva Containers, and Hiperbaric.
"It's a combination that is not that common in the market," Morgenstern says. "But it translates into something positive for the environment and the end consumer appreciates it."
Pandemic pivots
Up until March 2020, Drinks was distributing to hotels and cruise ships, largely focused on its B2B business model. "We had trucks on the road that were loading three cruise ships a week," van Hamond says.
But when the COVID-19 pandemic hit, it disrupted Drinks' operations, as it did so many others. "We had a sharp downturn starting in March–an 82% decline–when every hotel and cruise line shut its doors," van Hamond says.
Drinks had to get creative to stay afloat. They shelved product innovation in 2020 to focus on a new area: expanding distribution to supermarket consumers at chains like Milam's, which has five stores in greater Miami. "We're focused on keeping our pricing as tight as possible for the consumers," he says. "The days of the $10 juice bottle are gone."
E-commerce also helped carry the company through. "We actually had a lot of consumers reach out to us, so we're now shipping nationwide," van Hammond says. Having improved shelf stability thanks to HPP sure helps that venture.
In 2021, Drinks is looking to get back to its plans of expanding its B2B distribution within Florida and possibly launch a new product. Van Hamond did not reveal what the new line is, saying only that packaging will again figure prominently in branding. -PW
Companies in this article