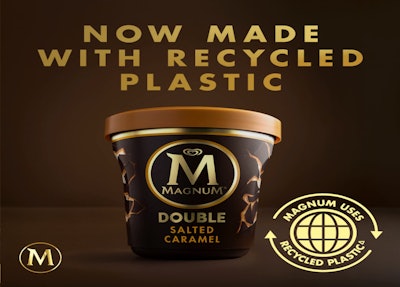 Creating a circular economy for single-use plastic packaging has become the rallying cry for Consumer Packaged Goods companies around the world. To comply with the Ellen MacArthur Foundation's New Plastics Economy Global Commitment, many top multinationals have committed to ambitious goals around reducing their use of virgin plastic as a way to address plastic waste and pollution at its source.
One company leading the charge is Unilever. Among its 2025 goals, the global provider of food and refreshment, home care, and beauty and personal care products has committed to several significant advancements, including cutting in half the amount of virgin plastic it uses in its packaging for an absolute reduction of more than 100,000 tons of plastic; helping to collect and process more plastic packaging than it sells; ensuring that 100% of its plastic packaging is designed to be fully reusable, recyclable, or compostable; and increasing its use of post-consumer recycled plastic material to at least 25%.
The biggest hurdle for Unilever—as well as for the other signatories to the Global Commitment—is the reality that, "in its current form, the U.S. recycling system cannot deliver the supply of recycled materials demanded by the New Plastics Economy Global Commitment." That's according to The Recycling Partnership, which in a recent report, "The Bridge to Circularity," outlined the massive challenges ahead, using the limited availability of recycled PET as an example.
Notes the report, "While not necessarily a proxy for other resins, PET provides a good bellwether because it is a core packaging substrate for many Global Commitment signatories, and it is already widely collected, with a relatively mature supporting infrastructure." Despite these advantages, the partnership estimates that the U.S. is 1.1 billion pounds short, or 100 additional bottles per person annually, of the 1.6 billion pounds of rPET that will be needed to meet CPGs' recycled-content goals.
---
See: Solutions for a Circular Plastics Economy

---
So how does Unilever, with more than 400 brands worldwide, requiring a range of packaging formats and materials, intend to reach its circular economy goals by 2025? Says the company, "Our four commitments demand a fundamental rethink in our approach to our packaging and products. It requires us to introduce new and innovative packaging materials and scale up new business models … at an unprecedented speed and intensity."
One technology opening up entirely new opportunities for sourcing recycled-content plastics, including for food packaging applications, is advanced recycling. In August 2020, Unilever's Magnum brand became the first in the ice cream category to use recycled plastic in its packaging, rolling out more than 7 million ice cream tubs made with certified circular polypropylene from SABIC's TRUCIRCLE™ initiative. TRUCIRCLE involves taking mixed plastic waste and recycling it through pyrolysis into an oil that can be used as the feedstock to produce a range of plastics with the same characteristics and functionality as virgin plastic.
"Chemical recycling can play a complementary route to mechanical recycling," says Sanjeev Das, Global Packaging Director, in Foods & Refreshment, for Unilever. "Although there have been recycled polypropylene options available for beauty and personal care products for some time, there were previously no solutions approved for use in food-grade packaging. So, we collaborated with SABIC to develop one. The recycled polypropylene used in Magnum is not obtained by traditional mechanical recycling, as this is not suitable for food contact packaging. The technology used allows us to recycle low-quality, mixed plastic waste that would otherwise most likely be destined for incineration or landfill. It is not currently possible to produce food-grade recycled polypropylene with any other form of recycling system."
Drop-in plastic made from mixed waste
Based in Saudi Arabia, SABIC is a producer of diversified chemicals, including high-performance plastics. At the World Economic Forum in Davos, Switzerland, in January 2020, the company shared its plans for TRUCIRCLE, a portfolio of solutions that include design for recyclability, mechanically recycled products, certified renewables products from bio-based feedstock, and—of particular interest to Unilever—certified circular products from feedstock recycling of plastic waste streams.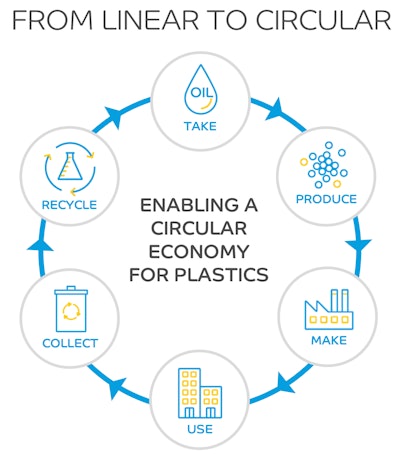 As Mark Vester, Circular Economy Leader at SABIC, explains, SABIC is now producing an ISCC (International Sustainability & Carbon Certification)-certified circular polymer resin from a feedstock known as Tacoil, a pyrolysis oil from U.K.-based Plastic Energy Ltd. Tacoil is made from low-quality, mixed-plastic waste, including high-density polyethylene, low-density polyethylene, polystyrene, and polypropylene, that would otherwise be incinerated, sent to a landfill, or downcycled. This includes multilayer flexible films that can't be recycled, as well as monolayer films that, while recyclable, are oftentimes used for non-packaging applications such as synthetic lumber for decking or park benches.
Plastic Energy uses a patented pyrolysis technology described by the company as Thermal Anaerobic Conversion (TAC) to recycle the materials. Explains Vester, "In the case of pyrolysis, you heat the plastics, but you make sure there's no oxygen in the reactor. The plastics then break down and form mainly a liquid product that has properties similar to the feedstock that we use today to make plastics. We call that feedstock pyrolysis oil."
He adds that one of the differences between pyrolysis oil and the crude oil, or naphtha, that is traditionally used to produce plastics is that pyrolysis oil needs to be purified to remove contaminants, such as PVC, ink contaminants, food waste, or chlorides, before use. "Pyrolysis oil has a very particular blend in terms of contaminants because it originates from waste and not from the soil," he says.
---
See: Report: Chemical recycling presents $10 billion opportunity in U.S.

---
After treatment, SABIC feeds its naphtha cracker, located at its Geleen, Netherlands, plant, with the purified pyrolysis oil, using the same process as used for traditional petroleum naphtha, to produce plastics that are identical to what would be made from virgin naphtha feedstock. One advantage of plastics produced through advanced recycling is that, in contrast to mechanically recycled materials, where waste originating from a specific polymer can only be recycled back into that polymer—for example, PET into PET, PP into PP, etc.—pyrolysis oil can be used as a drop-in to produce a number of polymers. Not only that, the plastic can be customized to meet specific functionalities of an application.
Vester notes that while there are other advanced recycling technologies, such as gasification and solvolysis, Sabic believes pyrolysis currently offers the best route to circular plastics. "From our assessment of the current status of all of these technologies, and looking at the economics and the footprint, we think that for now, pyrolysis technology offers the best possibility to bring mixed plastic waste back into the value chain," he says.
And, while there are other companies pursuing pyrolysis technologies, none are at the stage of development where the output can be used commercially or at-scale. Plastic Energy owns and operates two chemical recycling facilities in Spain and is working with SABIC to bring another plant online, at SABIC's Geleen site, to increase the production of pyrolysis oil. According to Plastic Energy, for every tonne of end-of-life plastic waste processed, 850 L of chemical feedstock Tacoil are produced.
Material for Magnum meets all specs
Immediately following Davos, SABIC revealed it was working with Unilever as a strategic partner in developing commercial applications using the recycled plastic. Eight months later, Unilever launched its Magnum tub, made with 100% certified circular plastics from SABIC, across all European countries. The introduction followed a successful pilot of the tub in Spain, Belgium, and the Netherlands in 2019.
Unilever's Magnum brand of indulgent ice cream is available as ice cream bars and in tubs in countries around the world. In tubs, the brand is known for the shell of Belgian chocolate that wraps around the ice cream and can be cracked by squeezing the packaging.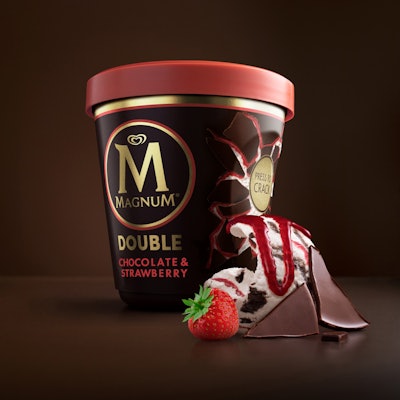 Shares Unilever's Das, there were a number of qualifications that needed to be tested before using SABIC's recycled plastic as an alternative packaging material for the brand. "The big test from a technical standpoint was obviously whether the material could be processed at our converter in the same way as our current tubs. Once we learned it could, we also looked at durability and aesthetics. The other big element for Magnum is this huge experience of cracking—when you use the tub, you can crack the chocolate. The new material from SABIC had to also fulfill that specific functionality, so it had to be flexible enough. It also had to be durable enough to withstand the frozen supply chain, because that's a completely different environment to deal with.
"We worked together with our top suppliers in Europe to try out the material and do the requisite functionality tests to be sure it passed the overall requirements for durability, aesthetics, and distribution. Then we qualified the material for production. That process obviously took some time. Remember, this was the first time we were looking at bringing this technology to the world, so we wanted to be sure it was perfect."
---
See: Static Bottle Recycling Rate is Insufficient to Meet CPG Demands for rPET
---
Das adds that Unilever was able to give SABIC the requirements for the specific application upfront, so they tailored the resin to suit the application. "And when we did the trials, we didn't find any differences compared to the current materials being used," he says.
Notes Vester, "That's also the huge relevance of advanced recycling. Unlike mechanical recycling, where you can't tailor to requirements, advanced recycling enables the tailoring to bring out resins with specific applications, like in this case, it was a frozen supply chain."
The recycled PP is used for both the 440-mL tub as well as the lid. The packaging is recyclable, continuing the circularity of the materials. Magnum promotes its use of advanced recycling technology on-pack, as well as provides detailed information on its website on "this new recycled material and how it's helping with the whole area of sustainability and packaging waste," Das shares.
Driving a circular plastics economy
Last August, when Unilever announced the widespread rollout of the Magnum tub, SABIC estimated that by the end of 2020, the brand will have used 160,000 kg of certified plastic material. Following the launch of Magnum, Unilever introduced two more applications of the certified circular plastics: Knorr bouillon powder containers for professional kitchens, and REN Clean Skincare's new airless Evercalm Global Protection Day Cream packaging.
Regarding the launch of Magnum, Das says that so far, Unilever has "received very, very strong support from the retailers on this change." He adds, "From consumers, what I've seen so far is very positive. In social media, there's been a lot of discussion around how we're trying to find a way to take plastic waste out of the environment. And on the website also, we've received a lot of support for what we're trying to do. From a product perspective, it was a seamless change, so consumers haven't commented on that at all, but the rest is good feedback.
---
See: PureCycle Technology Continues to Advance

---
"At Unilever, we believe that obviously plastic has a role in packaging, but the key issue is how do we keep this plastic waste out of the environment? And for the waste created, how can we bring value to that waste? This technology actually brings value to waste that otherwise would not have been recycled or would have ended up in landfills. I think that's the biggest story of this technology."
Says Vester, "Going forward, one of the roles we see for SABIC in the value chain is that we're bringing used plastics back into the materials chain and keeping them in the loop so they don't become waste. On purpose, I say 'used plastics' and not 'plastic waste.' They need to remain in the loop, and that requires a big change for the industry. That's not something that individual companies can do. Individual companies can set examples, and I think our partnership with Unilever, in this and in other projects, is a good example of trying to make this value chain more circular. In doing that, we will have to build on partnerships where we are working together across the supply chain."

Companies in this article