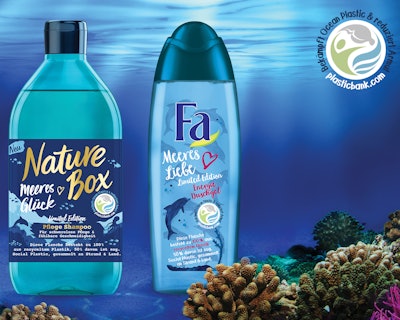 The use by Henkel AG & Co KGaA of a more sustainable plastic that also supports a social cause, or Social Plastic®, in product packaging for its Beauty Care and Laundry & Home Care businesses has earned the global company and its partner, Plastic Bank, the coveted Dow Diamond Award. In 2017, Henkel became the first Consumer Packaged Goods company to partner with the social enterprise with the common objective of reducing plastic waste before it can enter the oceans, while at the same time improving the lives of those in poverty, especially in regions that lack waste management infrastructures. Since October 2018, Henkel has incorporated the resulting Social Plastic recycled materials into packaging for a number of its laundry detergent and household cleaner products. In late 2019, Henkel's Nature Box became the first beauty brand to use Social Plastic, with up to 98% of its entire bottle portfolio consisting of the material.
According to Thorsten Leopold, Head of Global Packaging Innovation Home Care at Henkel, the Social Plastic Ecosystem partnership with Plastic Bank provides another avenue for Henkel to meet its ambitious packaging targets, which include making 100% of its packaging reusable or recyclable by 2025, as well as reducing the use of fossil-based virgin plastics in its packaging by half by the same year. "We want to promote a circular economy and contribute to avoiding plastic waste being disposed of in the environment," he says. "Therefore, Henkel is supporting waste collection and investing in innovative solutions and technologies to promote recycling.

"The Plastic Bank offers a unique solution to the problem of ocean plastic because it tackles waste at the source, is scalable worldwide, and complements our existing initiatives by adding a strong focus on supporting social progress."
As part of the Social Plastic Ecosystem, Plastic Bank has established ethical recycling ecosystems in coastal communities in Haiti, the Philippines, and Indonesia, funded in part by Henkel. Waste collectors receive a premium for the materials they collect, which helps them provide basic family necessities, such as groceries, cooking fuel, school tuition, and health insurance. Plastic Bank's certified blockchain platform secures the entire transaction and provides real-time data visualization, allowing for transparency, traceability, and rapid scalability.
When Henkel began using Social Plastic in 2018, it replaced from 25% to 50% of the material used in its packaging for select laundry detergent and home cleaner products with Social Plastic. "In our Laundry & Home Care portfolio, for example, we included 50% Social Plastic in bottles for our Pro Nature range, which were previously made of 100% recycled plastic from conventional sources," explains Leopold. Henkel's Vernel Fresh Control and Vernel Naturals likewise consist of 100% recycled plastic, 25% of which is Social Plastic.
The bottles for its Nature Box products, relaunched in fall 2019, are made from 98% Social Plastic PET. In addition, the bottles for special editions under Henkel's Fa ("Beach Love") and Schauma ("Ocean Passion") brands are now made of 96% recycled plastic, 50% of which is Social Plastic. Says Philippe Blank, Head of Circular Economy at Henkel Beauty Care, "They [Nature Box and Fa] have been pioneering the world's largest industrial production runs with Social Plastic at this point in time, producing millions of bottles to showcase the material integrity and the supply chain we built behind."
For its Nature Box packaging, Henkel says it is currently working to replace the remaining 2% virgin plastic, which is based on the bottle's color, with a color carrier consisting of Social Plastic.
Greater use of Social Plastic in Henkel's packaging overall will depend on increased collection and processing of the material. As Leopold shares, in addition to supporting ongoing projects in Haiti, the Philippines, and Indonesia, Henkel is also contributing significantly to the development of an infrastructure of more than 400 Plastic Bank collection points in Egypt. "Through establishing a collection system in Egypt, Plastic Bank expects to reach an additional capacity of up to 5,000 tons annually—this corresponds to approximately 1 billion bottles over a five-year period," he says.
In the meantime, Henkel continues to receive positive feedback from both retailers and consumers on its efforts thus far to incorporate Social Plastic into its packaging. "It showcases how we as a global consumer goods company take action to address the global challenge of plastic waste and turn it into specific circular packaging solutions while also adding a strong social component," says Leopold. "By choosing a brand that is using Social Plastic, as a consumer, you can create a direct impact for people in poverty and contribute to cleaning up the environment in areas where no waste management and recycling infrastructure exists."
Click on the following links to read more about the other top Dow 2020 winners.
Metal-free Recyclable Coffee Bag
P&G, Zacros Partner on Refillable Pouch
Economical Inner Barrier Film Deposition Process for PET Bottles