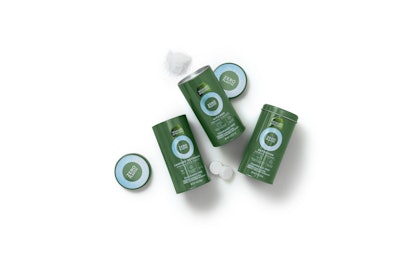 • How challenging is it to get to a package that is zero plastic?
It's not easy. In our case it helped to have the project grounded in a team that we call our Growth Incubator Team. Small and agile, it lets us bring a new idea to market quickly so that we can get real-world learnings on the idea and then iterate and optimize. This was the team's first big launch. 
• And who is represented on the team?
I'm the sole packaging professional, and I'm joined by people in product formulation, sustainability, brand management, consumer insights, supply chain, and finance. It's essentially one team member from each of the major departments to bring a broad range of expertise.
• Your firm is pretty well known for pushing the boundaries when it comes to developing sustainable packaging. Was there anything different this time around?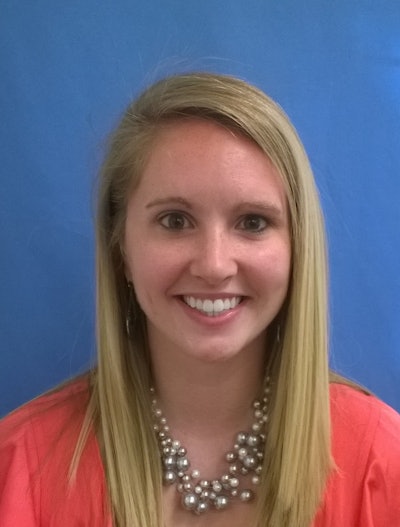 What this represents is not a traditional Seventh Generation launch. It's what we call test-learn-iterate. The idea is to use the marketplace launch to learn what consumers think rather than do consumer research prior to launch. It allowed us to launch within about a year instead of the two or three years that might ordinarily be the case. The team kicked off formally in July of last year and product went into production this July. The plan is to improve upon the proposition as we learn more through interacting with consumers and getting their feedback. It's a matter of moving the consumer input phase from the innovation stream to post-launch.
• Did you decide on steel as the packaging material at an early stage?
Since speed to market was such a priority, we favored a number of off-the-shelf packaging technologies very early on. We knew we didn't have time for a long R&D development timeline as we sought our plastic-free option. We determined that tin-plate steel canisters offered the best moisture barrier for our product and that they would help us achieve the required shelf life. We also explored paper-based packaging, but the existing technologies we tested couldn't achieve the required moisture barrier that we needed unless we included a plastic coating or liner. But remember, we want this to be truly plastic-free. Right down to the paper tamper-evident stickers we apply, which also help keep the closure from coming loose during e-commerce distribution.
• I see six varieties all in one container size. Is it a stock container?
Off-the-shelf tin-plate steel containers are easy enough to find, but we did have custom dimensions in mind so that the one container we specified would meet the needs imposed by both tablets and powders. The tablets, for example, are stacked in four columns nine-high for a 36-count presentation. And for the powders we have custom sifter inserts for dosing, one with larger openings for the toilet bowl cleaner while the kitchen, bathroom, and hand soap powders all use an insert with smaller openings for more controlled dosing.
• This is a two-piece, side-seam can with a seamed-on bottom, yes?
Yes. It stands 144 mm tall and has a 70-mm dia. The cans are printed by way of offset lithography in four colors and supplied by TinWerks, a company I first heard of, by the way, in a PACKAGING WORLD article. Included in the graphics on the back of the container is the How2Recycle logo. We see some really attractive efficiencies in shipping because we removed water from the formulations. It makes our packaging footprint more compact if you do a direct comparison with some of our current products. For example, our 36-count laundry tablets in the Zero Plastic SKU brings a 70% weight savings and a 75% volume reduction in shipping compared to our 50-oz liquid laundry that's currently on the market today in a 100% post-consumer extrusion blow molded HDPE. Those are significant numbers.
---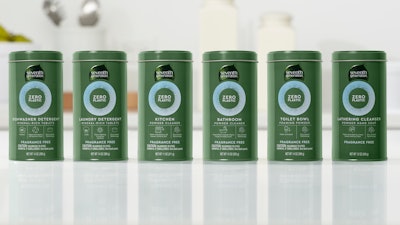 • Like most of your product offerings, this new container is filled by one of your contract manufacturing partners. What does the filling equipment look like?
The powders are filled with a volumetric filler directly into the container. For the tablets, we did not have existing tablet filling technology in place. So we had to design a more manual filling process. We used our 3D printing capabilities in our own lab to come up with product filling jigs for the tablets. As this concept evolves we'll continue to optimize the filling methods.
• How does all of this fit in with Loop, the Tom Szaky-inspired program for reusable containers that has caught the attention of so many leading Consumer Packaged Goods companies?
We have a separate group of products in the Loop platform. But for phase two of this concept we're exploring the possibilities of bringing refills into the picture. When the containers are as robust and durable as they are, why wouldn't you look into that possibility? We're just not there yet. 
• So how would you say this fits into your overall approach to packaging in general?
In our plastics journey, our packaging team has been focused on an approach we view in terms of less plastic, better plastic, no plastic. Less plastic is downgauging, or concentrating product into smaller bottles. Better plastic is using 100% PCR resin. Or it can be dropping in biopolymers where necessary to supplement PCR, as we do with some of our larger bottles where we couldn't meet technical requirements at 100% PCR. For our 100-oz Laundry, we use 80% PCR HDPE and use a 17% drop-in, recyclable bioHDPE from Braskem, with the remaining 3% being white colorant. This new line of products in tin-plate steel is our first step in the direction of zero plastic. We know we need to keep iterating and improving on what we've launched, but we feel it's the only direction to take when we see how aggressively consumers are asking for these plastic-free alternatives. This launch is just a first step in giving them a choice, but we hope it's one step in the right direction as we begin to move the home care products industry away from plastic.
---
See it Live at PACK EXPO Connects Nov. 9-13: An integrated approach for high speed manufacturing paired with modular and flexible automation components, by B&R Industrial Automation Corp. Preview the Showroom Here.
---
• Why so many product varieties in such an ambitious test?
A key goal of the proposition is to give consumers a plastic-free option across pretty much the entire home care range. So we have laundry tablets, dishwasher tablets, a kitchen powder cleaner, a bathroom powder cleaner, a toilet bowl foaming powder cleaner, and a lathering hand soap powder.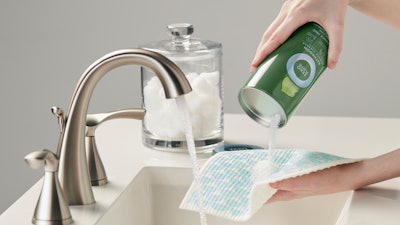 • Where can a consumer find these products? And is there a way to talk about the relative cost of this packaging?
The line is launching first through online retailer Grove Collaborative in a canister of 36 dishwasher or laundry tablets. The powders range from 10 to 14 oz depending on the product. As for the canister's cost to us, the short answer is it's higher than plastic alternatives. But that's partly because we're dealing with lower launch volumes than a traditional product launch. As we continue to grow the proposition, that cost will come down close to parity.
---
See it Live at PACK EXPO Connects Nov. 9-13: Supply Chain Reliability and Tech Service, by Clysar, LLC. Preview the Showroom Here.
---