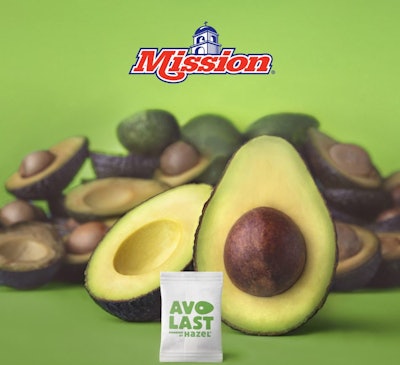 For the past decade, one top-of-mind sustainability challenge has been the reduction of food waste and the resulting adverse social, economic, and environmental impacts. From an environmental perspective, "in the U.S. alone, food distribution waste consumes about 6% of our total energy budget and 24% of our fresh water, and generates somewhere around 300 million metric tons of harmful emissions." That's according to Aidan Mouat, CEO & Co-Founder of Hazel Technologies, a USDA-funded (it has received $1 million in grants thus far) agricultural technology company that has partnered with Mission Produce to introduce a shelf-life extension program for Hass avocados.
AvoLast Powered by Hazel® relies on a quarter-sized biodegradable, food-safe sachet that blocks ethylene receptors, extending the ripe shelf life of an avocado by two to four days. For more than a year, Hazel worked with Mission Produce, the world's largest supplier of avocados, to test, validate, and perfect its technology—Hazel® 1-MCP—throughout Mission's global supply chain.
According to Mission Produce Sr. Director for Business Development Patrick Cortes, the year-long development phase gave Mission the opportunity to ensure the product worked and, even more so, that it made a significant difference in the fruit's extended quality and shelf life. "Our research team felt it necessary to test the Hazel 1-MCP product in various environments for a prolonged period before exposing it to consumers," he says.
As Mouat explains, the basis for all of Hazel's core technologies is the controlled release of active ingredients from solid materials. "We start with natural materials and modify them to become functional for storing and time-releasing atmospheric active ingredients. The core innovation is the controlled release—we are not inventing new types of active ingredients, but rather allowing a more dynamic deployment of industry-standard and food-safe active ingredients that have been academically validated."
---
Learn more about technologies that extend product shelf life in these articles from Packaging World magazine:
Benefits of Flexible Packaging for Fighting Food Waste
Waterless Internet Flower Packaging Blooms in Europe
Active and Intelligent Packaging has Arrived
Unconventional Strategic Partnership Helps Global Juice Brand Expand
---
The active ingredient used depends on the application, he continues. "For crops like avocados and apples, the active ingredients we use neutralize the effects of ethylene, a hormone that many fruits and vegetables release, which self-triggers continued ripening and eventually spoilage."
Explains Cortes, "In order to extend the shelf life of an avocado, the fruit's respiration rate must be slowed, and the insert does so by conditioning the atmosphere in the box."
Because different crops have entirely different respiration rates and ethylene production levels, each Hazel product must be tailored to that specific crop. Says Mouat, "With Mission, we optimized our product's application for Hass avocados in supply chains with different lengths and origins to have a truly flexible solution."
Before partnering with Hazel, Cortes says that Mission had explored a number of post-harvest shelf-life solutions, but they were challenging to integrate into the supply chain. "AvoLast is so easy to use, it was a no-brainer in comparison," he shares. "Mission will tailor the implementation of the packet depending on the supply chain and the customer's end goal. That could mean at source, right after packing all the way to treatment after ripening, right before we deliver to the customer, and anywhere in-between."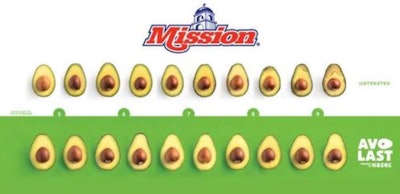 He adds that one box of fruit can be served by just one insert. While the number of avocados in a box depends on the fruit's size, he offers the example of a standard Mission box, which holds 70 "size 70" avocados (those measuring from 4.75 to 6.25 oz), "meaning one insert can serve 70 pieces of fruit," he explains.
Typically, an avocado's shelf life is eight days from the time it's packed to when it begins to ripen, with this number varying with seasonality. AvoLast by Hazel lengthens that time by two to four days. Reads a press release from Mission, "By increasing the shelf life of both hard and ripe Hass avocados, Mission's retail and foodservice customers can reduce throwaways, in turn increasing profit and minimizing inventory stress, while creating more positive consumer experiences that drive category growth. Above all, AvoLast can also reduce global food waste, an increasing environmental, ethical, and financial threat."
Adding to AvoLast's sustainability story, the active ingredients inside the insert are biodegradable, while the sachet material is a recyclable, food-grade Tyvek . "Many packaging products used in the produce supply chain are not biodegradable and therefore have a net negative impact on the supply chain," Mouat says. "As the world moves to find non-plastic methods of packaging food while maintaining optimal shelf life, we believe our active biotechnology will support suppliers as they seek to use more eco-friendly packaging types." Another plus, Mouat adds, is that Hazel's products are entirely made in the U.S.—a rarity in the space in which it plays.
AvoLast Powered by Hazel was launched in July 2020. According to Cortes, the number of inserts that will be used annually by Mission will depend on how many customers incorporate the product. "But if we estimate that 20% of Mission's customers incorporate the insert, we will use about 5 million packets per year."
Watch a video on the project here.
Companies in this article