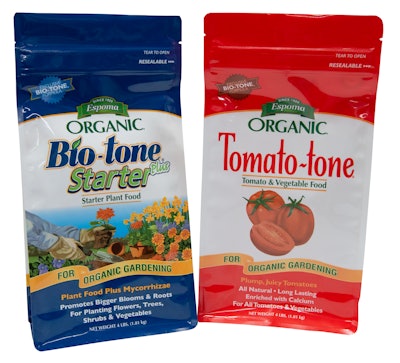 Espoma Organic, a lawn and garden brand based in Millville, N.J., continues to showcase its commitment to the environment by replacing fossil-fuel-derived polymers in their packaging with more sustainable alternatives.
In response to Espoma Organic's mission to "develop the finest organic gardening products that work in harmony with nature, grow beautiful gardens and make a greener world for the future," Amcor flexible packaging materials partnered with the brand to innovate more sustainable packaging and launch a new bio-based polymer package. The polyethylene film contains 2% bio-based material, derived–in this case–from sugar cane.
"Espoma's values are strongly rooted in responsibility to the environment and sustainability. Using a renewable and sustainable source of plastic allows us to continue our long-standing tradition of industry leading innovation while reducing our carbon footprint," says Jeremy Brunner, General Manager of Espoma Organic.
Amcor Flexibles Research and Development Senior Director Priscila Troian explains that the choice is both better for the planet and matters to consumers.
"We know consumers increasingly are paying attention to product packaging as they make purchasing decisions," says Troian. "The use of renewable materials in packaging offers brands a new way to stand out on store shelves while driving down the total carbon footprint of their products."
Amcor continues to develop and use bio-based materials to reduce reliance on fossil-fuel-derived plastic packaging. Amcor's bio-based PE solution is recycle ready and may be recycled at store drop off locations when clean and dry. It also delivers similar technical properties and product protection to traditional plastics while lowering carbon emissions.
In addition to packaging lawn and garden products, applications for Amcor's film include pet care products, wipes, confectionary and more. The bio-based resin is produced from annually renewable sugar-cane feedstock, diminishing dependency on fossil resources and carbon footprint.
Companies in this article