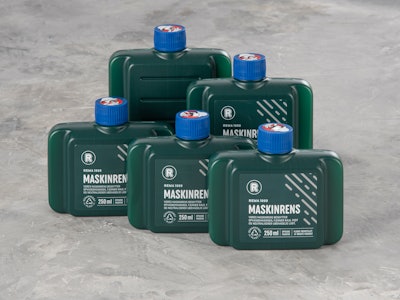 With live events verboten, packaging innovation consultancy ThePackHub took to the (computer) screen in May for a Sustainable Packaging Review webinar that provided "a whistle-stop tour of the latest initiatives." Hosted by Paul Jenkins, Managing Director of ThePackHub, the webinar covered 20 new innovations in sustainable packaging that represent some of the latest trends. The innovations, in no particular order, included: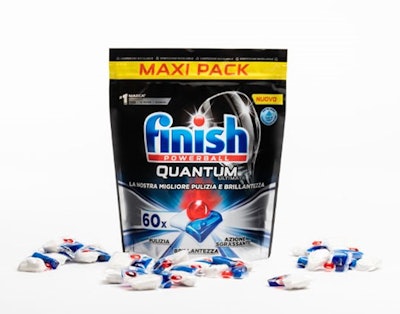 1. Rema 1000 Maskinrens own-brand dishwash detergent bottle is now being made from recycled fishing nets from Danish discount retail chain Rema 1000, in cooperation with Plastix.
2. Scientists in Singapore have developed a sustainable way to extract chitin from prawn shells by fermenting it with fruit waste.
3. Gualapack has produced a 100%-recyclable monolayer pouch for German company Frucht Bar's baby food pouches.
4. Italian brand Alba Cheese has switched to pallet stretch wrap that uses a proprietary organic additive from Biogone Plastics that causes the film to biodegrade 20-times faster than conventional film in a landfill.
5. In Italy, a pouch for Finish Powerball Quantum dishwasher pods from Reckitt Benckiser uses a 100%-recyclable mono-material film supplied by Mondi.
6. John B. Sanfilippo & Son is using a clear, lightweight, 100% recyclable PET canister, the SmartCAN® from Ring Container Technologies, to replace a composite can for its nut products.
7. Since April, European yogurt brands Schärdinger, Tirol Milch, and Stainzer have been using a new 95-mm, snap-on plastic yogurt lid from Greiner Packaging that is dishwasher-safe and can be reused.
8. DalterFood Group of Italy is using a compostable and biodegradable film made from the processing residues of agricultural products and other renewable resources for single-dose sachets for grated and cut cheese.
9. The Heart of England Co-operative Society has agreed to a new distribution agreement with LocoSoco, a social enterprise that offers a wide range of refillable household products, that will see 35 Co-op stores fitted out with LocoSoco eco-refill stations.
10. The Ecover refill station system in the U.K. allows consumers to purchase a reusable Ecover bottle—it can be reused up to 50 times—and refill it with laundry, household, and dishwash cleaners from stations at participating retailers across the country.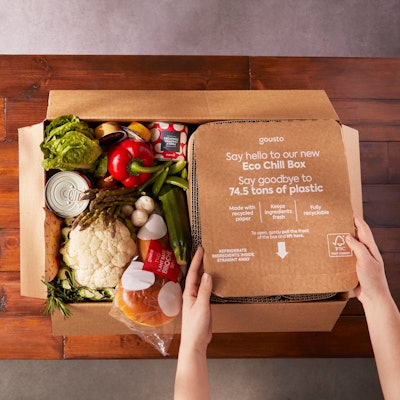 11. A new bag-in-box package for Dreft liquid laundry, the Eco-Box, sold via e-commerce from Procter & Gamble contains 60% less plastic than a traditional rigid container.

12. Tchibo, a German coffee retailer known for its rotating range of non-coffee products, has changed the packaging for its clothing line to reduce the use of plastic. A prefabricated cardboard sleeve is folded around the textiles from below, and a cardboard insert in the form of a hanger serves as a stabilizer. While the suspension that holds the construction together is still made of recycled plastic, Tchibo says it will be replaced with a waste paper solution by the end of the year.
13. A number of "cheap and accurate" food packaging sensors are now being developed that indicate the shelf life of food products in real time. One example: The Imperial College of London is working on a sensor that would be combined with near field communication (NFC) tags that can be read by mobile devices.
14. Compostable and biodegradable netting made from beech tree pulp and supplied by Austrian packaging company VPZ is being used for citrus products.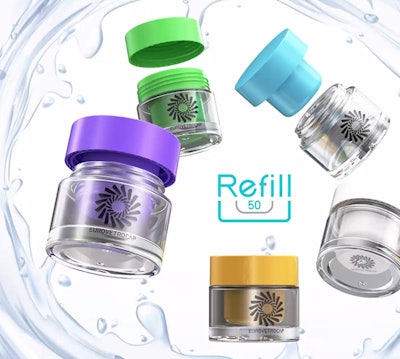 15. To prevent cross-contamination between fresh produce, researchers at Texas A&M University have created a coating that can be applied to food-contact surfaces like conveyor belts, rollers, and collection buckets. The coating not only acts as a germicidal, but it is also extremely water-repellent.
16. German vegetarian food range Hermann has reduced the plastic in its thermoform packaging by 80% by using Schur Flexibles' recyclable VACUflex(re) EX-T as bottom film combined with FlexTop(re) transparent and recyclable top film.
17. U.K. meal kit company Gousto is using the Eco Chill box, a plastic-free, recyclable cardboard insulator, to keep its foods fresh during delivery. According to the company, the Eco Chill packaging will also remove 82 tons of plastic from its boxes.
18. IIC Packaging has introduced the lightweight eTray container, designed for meat, sushi, and ready meals, that is made from 6% film, 15% plastic, and 79% cardboard and can be easily separated for recycling.
19. Researchers from the University of Minnesota and Northwestern University have improved the recycling process of polyurethane through the development of a twin-screw extrusion process that improves mixing and air removal in foams.
20. Eurovetrocap has introduced Refill 50, a 50-mL refillable glass jar for cosmetics, with a container and lid that can both be made of post-industrial recycled polypropylene and can be purchased separately. The mono-material container is also 100% recyclable.
ThePackHub offers a compilation of more than 500 sustainable packaging innovations, "The Sustainable Packaging Compendium 2020." Learn more here.

Companies in this article