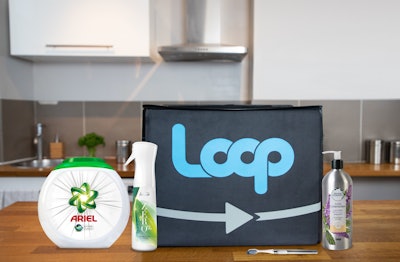 As of presstime, consumers across the U.S. who are interested in shopping online for a range of grocery, household, and personal care products in gorgeously designed, durable, and resusable packaging will have the chance in June, when Loop launches nationwide. Since May 2019, the ground-breaking Loop circular shopping platform has been available in 10 states in the Northeast and in Paris. According to Tom Szaky, founder of recycling company TerraCycle and of Loop, the 10-month pilot allowed participating Consumer Packaged Goods companies, retailers, and Loop itself to gain insights and tweak the program for wider availability.
Just as exciting, if not more so, according to Szaky, is the news that Loop will be launching in retail stores, including Kroger in the U.S., Carrefour in France, and AEON in Japan, later this year.
Currently 400 brands have joined Loop, 20% of which are now available for purchase on Loopstore.com and 80% of which are still in development. Says Szaky, it can take a CPG anywhere from six to 18 months from the time they join Loop until they have product ready to ship. Among some of the more well-known CPGs that have signed on are Seventh Generation, Clorox, Procter & Gamble, Nestlé, Unilever, and Mars Petcare. Loop also sells a "private-label" brand, Puretto, which Szaky says is being used by name-brand companies to test products on the platform while they develop their own, unique version. "As soon as that version is live, we disable the Puretto version," he explains.
Szaky notes that the rapid speed of the nationwide launch—Loop was only just unveiled in February 2019—is due to the fact that "it's a platform and not a producer or retailer." He continues, "By being a platform, it is really our fantastic brand partners that are doing all the production and ramping up, and the retailers that are doing the scale up and later the in-store deployments. What we really have to ramp up is the ability to accept that used packaging, sort it out, and clean it. And that's an area that TerraCycle has almost two decades of experience doing in disposables. Now we just have to bring the same experience to reusables."
---
See related stories on Loop from Packaging World:
Global CPGs Embrace Transformative Loop Circular Shopping Platform
Loop complements Mondelēz's waste-reduction strategies
Loblaw announced as first Loop retail partner in Canada
---
With the e-commerce model, all packaging—both filled and empty—is handled through Loop's Northeast location, from which it sends orders to consumers and where it cleans the empty packaging. Loop will also soon be adding another location on the West Coast. "As the stores move into bigger and bigger volumes, we will deploy in total seven major facilities in the U.S.," Szaky says. "I expect that to take about two to three years." Outside the U.S., Loop has one facility in each country in which it operates and is planning to add more.
When the in-store platform becomes available, CPGs will supply the stores with product directly. Then, when consumers are through with the product, they will drop off the empty packaging at the store, and Loop will pick it up for cleaning.
For those consumers going the e-commerce route, there is a $20 shipping fee for orders under $150. In addition, the tote used to deliver and return product comes with a $15 deposit fee. Deposits are also required for every package and range anywhere from $1.25 for a glass liquid soap dispenser bottle from Soapply, for example, up to $10 for a rust-resistant metal container with one-touch dispensing lid for Clorox disinfecting wipes.
One of the biggest learnings from the Loop pilot says Szaky is that the deposit costs have not deterred consumers from using Loop. "I thought they would be, but they haven't in any capacity," he says. "Even deposits as high as $10 have not been a deterrent. So we're very, very happy about that."
Not only that, Szaky says, but they also found that within 90 days of purchase, there was a 97% return rate for the packaging by consumers. "I was surprised, but I think it has to do with the fact that people want the product inside, and they're happy to have us professionally clean it and have it professionally refilled so they can access it again."
For the in-store business, the only deposits are for the containers, which consumers are refunded when they return the empty packaging to the store.