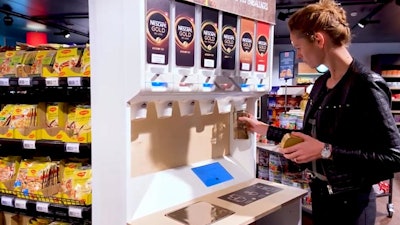 Nestlé is piloting reusable and refillable dispensers for pet food and soluble coffee products as part of its efforts to reduce single-use packaging. Says Nestlé, the in-store dispensers offer consumers a shopping experience that is free of single-use packaging, along with flexibility and a variety of product choice.
Consumers can bring reusable containers to purchase different types of Purina cat food and Nescafé soluble coffee. They can also digitally access the product information typically found on packaging, such as ingredients, nutritional values, and shelf life.
---
Read these related stories on reusable packaging from Packaging World:
Global CPGs Embrace Transformative Loop Circular Shopping Platform
Functional Pack Design Makes Concentrated Cleaners Make Sense
How Safe is Reusable Packaging During COVID-19?
Ellen MacArthur: Reuse as an Area of Business Opportunity
---
Working in collaboration with Czech startup MiWa, which aims to remove single-use packaging with a capsule solution, Nestlé recently piloted the reusable and refillable dispensers in three Nestlé shops located in Rorschach, Orbe, and La Tour-de-Peilz, Switzerland. Reports Nestlé, during a four-month trial period, the dispensers were well received by consumers, and it was able to gain valuable insights including the user-friendliness. To further assess the dispensers' effectiveness in preventing packaging waste along the supply chain, the dispensers will be rolled out across more locations in the next few months.
Hélène Lanctuit, R&D Packaging Lead at Nestlé, says, "Packaging plays a key role in maintaining food safety during a product's shelf life. This means that whenever new packaging systems are explored, we need to ensure that our products can be delivered to consumers in a safe and hygienic manner. These dispensers are novel because they incorporate smart technology which allows us to ensure product safety, and also guarantee the freshness and traceability of our products."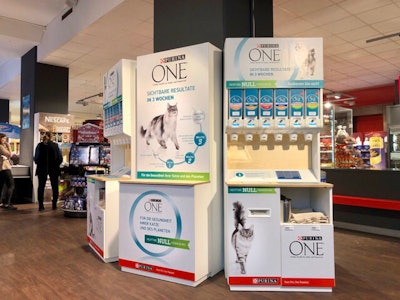 The development of alternative delivery systems such as bulk, reuse, and refill options are a key focus area for Nestlé across several product categories. The company has already announced a pilot test for Refill Plus, a water dispenser that allows consumers to personalize their water with 64 flavor combinations. In partnership with Terracycle, Nestlé is rolling out Loop, a subscription home delivery service in the U.S and will also introduce it soon in France. Additionally, mini dispensers for Nescafé and Milo are available for the out-of-home segment in many countries around the world.
These systems are part of a broader set of actions by Nestle to reduce single-use packaging. Building on its commitment to make 100% of its packaging recyclable or reusable by 2025, the company announced plans to reduce the use of virgin plastics by one third during the same time period.
Says Bernard Meunier, CEO of Nestlé Purina Petcare EMENA, says, "At Purina, our teams are focused on designing our products and packaging for a more sustainable future. This pilot marks an important step forward in our efforts towards waste reduction, and we are proud to play a leading role in testing these innovative dispensers. Offering pet owners the option of using safe reusable and refillable dispensers in-store can help us improve our environmental impact while still providing great quality nutrition for pets."
Adds Philipp Navratil, Global Head of Beverage Strategic Business Unit at Nestlé, Senior Vice-President, "As part of Nescafé's packaging transformation journey, we have been working hard to rethink how we design our packaging for better environmental impact. We are excited to work on a refilling option made possible by our in-store dispensing system for our consumers who want to enjoy their Nescafé experience at home."