Recently, the discourse has turned from handwringing to solution finding, as the following initiatives indicate.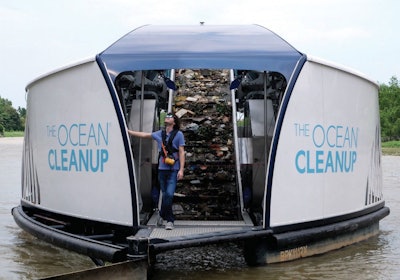 The Klang river in Selangor, Malaysia is a strange place to find a conveyor working to pull waste out of the river into the maw of a Dutch NGO's solar-powered catamaran that drops the conveyed detritus into six dumpsters snuggled between the craft's twin hulls. It's even stranger when you consider this effort was launched with the ambitious purpose of stopping the flow of marine plastic waste (MPW) from flowing into the seas in just five years. Moored near the mouth of Klang river, the Ocean CleanUp Interceptor™ 002 is one of what will eventually be a floating fleet of river scows planning to "turn off the tap" of MPW flowing from river watersheds into the world's oceans. "Working together with government leaders and private corporations, our goal is to tackle these 1000 most polluting rivers, all over the world, by 2025," says Boyan Slat, CEO/founder of The Ocean Cleanup.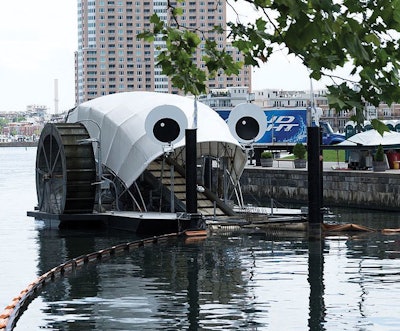 Half-way around the world, a family of conveyor-equipped, solar- and water wheel-powered cartoonish crafts (Mr. Trash Wheel, Professor Trash Wheel, and Captain Trash Wheel) are going about the serious business of cleaning up marine waste in and around the inner harbor of Baltimore, Maryland.
In Amsterdam, The Netherlands, an NGO startup called The Great Bubble Barrier is mitigating the flow of marine plastic waste by blowing air bubbles out of a hose laid down across the floor of the Westerdok canal. A rising curtain of air bubbles strung diagonally across the current of the Westerdok carries discarded plastic containers and other lightweight waste up into a catchment basin, preventing the waste from entering the North Sea.
BP is building a $25 million "enhanced recycling technology" pilot plant in Naperville, IL, to transform black food trays, colored PET bottles and other tough-to-recycle PET items, into recycled feedstock meant to be interchangeable with virgin feedstocks. If all goes as planned, BP will begin commercial production of its Infinia recycled feedstock in about a year. "We see our Infinia technology as a game-changer for the recycling of PET plastics. It is an important stepping-stone in enabling a stronger circular economy in the polyester industry and helping to reduce unmanaged plastic waste," says Tufan Erginbilgic, BP's Downstream chief executive.
Plastipak Holdings Inc. which already mechanically recycles more than 20 billion PET bottles annually, is tentatively venturing into chemical recycling of PET by partnering with Garbo Srl. Garbo, in collaboration with the University of Modena-Bologna, is in the early stages of developing a process called ChemPET, in which post-consumer PET waste is reacted selectively with ethylene glycol transforming it into bis-hydroxy ethylene-terephthalate (BHET), for further processing into bioPET for preform and bottle applications.
Tesco, the UK's largest retailer, pledges to remove one billion pieces of plastic packaging from its products by the end of 2020. The private label plastics purge includes plastic produce and bakery takeout bags, trays for "ready meals," secondary lids on yogurt cups, straws, and other utensils on drink boxes and cups. Critics point out that Tesco produced 18 billion pieces of plastic last year, "so they've got plenty of work to do," but begrudgingly concede that "it's a good start."
Demonstrations of plastic glop (and other refuse) being pulled out of coastal waters are drawing public applause these days, even though there's little evidence that such efforts can be sustained or be more effective than the packaging industry's continuing efforts to reduce, recycle, and reuse packaging material resources. Despite industry's successful sustainability strategies, their efforts are sneered at as not-enough-soon-enough and greenwashed profit grabs, which fails to recognize that profits are what keep business in business, in other words, sustainable. Without profits, businesses–and any of their resource-conserving efforts–would come to an end.
Garbage scows may be more entertaining than business-as usual, but unless the showboats can find a way to cover their operating costs, the shows will close long before the tide of MPW ebbs. Packaging makers and users, meanwhile, must continue to pursue profits to be able to reduce waste.
Ben Miyares, Packaging Sherpa, is a packaging market and technology analyst and is President of The Packaging Management Institute, Inc. He can be reached at bmiyares@packmgmt.org.