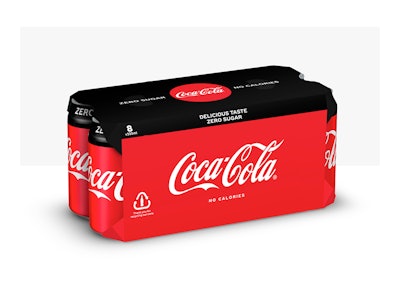 Coca-Cola European Partners (CCEP) is rolling out a change in its multipack packaging, replacing shrink film with paperboard sleeves or wraps—depending on package size—across Western Europe. The move is expected to eliminate approximately 4,000 tons of single-use plastic per year across the region.

As Joe Franses, Vice-President, Sustainability for Coca-Cola European Partners, explains, the mid-September announcement can be traced back to the company's This is Forward joint sustainability action plan, launched with The Coca-Cola company in Western Europe in 2017. "We made a commitment to ensure that by 2025, 100 percent of our packaging is recyclable and reusable," he says. "To achieve this, our initial focus was on the recyclability of our primary packaging. We are now shifting our focus to our secondary packaging and working to remove as much unnecessary and hard-to-recycle packaging as possible from our portfolio."
To ensure the switch to paperboard would actually be a more eco-friendly option, CCEP partnered with the Institute for Energy and Environmental Research in Heidelberg, Germany, to develop a new tool to help analyze the sustainability impacts of different packaging. "Using this tool, we conducted an extensive LCA for the materials involved in moving from plastic shrink wrap to cardboard," says Franses. "The results showed that cardboard provides the best balance between carbon footprint and recyclability—with the added benefit that we are replacing hard-to-recycle shrink with 100-percent recyclable FSC [Forest Stewardship Council]-or PEFC [Programme for the Endorsement of Forest Certification]-certified cardboard from sustainable sources."
Similar to the situation in the U.S., in Western Europe plastic shrink wrap is more difficult to recycle than paperboard, and many markets don't have collection schemes in place that allow it to be collected for recycling. In contrast, paperboard is easily recycled across all of CCEP's markets and is widely collected for recycling via existing recycling collection schemes. "Because of this, most consumers understand that paperboard can be recycled, so they usually put it in the correct recycling bin," says Franses.
The design of the new packaging involved extensive R&D work to identify the appropriate format for each multipack size, including an evaluation of CO2 emissions and consumer perception. The solutions arrived at "ticked all the necessary boxes and proved to be the most sustainable and viable for all markets," reports Franses.
Going forward, all of CCEP's multipacks of 10-ct or more will be sold in fully enclosed paperboard cartons, and multipacks having eight or fewer cans will be sold in a paperboard wrap. Norway and Sweden are already using the new format, but the transition across multiple markets will take some time, Franses advises. CCEP expects to have nearly all of its can multipacks sold in France, Great Britain, Germany, Benelux, and the Netherlands in the 100% paperboard packaging by the end of 2020.