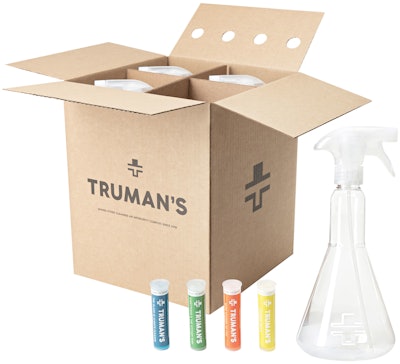 First reported on in the packaging space by Packaging World in June 2019, Truman's concentrated cleaning products give even entrenched home cleaner consumers a convincing reason to make the pivot from retail display case RTU bottles to a more sustainable, e-comm model that eliminates the need to "ship water."
Americans buy $30 billion in household cleaners annually with virtually every liquid cleaner coming in the same container: a single-use plastic bottle. The typical home uses general cleaners (glass, kitchen, bathroom, and floors) in a little more than a month, and each is replaced by yet another single-use plastic bottle. Just 15% of those plastic bottles find their way to recycle bins, according to the latest statistics from the U.S. Environmental Protection Agency.
Within the Truman's system, however, each of the four primary household cleaners continuously uses a single, durable bottle. The company's concentrate and cartridge system allows consumers to fill one of their four (and only four) durable bottles over and over again with water, and simply pop in a refill cartridge. Each cartridge is fully recyclable and uses 96% less plastic than a typical cleaning product.
The environmental benefits go far beyond the bottle as well. More than 90% of a typical home cleaning solution is water, so untold energy is wasted shipping that from factories to distribution centers to retailers and, ultimately, to homes. Because customers add the water at home, Truman's ships all its bottles empty, creating an environmentally friendly and more economical solution. Because Truman's ships directly to customers, all packaging is designed exclusively for minimalist function rather than to stand out on crowded store shelves.
Composed of 45% post-consumer recycled content, the corrugated packaging for all Truman's Starter Kits uses the cardboard itself as the cushioning to hold bottles and cartridges in place, so there are no extra materials such as packing peanuts or air bags. Printed instructions on the top flaps eliminate the need for separate manuals. At its core, the packaging demonstrates that the company's commitment to green cleaning goes far beyond cleaning itself to all elements of the consumers' experience.
Seed money announcement
Truman's announced in late September that it has raised a seed minority investment totaling $5 million from investors led by consumer products giant Henkel, the maker of brands like All, Dial, Persil, Purex, and Snuggle. Henkel is a fellow Packaging Innovation Award finalist, so honored for its EPIX technology. The funding round comes just six months after Truman's launch.
Also participating in the seed round are Uncommon Denominator, Starting Line, and BFG Partners. This collection of venture capital firms and their partners have made past investments in Chameleon Cold-Brew, Cameo, and e-commerce powerhouses such as Boxed, Burrow, and Dollar Shave Club.
New attitude toward replenishing cartridges
When Packaging World first reported on Truman's, the four-cartridges replacement packs where homogenous—four cartridges of each cleaner formula with no variety packs. Recently, the company reversed course and started offering a variety pack of refill cartridges based on customer feedback. Customers can now order a single package of four refill cartridges that includes one refill for each of our four cleaners.
"The new variety pack, dubbed 'Variety Is the Spice of Life,' is designed for our customers who don't clean as maniacally as some of us. (They dig that slight layer of dust.)" says Alex Reed, co-founder, Truman's.
For the full story, including a Packaging World Off-the-Shelf video on Truman's, visit pwgo.to/5093.
Judges' Criteria
In evaluating entries, jurors considered excellence based on the following criteria:
Technological Advancement
• New and/or clever use of materials
• New technology integration and/or rapid technology development/prototyping
• Creative configuration and/or assembly
• Increased production and/or distribution efficiency
Responsible Packaging
• Responsible use of materials
• Clean and efficient energy consumption
• Reduction in product and package waste
• Benefits the greater good
Enhanced User Experience
• Fulfills a user need and/or provides an enhanced experience
• Aids product merchandising and motivates purchase
• Enables greater product accessibility
• Establishes a preferred price/value equation
The 2019 Packaging Innovation Awards represent the packaging industry's longest running, independently judged competition. They honor innovations in packaging design, materials, technology, processes, and service across the entire packaging value chain. Inaugurated in 1986 by DuPont, the program's tradition of excellence is now proudly continued by Dow.
Calls for entry began in January 2019, with judging beginning in May and winners ultimately announced on Sept. 17, 2019. Packaging World editors were granted early audience with award finalists, prior to their announcement, in order to provide timely reports on winning innovations.