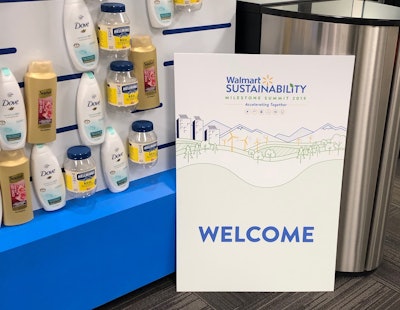 The shared value of sustainability, the importance of partnerships to create sustainable solutions, and the urgency with which these solutions need to be put in place were among the top themes at the opening event for Walmart's 2019 Sustainability Milestone Meeting, held today at the retail giant's home office in Bentonville, AR. The meeting was attended (in person and online) by more than 700 suppliers, environmental NGOs, and Walmart associates, and provided updates on a range of initiatives the company is working on with these groups to improve sustainability performance across global value chains.
Kicking off the event, Kathleen McLaughlin, Senior Vice President & Chief Sustainability Officer of Walmart Inc. and President of the Walmart Foundation, told attendees, "All of us here in this room are in some way engaged in helping bring affordable, quality food, apparel, and general merchandise to people all across the country and other places in the world. We want to do it in a way that is sustainable, socially and environmentally. That's what brings us here today. It's our commitment to bring these products to people in a way that is sustainable. We share that commitment."
Social sustainability, she explained, means caring for the people involved in making and delivering the products to customers—an area that includes challenges such as forced labor and working conditions. Environmental sustainability, she said, means caring about emissions, waste, and what happens to our natural systems.
"At Walmart, for years we have been encouraging our associates, our suppliers and many others that we work with to address these issues," McLaughlin said. "Why do we do this? We work on this because it creates shared value. What do I mean by this? Value for business and value for communities, people, and society. Socially and environmentally, we've made a ton of progress, and we'll celebrate that today."
However, she cautioned, urgency is needed. "We all read the news, we see what's going on with climate. We see what's going on with inequality and the struggle that so many people are facing around the world. So the challenge for us today is what can we do to go faster? How do we accelerate what we're doing working together? Can we and should we do more? That is the question for this morning."
Are you a Giga-Guru?
Project Gigaton is a Walmart initiative launched in 2017 to avoid 1 billion metric tons, or a gigaton, of greenhouse gases from the global value chain by 2030. Through Project Gigaton, suppliers can set goals for reducing emissions across six pillars—energy, waste, packaging (recycled content, recyclability, and optimization), agriculture, forests, and product use—and get recognition from Walmart for their progress.
This morning, Laura Phillips, Senior Vice President of Global Sustainability for Walmart Inc., shared the most recent news on Project Gigaton. In the program's first year, suppliers reported having reduced their emissions by 21 million metric tons; in year two, that number rose to more than 90 million metric tons. "This is a really big accomplishment, and one we should all be proud of," Phillips said. "But we've actually got a 'bit' more to go."
Currently, 111 of Walmart's suppliers have been recognized as "Giga-Gurus." These suppliers have set a SMART goal (specific, measurable, achievable, relevant, and time limited), have agreed to share it publicly, and have reported avoiding emissions in the most recent reporting year. Among the gurus are companies that include Hormel Foods, Barilla, The Clorox Co., Keurig Green Mountain, SC Johnson, Procter & Gamble, Johnson & Johnson, and General Mills.
To help suppliers understand what activities count for emission production and how to measure the impact, Phillips announced that Walmart has released a new tool on its online sustainability hub. The calculator, she said, was piloted with several suppliers last year and is now available for everyone. "We've done a lot of hard work with the NGO community to make these science-based and easy to use," she said. "We hope that these help you to accelerate your efforts and that we'll see more of you as Giga-Gurus next year."
PepsiCo 'working many vectors' to reduce plastics
One Giga-Guru in attendance today was PepsiCo. The company's Chairman & CEO, Ramon Laguarta, shared the stage with Walmart International CEO Judith McKenna to talk about PepsiCo's sustainability efforts and achievements.
PepsiCo, Laguarta said, joined Project Gigaton in 2017, committing to reducing its GHG emissions by 30% by 2030, which translates to roughly 35 million metric tons. Since then, it has reduced its emissions by 2 million metric tons across several of the pillars. Its efforts include moving to more energy-efficient coolers around the world, reformulating and renovating its formulas to reduce sugar, using renewable energy in its factories, and investing in sustainable agriculture.
One area McKenna said she has noticed in particular over the last year that people are focused on is plastics. Laguarta agreed: "Consumers are clearly starting to talk about plastics as a decision-making tool. They are starting to choose their products based on plastics, which is clearly an incentive for all of us to make the right moves in that area."
In PepsiCo's case, he said, the company is "working many vectors." These include reducing plastic in its packaging and lightweighting its bottles, which the company has been doing for many years. He also shared that PepsiCo has found a technology that is expected to reduce the amount of plastics in its snack packaging by 25% by 2020. "Hopefully, commercially, we can make it a big idea," he said. "I think for the supply chain it will be big as well."
He added that the company is working on compostable packaging and is currently doing some tests in Chile with renewable, compostable snack packaging. Right now, it is only industrially compostable, but Laguarta said a home-compostable version will be available in seven or eight years.
In the area of bio-based PET, Laguarta said the company hopes to have a 100% plant-based PET bottle within three to four years.
New P&G commitments
Fellow Giga-Guru Procter & Gamble was also on hand today; in 2018 P&G committed to reducing its GHG emissions by 50% by 2030 versus a 2010 baseline. But Shailesh Jejurikar, President of Global Fabric Care, Fabric & Home Care Sector and Executive Sponsor, Global Sustainability, for P&G, had two other announcements to make.
First, he announced that P&G's unit-dose packaging, including both tubs and bags, will be 100% recyclable by 2023, with conversion starting in Walmart stores in 2021. "Today we are about 73-percent recycled [packaging material] on fabric care. Actually, we've been 100-percent recycled for some time on the Tide bottles and most of our plastic packaging, and we were one of the first to move to PCR and 100-percent recycled," he said.
"We've been at this for 30 years now, but we were trying to think how we could take this to the next level," he continued. "The most compactive form is the unit dose. You now, we have been partnering with Walmart for years and years to get more and more compacted. The gold standard of compaction is unit dose. Well, we asked ourselves, "Are we at the gold standard of packaging then?' And we said, 'No, we are not.'
"We have a goal of getting to 100-percent recyclable by 2020 for the entire P&G line. But we said this is not good enough. On our most compacted form, imagine the difference if we can make it a truly sustainable form by being 100-percent recycle-ready.
"This is something I'm really excited about. It took a tremendous amount of effort in terms of changing the entire supply chain for it, but it is the right thing to do, and I think moving forward first is only going to help us."
Jejurikar's second announcement: P&G is committing to a 50% reduction in virgin plastic by 2030—a move he said will take a lot of effort and will require everyone to work together. One strategy is lightweighting. Another is moving to new, more innovative forms. "We have a whole pipeline across categories and have some exciting ideas on how we can get even further in getting to much smaller products, which therefore require much less packaging."
If the virgin plastic is replaced by PCR, Jejurikar noted that Procter & Gamble will need to play its part to improve the supply chains for recycled materials. One way to do this is to use the How2Recycle label on its products. Lastly, Jejurikar said another way to reduce the use of virgin materials is by looking at substitutable or alternative materials.
Unilever makes progress on goals
Giga-Guru Unilever had a couple of announcements of its own. Speaking on behalf of the company at the Walmart event was Amanda Sourry, President of Unilever North America. Shared Sourry, a couple of years ago, under the Unilever Sustainable Living Plan, the company made a commitment to work toward 100% reusable, recyclable, or compostable plastic packaging by 2025. It also said that 25% of its plastics would be from consumer-recycled materials. "That's our approach to how we get to less plastic, better plastic, no plastic," she said.
Today, Sourry announced that at the end of 2019, 50% of Unilever's plastics will have come from recycled material. Some of the brands already packaged in 100% recycled plastics are Seventh Generation and Love, Beauty and Planet. "But we've also made some big moves on other major brands, like Dove and Hellmann's," she added. "In fact, earlier this week, we announced that we will have a Hellmann's squeeze bottle that will be made from 100% recycled material as well."
The second commitment announced at the event by Unilever, by way of Sourry, was their commitment to have all of their packaging labeled with the How2Recycle label by the end of 2021. "This is one of the most important moves we've got to make," she said. "We know that people are trying to make a difference, but they don't know how. For us to be able to keep plastics in the economy and out of the environment, we've got to do a way better job of helping people to do that."
In line with the idea of educating consumers on recycling, Sourry also announced what she called "a really fun activity": a shop and market education program called Bring it to the Bin. The program is a way to educate and incentivize consumers about recycling all of their packaging, including products used in the bathroom. "People are pretty good about recycling when it's in the kitchen," Sourry said, "but somehow, those 10 yards to the recycling bin from the bathroom just don't happen."
"We hope it's a fun program," Sourry concluded. "Look, we know that none of us can solve this challenge alone. It's a massive systems problem, but by working together with focus and passion, we've got to get on with it."