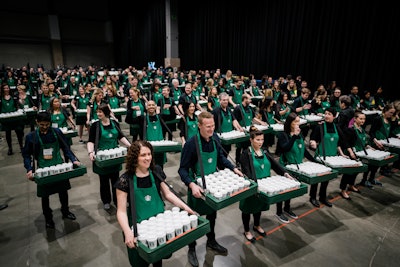 At its annual meeting of shareholders yesterday, Starbucks announced news on innovations around more sustainable cups and straws, and on a new mobile app feature for coffee transparency, noting that sustainable coffee, served sustainably is an area of particular passion for the company and its more than 380,000 partners (employees) around the world.
"It was at our shareholders meeting one year ago that we launched multi-year initiatives around greener cups and digitally traceable coffee," said Kevin Johnson, President and CEO of Starbucks. "Today thanks to many valuable collaborations, we're seeing significant, tangible progress toward a greener future."
Over the next year, in several markets worldwide, the company will trial new, greener cups. As shareholders learned the news, they sipped coffee from one of the cup technologies that will be trialed. Starbucks customers in New York, San Francisco, Seattle, Vancouver, and London will help test a few different cups that will be both recyclable and compostable in those municipalities' facilities. Starbucks will choose the cup technologies from NextGen Cup Challenge winners announced earlier this month, working with expertise and support from the NextGen Consortium.
Starbucks initiated the Consortium last spring with Closed Loop Partners with a mission to identify cup technologies that can be both recyclable and compostable on a global scale. In addition, the Consortium aims to leverage the scale of its members and industry experts—which include another founding partner, McDonald's, along with supporting partners The Coca-Cola Company, Nestlé, Yum! Brands, Wendy's, and advisory partner the World Wildlife Fund—to work with municipalities to increase acceptance of these new paper cups in recycling and composting programs by showing their value and ability to be recovered and diverted from landfills.
The Consortium's work supports Starbucks many efforts to minimize its environmental footprint, which include a goal made in 2016 to double the recycled content, recyclability, and the reusability of its cups by 2022.
"It is with great intention that we move forward with highly collaborative and innovative work to bring both recyclable and compostable cups to scale around the world," Johnson said. "We are reimagining the future for Starbucks, and for the more than 30,000 communities we serve each day, with a great sense of responsibility for a more sustainable planet."
Said Kate Daly, Executive Director of the Center for the Circular Economy at Closed Loop Partners, "We applaud Starbucks' speed in committing to test NextGen winners that were identified less than a month ago, and the innovative collaboration at work here among so many global food and beverage companies. We look forward to continuing to build on this momentum, so that we can help recyclable and compostable options be the norm rather than the exception for to-go cups."
In another announcement, Starbucks revealed it will roll out new lightweight, recyclable strawless lids to all stores in the U.S. and Canada in the next year. This is a key milestone, the company said, as it works to phase out plastic straws from its more than 30,000 stores worldwide by 2020, eliminating more than 1 billion straws a year—a goal announced last July.
Newly redesigned, lightweight recyclable strawless lids will roll out this summer to Starbucks locations in Los Angeles, San Francisco, Seattle, Washington, D.C., Indianapolis, and Toronto, while the rest of the U.S. and Canada will receive them by early 2020.
The new lids have 9% less plastic than the current lid and straw. Frappuccino drinks and other blended beverages will continue to have a different, domed lid made from recyclable plastic and will be accompanied by a straw, except where local law prohibits it. Starbucks is testing alternative-material straws for blended beverages and is exploring some of this month's winning NextGen technologies that could apply to straws. (Plastic straws will continue to be available upon request for Starbucks customers who need or request them.)
Also at the meeting Starbucks Senior Vice President of Global Coffee & Tea Michelle Burns previewed a future feature for the Starbucks mobile app that shows its coffee beans' journey from bean to cup. The reveal accompanied an on-stage tasting of digitally-traceable Starbucks Pike Place Roast, the package of which, in the future app feature, can be scanned to see its journey from origin to the package.
Now one year into a two-year project to explore the benefits of digital traceability, Burns emphasized Starbucks' ambition of greater empowerment for coffee farmers as customers better understand where their coffee comes from and who grows it.
Companies in this article