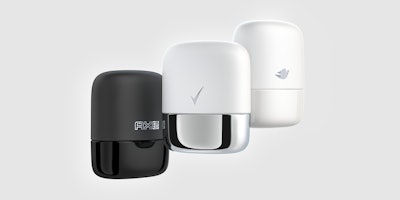 In 2010, $63 billion global consumer brands company Unilever set itself a number of ambitious targets around sustainability, including a commitment to have all its plastic packaging be fully reusable, recyclable, or compostable by 2025. Given that the company produces 400 brands covering the food and beverage, household cleaning, and personal care markets, these goals are ambitious indeed.
When first approached by TerraCycle in 2017 at the World Economic Forum regarding the new Loop circular shopping platform, Unilever saw it as an ideal opportunity to explore and test a reuse model for specific local markets. Loop also provided Unilever with a platform through which it could pilot new product formats, including a refillable deodorant package called minim™ for three of its global brands and toothpaste tablets under the Signal brand, as well as design premium packaging for five of its other brands.
A Unilever spokesperson shares that the company's nine brand teams began working on the new products and packaging in mid-2018, in accordance with TerraCycle's design brief. By the time Loop was announced in January, the team had the prototypes or finished packages ready to go. "We worked very quickly and innovatively in a lean, agile, startup way," says the spokesperson. "For example, the whole design process for minim took only four months."
For this product, Unilever's three biggest global deodorant brands—Dove, AXE (called Lynx in the U.K), and Rexona (called Sure in the U.K. and Degree in the U.S.)—joined forces to create a solid, roll-on deodorant that is fully circular. The product was designed in Europe by the Unilever packaging team along with "a key partner agency."
Says the Unilever spokesperson, "The beautifully crafted design is minimal, compact, and sustainable, offering a new consumer experience without any unnecessary materials." It comprises a stainless-steel base and cap and a recycled plastic platform that holds the deodorant. After product use, the platform slides off for cleaning and refilling. Minim is designed to last at least 100 cycles, which translates to eight years, given the product will last an average of one month. Once the package is ready for disposal, it can be easily taken apart for recycling.
The second new product, oral care brand Signal's Signal 8 Integral Tooth Tabs, enables consumers to brush their teeth using less water by simply chewing the tab before brushing. It's promoted as providing "Zero waste, zero hassle and with a huge benefit for the planet."
Explains the spokesperson, the toothpaste tabs were already in development before Loop came about. "We saw Loop as a great opportunity to pilot our new sustainable format in a more sustainable pack. It fulfills the need for an efficacious [with active ingredients], sustainable [zero added water], and convenient new format for oral care."
The Tooth Tabs are packaged in a glass jar with a plastic cap. The jar and cap are decorated using ceramic printing for long-lasting durability through multiple uses and the washing process. It, too, is fully recyclable.
In addition to the new product formats, Unilever also created premium, reusable packages made from glass and aluminum for its REN Clean Skincare, Hellmann's mayonnaise, Love Beauty and Planet, Love Home and Planet, and Seventh Generation brands. Notes the spokesperson, "Sustainable innovation actually enables us to upgrade in materials and aesthetic, rather than sacrificing those things. Given the high-quality materials, these products have been designed to last."
Regarding manufacturing of the new products and packaging, the spokesperson relates that the company plans to manufacture these items as close as possible to the pilot cities to minimize the footprint of the full production and distribution cycle.
The nine brands will be available either in Paris or New York, or both, beginning either in May or Q3-2019, depending on the product. Says the spokesperson, "As with all our innovations, we will look at the trials to give us an indication of the long-term commercial viability. Specifically, we'll look at the trial-and-repeat rate over the course of six to 12 months."
Read more about Loop here.
Companies in this article