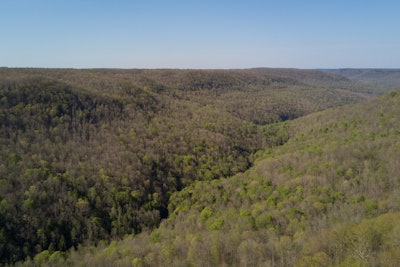 If you are like most CPGs, you probably don't know the size of your fiber footprint. While you may be committed to only using paper sourced from certified forests or including as much recycled content in your paper packaging as possible, you most likely don't know how much wood your packaging requires or whether the forests needed to supply that wood will even be around in the future.
According to Jena Meredith, Vice President, Business Partnerships, for The Conservation Fund, the steady loss of those working forests that supply timber for paper packaging "may be one of the most overlooked environmental and economic challenges of our time."
Working forests, which make up more than 420 million of the approximately 750 million acres of U.S. forests, are those that are privately owned and held by timber companies, investment firms, families, and non-profits. Their uses are many, as are the benefits they provide to the environment and local communities.
First and foremost, they are managed for forest products, with fiber for packaging "the highest and best use," says Brian Dangler, Vice President, Director, The Working Forest Fund. The working forests in the Southeastern U.S.—an area that produces more pulp for paper packaging than any country in the world—provides 25% of the world's pulpwood for paper and 18% of its industrial timber. Working forests also support 2.8 million American jobs, contributing $119 billion to the economy.
Working or otherwise, forests also support the water we drink. According to The Conservation Fund, 53% of our drinking water supply flows through American Forests. Forests also clean the air we breathe, with deforestation resulting in 12% to 17% of global greenhouse gas emissions. And, forests protect wildlife habitat: 60% of at-risk species in the U.S., such as the Louisiana black bear, the northern spotted owl, and coho salmon, live in private forests.
But U.S. working forests are in crisis. Since 2000, the U.S. has lost 23 million acres of working forest—an area roughly the size of Maine. Today, more than 45 million acres are at risk of fragmentation and conversion to other uses, such as commercial and residential development, due to short-term financial interests. In fact, an estimated 4,000 acres of forest are lost to development every day.
As Dangler explains, what were once working forests owned by large, integrated forest product companies, such as International Paper and Georgia Pacific, are now owned by investors that place their money with Timberland Investment Management Organizations (TIMO). These groups manage the land primarily for the goal of return. "The investors are impartial," he says. "If they feel the highest and best use is splitting up the forests into smaller pieces, or what we call partialization, or selling them to a developer, that change in land use becomes the biggest threat.
"These lands are no longer producing fiber sustainably, but also, once these big blocks are chunked up into smaller and smaller pieces, then their ability to provide all the great intrinsic benefits forests offer to America is compromised. This is why we say this is perhaps the largest conservation challenge of today. But it's really off the radar, and most people don't know about it."
A strategy for protecting at-risk forests
In the trenches in the fight to rescue America's working forests is The Conservation Fund. Begun in 1985, the organization works to protect privately-owned, intact working forests by purchasing them through its Working Forest Fund, created in 1998, and holding on to them as long as it takes to permanently protect the property through a conservation easement.
"That easement is a deed restriction," Dangler says. "It perpetually guarantees the property will never change in land use, and we can put things in the easement that require, for example, open recreational opportunities for the public or sustainable forestry practices, so we can codify forever that this land will be managed for those goals.
"What distinguishes The Working Forest Fund from our peers is that once we ease the property, or fully protect it, then we can resell the property to the private timber market."
The Conservation Fund's most recent success is the purchase of Skinner Mountain Forest in Tennessee. Skinner sustains nearly 100 timber-related jobs, contributes up to $5 million to the local economy each year, supports tourism across the region, and contributes thousands of metric tons of paper and packaging to the supply chain. The forest also boasts an intricate maze of caves and older trees that shelter the Indiana bat.
The forest was originally owned by a private company but was then sold to the private timberland investment market. When the nearly 14,800-acre forest came on the market, its future became uncertain—as did the future of the Indiana bat. Together, The Conservation Fund and the Tennessee Wildlife Resources Agency began working to find a way to protect the property in perpetuity. Through the Working Forest Fund, it purchased the forest in 2017 as a stopgap until it can assemble the funding needed to protect the forest permanently. Dangler estimates it will take from three to five years.
How CPGs can help
The WFF's money for easements comes from an assemblage of state and federal dollars, private philanthropy, and corporate donations. Says Dangler, "We have a very active program with our Business Partnerships division that's attracting business contributions."
That's where Jena Meredith comes in. Meredith works closely with companies to generate support for WFF. She also develops campaigns with major corporations to inspire employees, engage customers, and make lasting impacts for land, wildlife, and communities.
One of Meredith's most notable projects was with Apple, which in April 2015 announced that, in partnership with The Conservation Fund's WFF, it had purchased up to 36,000 acres of American timberland in Maine and North Carolina. This in an effort to preserve forests while developing a source for eco-friendly packaging for its products.
The move was part of Apple's three-pronged strategy to reduce the impact of its paper and packaging use. It stated that Apple would 1.) use paper more efficiently and, where possible, use recycled paper; 2.) source virgin fiber responsibly; and 3.) protect and create sustainable working forests.
Reads "Apple's Paper and Packaging Strategy" report, published in October 2017, "The third initiative—though not an obvious course of action at the project's outset—helped ensure that our efforts to source virgin fiber responsibly do not simply take away from the world's supply of paper derived from sustainably managed forests, but also grow the supply."
Meredith, who calls Apple's initiative "precedent-setting," says that since then, The Conservation Fund has also seen significant efforts from other companies, including U-Haul, which has been working with the fund to invest in working forests as a way to offset some of the tens of millions of boxes it sells every year. U-Haul's initial commitment, in mid-2017, was a contribution to the ongoing conservation of more than 8,700 acres of working forestland surrounding Success Pond in Northeastern New Hampshire.
Said U-Haul International, Inc. President J.T. Taylor, at the time of the announcement, "Boxes used for packing and moving are essential to our customers and are thereby fundamental to our nation's mobility. We recognize that manufacturing boxes can have an impact on our nation's forests. Ten years ago, we initiated our Take a Box, Leave a Box program, providing customers a way to share used boxes with other customers who are in the process of moving. Partnering with The Conservation Fund on the conservation of Success Pond Forest is another important step in reducing that impact by ensuring forests remain environmental and economic assets for the long-term and supporting a sustainable supply chain. U-Haul Company is committed to the communities we serve and safeguarding the forests that clean our air, purify our water, and shelter wildlife now and into the future." U-Haul is now also involved with the Skinner Mountain Forest project.
Key to both Apple and U-Haul's strategies was to first determine their forest footprint—something Meredith says very few companies know. "There's a general consensus out there that 'it's probably pretty big, pretty small, I don't know, but we recycle.' There's not a lot of understanding that the virgin fiber has to come from somewhere, and that a box can only be recycled so many times.
"I think the very first step is for companies to understand that they have a forest footprint, they have a fiber footprint, and to start to dig in to understand what that means to them. They need to ask themselves, 'How many acres are out there and need to exist for me to operate under business as usual?' And then they need to make a plan that is adaptable to their company."
Among the pushback she's heard are CPGs that say it's not their responsibility, it's the box maker's or that it's too hard to dig into their fiber supply chain, that they're not even really sure where their fiber comes from.
"Oftentimes we've heard companies say that this is a vulnerability, but since the public isn't aware of it, there's not necessarily the same pressure to do something about it," Meredith says. "My guess is that there's still a 'yet,' and that as we learn more and more about trends like e-commerce, and as we use more and more of our resources, there will be a pretty significant push to make sure we're not using up more than we have."
While there's not a standardized tool companies can use to calculate their forest footprint, Meredith says they can contact The Conservation Fund (513/423-5086) for confidential help without any obligation.
Companies can also contact the fund if they want to explore ways to help protect working forests through contributions. "We have a gap at Skinner," Meredith explains. "It's a relatively reasonable gap, a couple of hundred thousand dollars, where if there were others out there in the packaging industry who wanted to play a lead role, it certainly would be possible for them to come in too."
The Conservation Fund has so far protected 500,000 acres of working forests; its goal is to protect 5 million more. "We are ambitious, but it's a big challenge, and we're stepping up to it," says Dangler. "How quickly we can do this depends on how fast we can assemble partners to help us. But we do think in the next 10 years, we're going to be able to rise to this challenge and get the most significant working forests under a permanent protection."