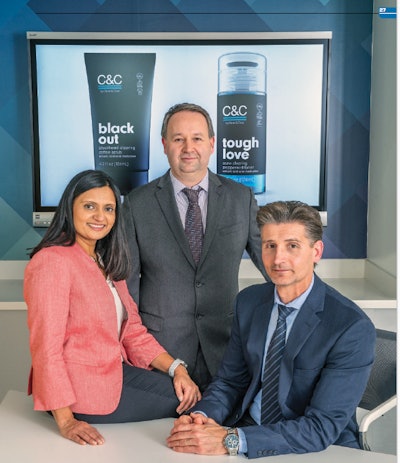 Johnson & Johnson Consumer Inc. (JJCI) is a subsidiary of New Brunswick, NJ-based Johnson & Johnson, whose other two businesses are pharmaceuticals and medical devices. For this year's edition of View from the Top, we asked packaging thought leaders at JJCI—whose well-known brands include the likes of JOHNSON'S® Baby, Tylenol, Aveeno, Neutrogena, Listerine, and Band-Aids—to share their insights into the state of packaging at this $13.6 billion consumer product juggernaut. What we learned more than anything else is that packaging has become a team sport that brings all functions together to deliver a rich experience to consumers. Miguel Herrera, Global Package Development Director for North America Consumer and Global Oral and Wound Care for JJCI, explains it this way.
"Here on the consumer side in the past few years we've begun to incorporate packaging into the conversation more prominently, making packaging part of a holistic product design effort. That's why we formed the Global Packaging Innovation Group. And that's why we are partnering so much more closely with key packaging suppliers."
Heading up the Global Packaging Innovation Group is Rafal Hrymoc, Global Package Development Director for Beauty Packaging and Innovation. He joined JJCI about 3 years ago, just after the Global Packaging Innovation Group was formed, and a big part of his job has been fueling that group's efforts.
"It's a matter of changing course, of paying more attention to how consumers experience our company not only from the product formula and product performance perspective but also from the packaging side," says Hrymoc.
Because J&J has such a huge footprint in pharma and medical device, he adds, he and his colleagues on the consumer side occasionally have to remind themselves and the organization itself that they are neither pharma nor med device. "We need to get to market faster than what is customary and expected in J&J's other divisions, where regulatory restrictions tend to slow things down, and we need to do it boldly," says Hrymoc. "We need to be a strong and nimble competitor relative to the other cosmetics- and consumer-focused firms out there. To do that we must be relevant to consumers. As they change, we need to change as well."
Both Herrera and Hrymoc, along with a few other packaging-centric colleagues, are part of a J&J global franchise leadership team. "That means packaging is not an isolated function as it once was," says Herrera. "We're not over in a corner developing packaging solutions for products and formulas that are being developed somewhere else. We're embedded into the leadership teams, which means I sit with the global president who oversees J&J's oral and wound care products on a regular basis to discuss strategy. What do the brands stand for, what are the marketing plans, what is R&D up to, and what are the packaging plans—these are all discussed in a tightly integrated fashion."
Benefits realized
This philosophy of departmental integration, combined with the newly forged supply chain partnerships that Herrera mentions, have paid huge dividends in recent JJCI initiatives. There's no better example than the recent global restaging of the firm's iconic Johnson's Baby brand, which had grown to become the most popular baby brand in the world. With sales in more than 140 countries, the brand had developed regionally, leading to 470 products, 293 formulas, and 102 different types of bottles and closures. This resulted in complex business structures, cumbersome supply chains, and a multitude of formulations around the world.
So the brand was restructured, a process that included streamlining operations, simplifying the supply chain, paring back ingredient lists, and creating updated and globalized formulations based on cutting-edge science as well as parental preferences.
"We started by building deep consumer insights into the brand," says France Depaix, Senior Director of Packaging Development R&D Global Baby & EMEA region, who led the packaging transformation from her office in France. Much of this insight came by way of JJCI's Consumer Experience Centers, or CXCs as they're called. There's one in Skillman, NJ; one in Val de Reuil, France; and one in Shanghai, China. The goal at each one is to create an environment where tremendous learnings can take place because consumers are observed interacting with products and packages in a friendly setting, one that includes bathrooms, sinks, and nurseries.
Armed with consumer insight, says Depaix, "We then implemented global solutions with global suppliers. The model was not to reinvent the wheel in multiple markets but rather to develop once and deploy globally."
The results included a 23% reduction in SKUs, a 70% reduction in bottle and closure styles, an 89% reduction in the number of packaging suppliers, a reduction of ingredients by 60%, and a reduction of formulas by 49%. The simplified portfolio has decreased cost while increasing speed to market and overall customer responsiveness.
As for packaging suppliers, the list was narrowed to just three: Alpla for the bottles, Aptar for the pumps, and RPC for the caps. These suppliers joined the JJCI global packaging team in what is believed to be a first-in-the-industry supplier workshop, where competing suppliers focused on true collaboration and partnership. "When you have that kind of trust at the foundation of a project, especially one this enormous, it's amazing how much more efficiently you can marshal your combined resources," says Depaix.
JJCI's new approach to packaging also was in evidence as the firm prepared for this October's launch of Listerine Ready! Tabs. Aimed squarely at on-the-go usage, it's an entirely new formula and format compared to the original Listerine mouth wash that has been a staple for so many generations.
"If the targeted consumer is on-the-go, we had to come to terms with the fact that, unlike users of original Listerine, users of these tabs will not have a bathroom or sink in which to spit," says Herrera. "So we came up with a formula for a product that can be swallowed that still has the same fundamental benefits as original Listerine."
Both Herrera and Hrymoc describe this launch as the epitome of how JJCI now integrates packaging into the product development process. "We were there every step of the way with the formulators, design, marketing, and finance right from the beginning, working on it together," says Herrera. "We spent a lot of time with consumers, too, and there was plenty to learn. For example, we first thought let's put this into a Tic Tac type of container. But consumers made it clear that, because treating bad breath is a very personal thing, something more discreet was called for. This blister pack is just that. There are very tight tolerances between the size of each tab and the size of the blister in which it sits. That means you don't have the product rattling around noisily and indiscreetly in your purse or pocket. The other thing we wanted to do is clearly differentiate this product from mints and gums. This product gets used very differently from either of those, and we wanted to make sure that the package helped educate the consumer and delivered a sense of being a premium solution."
Essentially this is an eight-count, thermoformed, push-through blister-pack with heat-sealed foil lidding. The blister is then trapped between top and bottom layers of paperboard with high-impact graphics. Four intriguing features stand out. The "Lift to Open" tab along the right side offers a nice reclosure element. The top paperboard flap hides the torn pieces of aluminum that might compromise the premium appearance once a few tablets have been removed. The inside of the top paperboard flap carries helpful info on the chew, swish, swallow experience that is the very essence of the product. And finally, because the squared-off top and bottom paperboard portions of the rectangular package are easily removed by the consumer thanks to perforations (see photo A), the package fits all the more easily into purses or pockets once it has left the store and no longer needs to have a hang-tab component on top.
All of this, notes Hrymoc, and the package while hanging on a retail display rack still echoes the shape of the iconic Listerine package. "It was a really cool project into which we were able to insert ourselves right from the start," adds Herrera.
Targeting millennials
Like packaging professionals everywhere these days, the team at JJCI understands that designing packaging for millennials requires a certain touch. They showed a deft touch indeed with two product launches this past year: Listerine Nightly Reset, which is technically more of a line extension than a launch, and C&C by Clean & Clear.
Nightly Reset is a new anticavity fluoride mouthwash that is aimed squarely at millennials. "Focused as it is on a different target than original Listerine, it presented a big design challenge for the brand in terms of equity," says Herrera. "With Nightly Reset we needed a different look, something that would appeal to millennials. So we designed a second equity, so to speak."
Sure enough, some of the original iconic design is echoed in the pinch-waist shape of the Nightly Reset bottle, which is injection-stretch-blow-molded PET just as original Listerine is. But even though the word "Listerine" in its time-tested typeface is dominant in position and size, the overall appearance of this container is dramatically different.
Not different, however, is the cap. "We use the same cap as you'll see on original Listerine," says Hrymoc. "It's a matter of leveraging what we could—the engineering, the injection molding machinery, the molds—in an effort to keep costs in line and to retain some of that iconic brand positioning. Yet the container is boldly different than that of original Listerine."
Also developed for millennials was C&C by Clean & Clear, about which Conde Nast's Allure magazine had this to say: "The line features 11 products, including masks, foaming cleansers, and camocolored pimple patches. They have all the efficacy of the original Clean & Clear formulas, plus a dash of cool, sleek minimalism. Think simple, black-and-white packaging and product names like 'Black Out' (a blackhead-clearing coffee scrub), 'Total Zen' (a calming lavender mousse cleanser), and 'Tough Love' (an acne-clearing peppermint toner)."
Unlike Nightly Reset, however, which went through all the traditional brick and mortar retail channels, C&C was launched as an e-commerce-only play available on amazon.com and ulta.com. Even now that's where most of it is sold, though it's also available in Ulta Beauty stores. Where it's not sold is in brick-and-mortar Walmart, Target, Macy's, et al.
According to Hrymoc, the development path behind this launch was decidedly unlike anything JJCI would have undertaken a few years back. "We had a very specific team including packaging, marketing, R&D, design, and supply chain practically locked in a room making immediate decisions," says Hrymoc. "They even partnered with wildly popular twin teenage YouTube bloggers, Brooklyn and Bailey, for feedback and advice on everything from scents to packaging." For details on how these 18-year-old identical twin teen sensations pitched in, go here: pwgo.to/3868.
"It was very strategically focused on what we're doing as a brand, as a company, to leverage product and package design to have an impact with the millennials," adds Hrymoc. "Even the messaging about no animal testing and no preservatives was done through symbols or icons on the front facing rather than text. This project brought tremendous learning inside JJCI. And it was born and delivered in under 10 months, which is quite radical for J&J. But it happened because we had a focused team. We had decision makers on board who knew exactly what they were going after, what they needed to try, and who they needed to try it with. So now we're using all that knowledge to re-examine our entire internal infrastructure. What can we take from that launch and where can we apply it elsewhere in an effort to get to market faster?"
Before leaving C&C, two more observations about C&C by Allure: "Who said functionality and coolness have to be mutually exclusive? Best of all, the C&C by Clean & Clear range is totally reasonable at $8 to $16."
The e-commerce journey
When asked to describe JJCI's status on the whole e-commerce front, both Herrera and Hrymoc emphasize that while it's essential going forward, it's a rather fluid scene today. The company's products are sold through both amazon.com and through direct-to-consumer sites such as neutrogena.com or listerine.com. When sold on the direct-to-consumer sites, fulfillment is typically done by a 3PL (third-party logistics company).
"From a purely packaging standpoint, e-commerce today is a very complicated topic," says Herrera. "Packaged goods companies like ourselves are trying to adapt what we sell in brick and mortar stores to a new channel that treats things differently in the logistics and supply chain. How do we price things that go through two such wildly different channels?
"We've partnered a lot with the technical people at Amazon to learn more about what happens to packages as they move through the supply chain, about how we should retrofit things with that supply chain in mind. The bottom line is that liquid-containing packages leak. Caps break. Flip tops open. Pumps get destroyed. So we're focusing on these areas with our packaging suppliers to sort it all out.
"But you can't just overcome these performance challenges while ignoring aesthetics. You haven't gained much if you develop a cap for a Listerine bottle that won't leak but looks horrible in the consumer's home. What consumer would re-order that product or package?"
Needless to say, a lot of work is going on where e-commerce is concerned. One sign of how seriously the firm is taking this issue is that the stage/gate process that precedes a product launch now includes a specific gate that calls out the needs and the systems required for the launched product to fit into e-commerce.
"It involves the entire supply chain of the organization," says Hrymoc. "It's not just having the right package. It's a matter of deciding if we want to have SKUs that are specifically for brick and mortar and others that are for e-commerce. So there's a lot of learning that still needs to take place where e-commerce and packaging are concerned."
Sustainable packaging
And then there's sustainable packaging. Both Herrera and Hrymoc say there's no shortage of passion at JJIC where this important topic is concerned. And both are encouraged that the understanding, the willingness, the desire, and the commitment come from the top. "Driving it from the bottom up does get some traction, but ultimately it requires marketing having the vision and the strategy behind it so that they can drive it from above," says Hrymoc.
Just as helpful within JJCI is the recently released sustainable packaging playbook called Design for Recycling, which spells out roles and responsibilities throughout the organization. It also asks such key questions as what are the key business drivers behind sustainability? What is the current global state of plastic pollution overall? What is it, specifically, that needs to be solved? "If you don't see the issues clearly, it's pretty difficult to address them effectively," says Hrymoc.
Also being addressed is the whole marketing and communications message that sometimes needs to dovetail and shore up sustainable packaging initiatives. What if by increasing the percentage of recycled content in an HDPE bottle it makes that bottle start to look odd or off-colored in some way? Consumers may think there's something wrong with the product inside. "So we're still looking at ways to communicate these kinds of things to consumers," says Hrymoc. "There needs to be a message from marketing as to why we are doing this."
Working with organizations like the Association of Plastic Recyclers is also high on the list of things to do at JJCI. "Tubes are a good example," says Hrymoc. "They're used by all kinds of consumer goods manufacturers, but the infrastructure we have today doesn't make them very recyclable. How do we work with APR to change that? Same thing with flexible films, which are often multilayered like tubes. This is one part of the sustainable packaging conversation where we are collaborating with companies beyond JJCI, which is a great thing to see."
Another level of collaboration was announced October 29, when JJCI said it is joining an ambitious effort to move the world closer to a circular economy in which plastic never becomes waste. Together with the Ellen MacArthur Foundation, the UN Environment Programme, and more than 200 organizations representing many of the world's largest packaging producers, brands, retailers, and recyclers, JJCI announced it is a signatory to the New Plastics Economy Global Commitment. JJCI is thus committing to use more recycled materials in packaging, reduce reliance on the single-use model, and ensure that 100% of plastic packaging be reusable, recyclable, or compostable via design, partnerships, and investments by the year 2025.
"With this decision to accelerate our sustainability goals, Johnson & Johnson Consumer is acknowledging the ever-increasing urgency of the issue of plastic waste—and our own responsibility to work towards innovative solutions," says Paulette Frank, Worldwide Vice President, Environmental Health, Safety & Sustainability at JJCI.
Hrymoc believes that because hot-button packaging issues like sustainability and e-commerce are fluid and rapidly evolving, dealing with them needs to be viewed as a journey. "What I will say is that we've gotten to the point where such things are no longer viewed as a nice-to-have," he points out. "In the case of sustainable packaging in particular, there's an element of internal accountability in place now that comes from the very top of the organization. Do we have a ways to go? Yes. But in time such things will become the norm, and then we'll move on to new challenges as they present themselves.
"As for packaging innovation, we have our eye on packaging equipment that's designed with e-commerce in mind, like cartoners and case packers that are practically infinitely variable in terms of the carton or case size they can form. We also like what we see in digital printing because it facilitates late-stage customization. What it all comes down to is this: We're going to keep pushing the dial as far as we can to disrupt things and really see where we can make a difference."
More views from the top
Access this comprehensive summary of discussions held at PMMI's 2018 Top-to-Top Summit, wherein both CPG and OEM leadership met to address today's pressing issues. The document will shed light on historically thorny facets of packaging machinery procurement and operation, such as RFP standardization, practical IIoT implementation, aftermarket training and support strategies, and much more.
Download the report for free at pwgo.to/3869.
Companies in this article