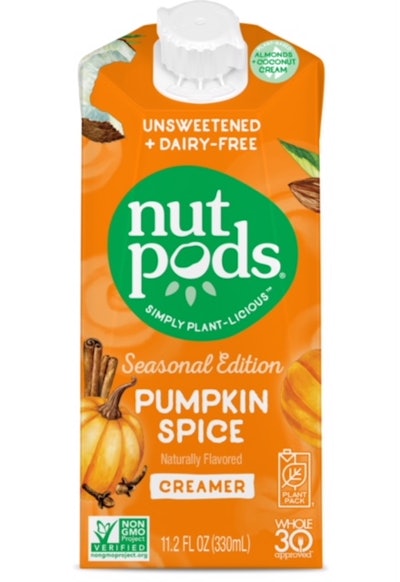 This plant-based solution is known as SIGNATURE PACK from SIG. As a category innovator, Bellevue, WA-based nutpods has become one of the fastest growing brands in the country. By choosing SIG's innovativeSIGNATURE PACK solution, nutpods cemented its commitment to sustainability with this plant-based initiative. OfferingSIGNATURE PACK to their customers not only means they are responding to current market demand for more sustainable products but that nutpods is passionate about having a positive environmental impact.
"We are so excited to extend our plant-based story into our new plant-based packaging," says nutpods founder and CEO Madeline Haydon. "Our consumers depend on us to bring them not only the highest quality products with the best taste, but also to be stewards of our category with regard to the environment, and the SIGNATURE PACK is one of the ways we can continue to lead."
SIGNATURE PACK promotes the use of renewable raw materials to save fossil resources while making a positive impact on the environment. These cartons are made mainly from paper board from wood fibers and plant-based polymers through what SIG calls "mass balancing." This means that for polymers used in theSIGNATURE PACK, an equivalent amount of bio-based feedstock went into the manufacturing of the polymers. To ensure the integrity of this process, the mass balancing is certified through internationally recognized third-parties. Polymers of theSIGNATURE PACK carton are linked to plant-basedmaterials from European wood sources using recognized and audited certification systems to ensurestrict traceability and accountability.
TheSIGNATURE PACK label will be displayed on nutpods seasonal creamers along with the FSC™ label, which verifies that the processed wood fibers used to produce the raw paper board come from responsibly managed, FSC-certified and other controlled sources.