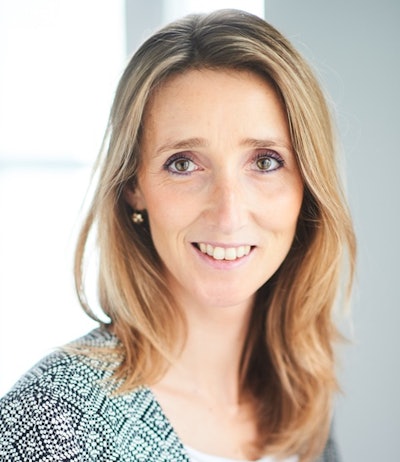 Virginia Janssens is the Executive Director of EUROPEN, a material-neutral trade association for the European packaging industry and a sister organization to U.S.-based AMERIPEN. Janssens will be in the U.S. for a presentation on packaging policy trends from Europe at the 2018 AMERIPEN Annual Meeting, May 30 to June 1 in Washington, D.C.
Packaging World:
The Packaging and Packaging Waste Directive (PPWD) is currently being reviewed. What are some of the more significant changes you anticipate?
Virginia Janssens:
The legal review of the PPWD, as part of the European Union (EU)'s Circular Economy Package (CEP), will be formally adopted in April/May 2018 by the European Parliament and EU Council. The 28 Member States to the EU will then have two years to adopt the CEP into their respective national legislative frameworks.
One major change is the increase in the legally-binding EU recycling targets for all packaging materials (glass, metal, plastics, and paper) and the removal of the EU packaging recovery (incineration) targets. Overall, EU Member States have to achieve a 65% packaging recycling target by 2025 and 70% by 2030. These increased targets are accompanied by a new calculation methodology to measure national recycling rates, aimed at harmonizing Member States' reporting, resulting in more accurate and comparable recycling rates. In addition, Member States have to reduce the volume of municipal waste, including packaging waste, sent to landfill to 10% by 2035.
Another key point is the introduction of EU minimum requirements for Extended Producer Responsibility (EPR). EPR for packaging is an economic instrument used in Europe and covers the producer's full or partial financial and/or operational responsibility for a product to the post-consumer's stage of a product's life cycle. EPR is used as one key mechanism to meet EU and national recycling targets. Over the last 25 years, producers have been instrumental in many Member States in setting up packaging recovery organizations (i.e., EPR schemes) to finance separate collection and sorting to recycle the packaging that producers place on/import into the EU market. EUROPEN advocates for EPR rules that increase transparency and cost-efficiency of the scheme and for producers' costs, clearly define roles and responsibilities, and enforce EPR obligations at national level.
In the new CEP, the European Commission proposes to place the "entire cost of waste management on producers or importers of products put on the EU market." How does this change the current implementation of producer responsibility for packaging in Europe?
In practice, many parties are involved in waste management: producers, retailers, municipalities, private or public waste management companies, and consumers. For waste management to be effective and efficient, the specific role and responsibility of each actor needs to be clearly defined. This is part of our call for more accountability under EPR.
In Europe, EPR covers the separate collection, sorting, and treatment operations of used packaging to help meet EU and national packaging recycling targets. This responsibility can be purely financial and/or operational. The financial responsibility can be a partial cost or an "entire" cost. The situation is very different from one Member State to another.
EUROPEN members support EPR where the "E" stands for Extended, not Endless. Hence, an unlimited obligation on producers to cover the undefined "entire cost of waste management" in the CEP could lead to a disproportionate producer responsibility at Member State level. A clear cost demarcation for producers will need to be negotiated in each Member State. Financial responsibility should come with influence over decisions that drive costs.
The new rules have vaguely described the cost under EPR, allowing Member States some freedom to decide what should be added under "entire cost" and what should not, according to their national setup/infrastructures. So the answer to your question will reveal itself when Member States are changing their EPR rules within the next two years. For instance, Member States could add costs for litter clean-up—as opposed to litter prevention campaigns, which we support—that go beyond producers' remit and control.
EUROPEN has been vocal that some of the proposed actions promoted to create a circular economy for packaging might create market distortions. Can you elaborate on this? Are there similar implications from a global perspective?
EUROPEN strongly supports the aim of moving toward a Circular Economy, but harmonized at Union level rather than to end up with 28 smaller national Circular Economies that fragment the EU's Internal Market and also our global supply chains.
As we move into the implementation of the CEP at national level, and the upcoming review (yes, again!) of the PPWD, we will need to be vigilant that a functioning Internal Market can be retained. The Internal Market legal basis of the PPWD ensures that packaging and packaged goods that comply with the EU Directive enjoy free circulation across the EU Member States. We now see increasing tension from some Member States to fragment the Internal Market, allowing the diversion of national packaging policies, which can lead to market distortions. The EU's Internal Market provides scalability for investments and innovations across the EU and therefore needs to be maintained and even strengthened.
EU packaging rules have historically been based on the functioning of the Internal Market and hence the free movement of packaged goods with harmonized standardization. In doing so, the objective was to remove trade barriers for manufacturers, which were at that time required to use different packaging formats for different Member States.
EUROPEN, together with a coalition of 128 other EU and national trade associations, has been campaigning for retaining the Internal Market as the legal base for the PPWD. EU industries need the scale to innovate, including innovations that deliver environmental improvements. Returning to a fragmented EU and a fragmented supply chain will mean that some investments will not materialize because they are too costly and/or risky to pursue for a smaller market. More, and not less, EU-wide harmonizing measures are needed for a Circular Economy in Europe, and beyond. A revival of new intra-EU trade barriers represents a significant ongoing threat, also from a global trade perspective, as supply chains are often global.
Harmonization seems to be a key message coming from EUROPEN and others. This is applied to EPR but also in terms of packaging directives and guidelines. Why is harmonization needed? Related to this, what impact will the U.K.'s exit from the EU have on the packaging regulatory environment?
Indeed, harmonization is one of our key advocacy messages. Harmonization is important because it allows free movement of packaged goods and packaging across the 28 Member States and economies of scale across the packaging supply chain in Europe. Twenty-eight different legislations dictating packaging design would increase cost on companies manufacturing and/or selling in Europe. Instead, we need a strong Internal Market to meet the EU's growth and job objectives that are the core of the CEP.
The CEP will need to be properly implemented, guided by harmonized EU guidelines, especially when it comes to the implementation of the EPR general minimum requirements into national laws. The European Commission is also developing EU guidance on the modulation of EPR fees. EPR fees paid by producers as part of their financial obligations will be further modulated according to a number of criteria, including the durability, reparability, reusability, and recyclability of their products as well as the presence of hazardous substances in the products/packaging.
The conditions and terms for the Brexit are currently being negotiated among the EU and the U.K. sector-by-sector, so it is too early to have a clear visibility of the impact on both sides. As a general principle, an uncertain and unstable policy framework tends to negatively impact investments and innovation. For the U.K. to continue to trade with the EU, it will likely need to comply with European environmental law to gain/retain access. Likewise, EU industry/importers might need to tailor to specific U.K. packaging design rules.
Much attention has focused on the EU CEP but here in the U.S., supported by the U.S. EPA, much of our waste policy efforts appear to promote sustainable material management (SMM). Can you tell us how, or if, these two frameworks intersect in European Policy?
"Circular Economy" has been the buzzword in Europe for the last couple of years. Before Circular Economy, it was about a Resource Efficient Europe, and Sustainable Production and Consumption. All of these concepts have an overlap in objectives, and no doubt also with the U.S.'s SMM program. In the end, it is about how to maximize the value of our used materials and keep them as long as possible in our economies in the most sustainable manner.
What impact is the China Sword having on Europe? What policy shifts do you anticipate as a result? How are European Packaging Recovery Organizations (PROs) responding? Are there any other pressures facing the European packaging community?
China's decision last year to ban imports of 24 categories of waste, including plastics, starting in January 2018 has been one of the key drivers for the EU's Plastics Strategy, launched earlier this year by the European Commission. This Chinese ban is stated to be a driver for the EU industry to find new/more solutions on how to deal with its plastic waste domestically. So far, China accounted for more than half of global demand for plastic waste and half of global paper scrap imports, and waste traders struggle to find alternative markets. Europe needs to find a new home for the almost 3 million tons of plastics that we have been exporting every year to China.
The EU Plastics Strategy is also heavily impacting our supply chain. It sets ambitious targets for plastics, including plastic packaging. By 2030, all plastic packaging put on the EU market should be either reusable or recyclable in a cost-effective manner. The strategy aims in particular to boost the demand for recycled plastics. To this end, the European Commission has launched an EU-wide corporate pledging campaign calling for 10 million tons of recycled plastics to find their way into new products on the EU market by 2025. Companies are encouraged to come forward with credible/verifiable pledges by the end of June 2018. Regulation will be considered if the pledges received are insufficient to achieve the objective of 10 million tons.
As e-commerce rapidly grows, what discussions, if any, are you seeing in Europe revolving the role of packaging and related policy?
The quality of the delivery, including packaging, plays an important role in the experience of the e-consumer and ultimately brings new opportunities but also challenges to the packaging supply chain. It emphasizes the inseparable link between packaging and the product it contains and all its functionalities, to ensure that products are delivered to consumers in perfect condition.
In terms of packaging policy, we have debated the role of e-commerce in the context of EPR and the need to create a level playing field between online and physical trade when it comes to EPR compliance for packaged product sold into the EU market, whether that is via a digital or physical trade route. Challenges related to recyclable, reusable, or returnable packaging, or "over-packaging" are equally important to address for this sector.