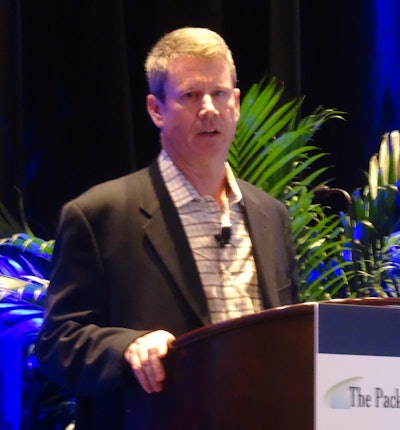 Fledgling company rPlanet Earth (rPE, 310/527-0733) is on a mission to revolutionize the way PET is recycled and put back into packaging. rPE's model is to recycle post-consumer PET, including water and soda bottles and thermoformed containers, into a bottle-grade flake that exceeds FDA requirements for direct food-contact applications. The company will then use the rPET flake to manufacture high rPET-content bottle preforms, sheet, and thermoformed products for food, beverage, cosmetics, and other packaging applications.
What's unique about rPE's process, Robert Daviduk, co-CEO of rPE, told attendees at The Packaging Conference, is its low carbon footprint versus traditional PET recycling and rPET package manufacturing methods. With traditional processes, one facility sorts, grinds, and washes the PCR PET, another decontaminates and pelletizes the material, and a third produces the rPET preforms or sheets. With the rPE process, all steps are done in one location, with the exception of pelletization, which is not required.
As Daviduk explained, removing the pelletizing process not only reduces energy—the process uses 22% less—but also eliminates the heating and melting step, thereby avoiding unnecessary PET degradation and resulting in rPET with greater clarity.
Among the advantages of having all steps in the process housed under one roof, Daviduk added, are the elimination of intermediate supplier mark-ups and transportation costs, and the removal of costly production steps.
Said Daviduk, from the rPET flake, the company will produce very high-quality bottle preforms, sheet, and thermoformed containers with excellent color and clarity characteristics. These include clamshells, deli rounds, beverage cups, and more, using customized blends of rPET and virgin PET that can include anywhere from 25% to 100% rPET. The company will also be offering wash-away labels for recycling.
rPE is already underway with construction on its first plant in Vernon, CA, a custom-built, 302,000-sq-ft plant that will operate two recycling lines supplied by Krones. Phase 1 will become operational in summer 2018, Phase two by year-end 2020. Each line will have the capability to produce 80 million lb of finished product per year.
"Upon completion of the Phase 2 expansion, by volume the plant will be the largest food-grade rPET plant in the U.S. and the second largest in the world," said Daviduk. rPE hopes to eventually open four to five facilities in all, strategically located across the U.S. in high population areas.
Read more about the conference at "The Packaging Conference answers, 'What's new?'"