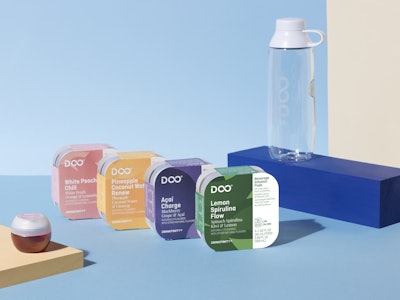 With Drinkfinity, people can "Peel, Pop and Shake" to combine the dry and liquid ingredients contained in portable Pods with water in a specially designed, reusable, BPA-free Vessel, and create beverage blends in a variety of flavors.
"Drinkfinity is a delicious new beverage option that allows today's busy consumer the unique opportunity to personalize a drink based on their individual preferences and unique lifestyle needs," said Hernan Marina, Vice President, Global Business Innovation, Drinkfinity. "Better yet, Drinkfinity was made to do more than just hydrate – it was created with a simple vision to make a beverage that connects the dots between wellness and versatility, while trying to balance the needs of both people and the planet."
"We are extremely proud to launch Drinkfinity in the United States," said Luis Montoya, President, PepsiCo Latin America Beverages and Drinkfinity. "Developing a brand 'intrapreneurially' within PepsiCo has been an incredible experience and one that we believe will create insights for the broader organization."
Multiple flavor profiles available include Acai, Pomegranate Ginger, Elderflower, and Coconut Water Watermelon, which are made up of dry and liquid ingredients like chia seeds, acai fruit, ginger root extract, and concentrated fruit juices. The dry and liquid ingredients within each Pod are sealed separately in dual chambers until the beverage is mixed with cold water in the Drinkfinity signature BPA-free, dishwasher-safe Vessel to create a 20-oz beverage that can be easily enjoyed on the go and throughout the day.
Ingredient Pods use approximately 65% less plastic than a 20-oz ready-to-drink beverage bottle. Each Pod is free of artificial sweeteners and artificial flavors, and contains between 30 and 80 calories per 20-ounce beverage. Drinkfinity offers 12 unique blends, a complete list of which can be found on www.drinkfinity.com.
The Drinkfinity Pods are available in packs of four and retail between $5.00 and $6.50, and the Drinkfinity Vessel retails for $20.00. Drinkfinity can be purchased exclusively at www.drinkfinity.com.
For each purchase in the U.S. in 2018, Drinkfinity will donate $1 to Water.org to help provide one year of safe water for one person in the developing world, up to $100,000.