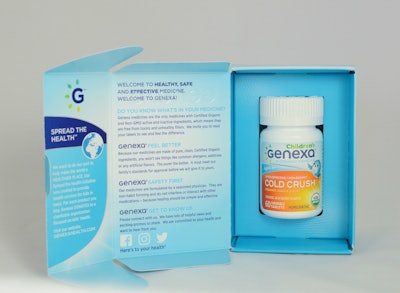 [This story originally ran 11/14/2017]
Many of us take for granted that our medications will benefit our health. When it comes to our children, we tend to pay closer attention to the list of ingredients on a package's label. That was the case with David Johnson, CEO of Genexa, a Beverly Hills, CA-based producer of organic, non-GMO medicines.
Born and raised in a family of naturopathic and chiropractic physicians, Johnson has been involved in natural healthcare his entire life. When he became a new father, he began researching what was in conventional medicines for kids. What he found shocked him.
Johnson feels that, "Many ingredients in over-the-counter medicines are blatantly unhealthy and are listed right there on the package. Children's medicine ingredients can include aspartame, sorbitol, and other artificial sweeteners; binders and fillers made out of gluten, lactose, and soy; artificial dyes and preservatives and other synthetic ingredients.
"I co-founded Genexa because I hated feeling helpless when my kids got sick. I didn't like the ingredients in their medicines either. Children's medicine should be free from toxins, allergens, and synthetic fillers. That's why we created Genexa, a cleaner, healthier medicine for the whole family."
Johnson explains that the company, led by himself and his business partner, Genexa President Max Spielberg, worked to develop products free of what they considered unhealthy ingredients. The process involved three years of R&D to create the proprietary technology needed to make the medicines healthy, organic, and natural. Says Johnson, "We had to create a never-before-seen formula for binding the medicinal tablets together that wouldn't include allergens or toxic synthetics, and we succeeded. Now we have several patents pending on the groundbreaking inventions that allowed this medicine to be possible.
"Our products are the first-ever OTC medicines to be dual-certified USDA Organic and Non-GMO project-verified, meaning that all the ingredients in our medicines are non-GMO and 95% or more are organic. This is extremely different from generic or traditional brand OTCs, many of which are made with synthetic ingredients and GMOs. Moreover, our medicines are free from gluten, dairy/lactose, artificial sweeteners, nuts, and other allergens that are often used as fillers and binders in OTC medicines. Almost all of our products are also vegan, which is also unusual for medicines like this."
Packaging matters
As a certified B Corporation,Genexa is dedicated to accountability, transparency, and using business as a force for good. Because the company is committed to sustainability, all Genexa product packaging is certified BioPreferred, which means it is made of renewable biological ingredients derived from plants.
The primary package is a white plastic bottle with matching cap, decorated with a label that wraps around its waist. Details on material specifications or suppliers are considered proprietary.
Johnson explains that packaging plays an important role not only in that it is made of recycled and recyclable materials, but also in terms of package design. "We really wanted to develop packaging that reflected how safe, healthy, and effective these medicines are. Our ultimate product design aimed to combine—and successfully does combine—both elements, and the outer 'jewel box' carton holds broad appeal for all consumers, whether interested in natural and organic products or conventional OTCs," he says.
One bottle of medicine friction fits into a die-cut slot within the carton, which opens like a book. The "panel" that opens includes an extended flap fitted with a slot so that once it is reclosed it fits into a slot on the carton. The carton measures 1.875 x 2.875 x 4.3 in. The carton's multiple panels are printed with various product marketing messages, while the back panel includes drug facts, warnings, directions, and ingredients.
Genexa explains the extended panel and overall carton mechanisms are part of the specialized packaging process it developed to differentiate its line from other products on the shelf.
"The unboxing process for this kind of carton is unusual and creates a special, unique experience for the customer opening his or her medicine for the first time," says a company spokesperson. "We call it a jewel box because it opens like a jewelry box, and it also comes in a range of 11 jewel-tone colors—a different color for each of our products."
The 18-pt carton is printed offset in six PMS colors plus flood varnish by RR Donnelley. The printing helps the boxes stand out on the shelf with true and bright colors. Printing is done on a six-color 40-in. Komori press.
RR Donnelley uses a high-quality-grade paper that is Sustainable Forestry Initiative-certified. Soy-based inks are also used. Die cutting, foil stamping and embossing of the logo are completed offline on Heidelberg presses. The boxes are designed to assemble with no gluing.
Johnson says the Genexa package design was developed by "working with the most elite packaging design firm in the space, LAM Design." He adds, "Our partnership with LAM actually resulted in a 2017 American Package Design Award from Graphic Design USA for our new product line."
Genexa packages its 11 healthy medicines on a new line that includes proprietary equipment developed specifically for the company, so it did not disclose details.
Genexa's medicines for adults include those that target colds, sleep, stress relief and more. Children's medicines include those for colds, allergies, and calming. Its cold and flu medicines can be found at GNC, Bed Bath & Beyond, and Fresh Thyme Farmer's Markets, and at more than 15,000 national and regional natural food retailers, healthcare practitioner offices and pharmacies across the country. Product shelf life is three years. Genexa says it also plans to launch products soon in various international markets.
Companies in this article