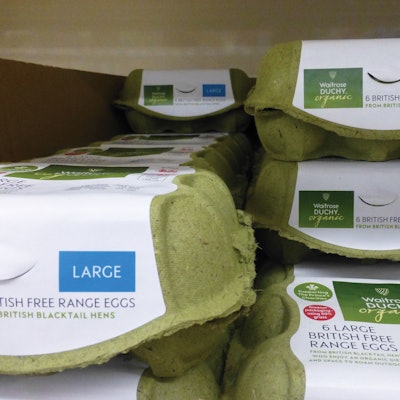 The term "circular economy" has become fundamentally important in the lexicon of business and industry. In fact we now see Europe following Japan's lead in setting a legislative framework that encourages thrift in the use of resources through processes and practices that go way beyond recycling. Leading institutions agree on the urgency to introduce new methods of manufacture and reuse within completely different business models, which necessarily will be more complex because they rely on cooperative, interconnected, local, and global networks.
As we know, the mother of invention is necessity, and pioneering work is under way to stretch Earth's limited resources by harvesting materials that endlessly regenerate and using what is normally discarded in the making of new things. Driven by need, feasible because of technology, and made desirable by inventive design and marketing, materials such as cut grass, algae, and industrial byproducts are going on second and third cyclical journeys as components in everyday things including, of course, packaging. The luxury sector can afford to take a high-tech, low-impact circular route to exquisite beauty. Rich surfaces reminiscent of tortoiseshell, horn, and exotic wood can be created from human hair set in resin. Human hair is sustainable, too, and it offers a wide array of colors.
It will take a complete overhaul in how the stuff of everyday life is designed, built, and disposed of to move the global economy towards one that is built on resource efficiency, product-use optimization, and environmental protection. That prognosis comes from the authoritative Royal Society for the Encouragement of Arts, Manufactures and Commerce (the RSA) in London, and it is based on the findings of a four-year investigation written up in a report titled "Designing for a Circular Economy: Lessons from The Great Recovery 2012-2016."
The Great Recovery project demonstrated that if we consider "value" not as a price tag on a shop shelf and instead we begin to see it in terms of second- or third-life use, recoverable material streams, and information and reverse logistics flows, we can completely change the way we design, says Sophie Thomas, Director of Circular Economy at the RSA. The project was inspired by a UK government mission to The Netherlands to study national strategies to design out the need for landfill. A Dutch ban on landfill since 1995 has led to "pioneering" work in establishing circular economy models for its cities and manufacturing and made the Dutch "trailblazers" in sorting, recovering, and managing resource flows, says Thomas.
The Netherlands is "a hotspot for alternative fiber sources," says Jori Ringman, Acting Director General of The Confederation of European Paper Industries (CEPI). This area of expertise began out of necessity due to having no forestry, which made the Dutch vulnerable if paper for recycling is in short supply. But as time has gone on, environmental realities and industrial landscapes and mindsets have rearranged business priorities in favor of developing fiber alternatives, says Ringman. "Now their [the Dutch] project has been propelled further, for the simple reason that it makes so much sense to use these other sources that otherwise would be wasted, offering lots of opportunities in a 'recycled biorefinery' approach, partnering with many other sectors. Meanwhile, the environmental concerns of very high emissions related to alternative fibres have been much resolved with new technologies."
McKinsey Center for Business and Environment with the European paper industry, the World Economic Forum, and Ellen MacArthur Foundation have produced guidelines for the supply chain on design and management for circularity. CEPI's Ringman helped draft the guidance, which contains rules on eco-design for paper products, and says: "In a circular economy, your downstream is your upstream, and what you pass on into the loop will have an impact on your own business. Purchasers make decisions based on product functionality, profitability, and environmental considerations. This document is meant to make decision-making easier when balancing these priorities."
Ringman explains that paper is usually converted with the addition of chemicals through printing inks and other auxiliary materials, and this can lead to problems in subsequent circular chains as these chemicals cannot easily be removed from the paper before re-entering the mill. Ringman thinks an already highly-optimized recycling process cannot follow the speed of the evolution of inks and toners.
The plastics industry will have big conversations about its future when the Plasticity Forum stages its 6th international conference in London at the RSA in September. This follow-up edition to one held in the spring in Shanghai aims to highlight opportunities created in a circular economy related to recycled content, resource recovery, job creation, and waste reduction.
'World first' knowledge center
A new post-graduate executive degree course titled Technology, Innovation and Management for a Circular Economy offered by Cranfield University, UK, is believed the first of its kind in the world and a move toward making "restorative" and "regenerative" business models an industrial reality. Students will focus on engineering, logistics, and environmental sciences as well as business and finance skills.
Dr Fiona Charnley, Senior Lecturer in Circular Innovation and course convenor, says: "The circular economy is widely regarded as the most dominant trend for environmentally responsible and innovative businesses. The course will help ambitious industrial professionals to accelerate this change through system-level understanding and application."
The hope is to register a mix of international participants from a variety of sectors and disciplines. "Interest has been global," says Charnley, from as far as Australia, and "we definitely want to attract students from the U.S." The two-year part-time course will be delivered mainly online and involve occasional face time at the Cranfield campus close to London. The short immersive experiences will include field visits to see examples of circular thinking from the perspective of different sectors. Students will compare how countries on different continents are addressing the issue. Those in less developed regions potentially can leapfrog more advanced ones by avoiding mistakes that were made decades ago and accessing latest technology. Cranfield wants to attract students from these nations and invite their thought leaders to support the university's teaching, adds Charnley.
For a wealth of usable knowledge at one sitting, "Circular Economy Innovation & Design" is the theme of an international conference run in November by The Center for Sustainable Design at the University for the Creative Arts in Epsom near London. This one is worth attending for anyone due to be in Europe on business around that time.
The question of what a circular economy looks like and how it relates to the local revolving of resources and the international flow of resources regularly brings together industry, national and regional agencies for waste management, and service suppliers at high-level Westminster London forums. Debates at the start of the year were against the backdrop of the COP 21 Paris Climate Conference and newly published European Commission Circular Economy package. Then, the CEO of WRAP, a UK agency on a mission to reduce waste in packaging, made the case for effective voluntary industry approaches with legislation "to sweep up the laggards." Dr Liz Goodwin saw the European Commission's intervention as important to creating "viable routes to secure a prosperous future" by 2030 potentially amounting to new jobs for an estimated 40,000 Londoners, 200,000 nationwide, rising to three million employment opportunities across Europe.
But the fear is that British plans for a circular economy will be scuttled by the vote to leave the European Union. An extraordinary Westminster forum in July, hastily convened, considered the future for proposals in the aforementioned EU circular economy strategy, and the impact on production and waste management across manufacturing in the UK. Discussions will continue in January on post-Brexit implications with, as keynote speaker, Julius Langendorff, Deputy Head of Waste Management and Secondary Materials, Directorate-General for the Environment at the European Commission. An unnamed consumer goods company is lined up to talk about new thinking for a circular supply chain and reducing microplastic usage.
Unilever's waste strategy
The circular economy is intrinsic to Unilever's waste strategy, the company's global packaging sustainability director Louis Lindenberg told a Westminster forum in January. He said the drive toward zero waste began with post-industrial waste, and today, "None of our 240 factories around the world produces any waste that goes to landfill; everything is reprocessed in some way."
Lindenberg says post-consumer waste issues concern people, planet, and policy-making. A growing population and more disposable income means a lot more consumption and competition for materials, and the cost to the environment is high. Pointing to accumulating "ocean plastics," he says: "By 2025 we're going to be looking at one ton of plastic for every three tons of fish, which is crazy." In the effort to deal with the impact, he says, "There's positive enabling legislation and there's restrictive legislation." India has published new plastic waste management rules in March ending the use of multi-layer packaging materials within two years. "Some might say that's really positive because there's nowhere for those materials to go and they are ending up in the streets, on open land, and in rivers." But there is a down-side. "The unintended consequences are that substitutes will require far more resources to provide the same protection for the products, and to take them through the value chain without having any quality issues," notes Lindenberg.
Unilever in 2013 became the first Consumer Packaged Goods company to be a global partner of the Ellen MacArthur Foundation, a circular economy champion. "We have started to explore the notion of moving from product design (product and pack) to systemic design, where we think about the whole value chain; where our materials are coming from; how they're getting put together; what's added into them; and then where they go to afterward, and how they could be reused," says Lindenberg. "We've started to explore new ways of thinking about design and are developing design principles that work with packaging that goes through homes at a rapid rate. We're not always going to have very simple, single-layer types of materials that are easy to recycle, and therefore we are also thinking about technology development to enable complex materials to be reprocessed. We are working with value chain suppliers, with universities, with small start-ups, and we've been investigating a lot of different technologies to help process those materials. We are therefore looking at design from both angles, to enable circular models to evolve."
Unilever is working from the ground up, says Lindenberg. "We have developed internal design for recyclability guidelines, and we have started training up our 700-odd engineers around the world. We've also developed design tools where we can compare our current pack on the marketplace with new proposals." Meanwhile people are working on new material technologies outside of the traditional project timelines.
"We recognize that when you really want to make a radical change," says Lindenberg, "you have to have a team that works on a 5, 7, 10-year program and works with universities, scientists, and innovators developing technologies that help us to reduce." Using this approach Unilever developed aero-technology with Alpla & MuCell, which puts bubbles into plastic blown bottles to reduce the amount of material required; also compressed aerosol technology, which led to "a large reduction of materials, storage, and distribution," says Lindenberg.
In developing and emerging countries Unilever is lobbying with governments and working on collection and sorting schemes and new technologies for progressive change in waste management. Other recycling and recovery projects are supported by environmental companies and cooperatives set up for the purpose: one in Brazil and the Unilever Foundation waste bank scheme in Indonesia are but two examples.
Transition tools
Cosmetics and personal care, like all retail sectors, is feeling the growing pressure on global brands to reduce the negative impact of packaging production and use. Approaches to eco-design, how changes in packaging materials affect the overall environmental footprint, bio-plastics options, and closing packaging loops are topics for discussion at industry conferences in Latin-America, Europe, and the Asia Pacific.
Lush handmade beauty and cosmetics, a US$600 (£450m) turnover global business based in the UK, is producing a lip tint with a casing made from 100% post consumer recycled polypropylene (pcr PP). It was hailed a breakthrough in 2015 due to the complex nature of the application.
"The twist, wind up, and down mechanism is fragile and presents challenges for both the material and manufacturing process," explains Gabbi Loedolff, senior buyer at Lush.
Initially, for technical reasons, Lush was using a material converter based in the UK and sending the source recycled resin to the U.S. for manufacture into the final product. A local source of pelletised pcr material in the U.S. has since been found to work successfully with the tooling of the U.S. manufacturer. The lip tint packaging is then sent to markets around the world.
Shipping long distances wastes time, energy, and human effort, and therefore it's to be avoided whenever possible in a circular economy business model. Independent packaging management consultancy James Ross Consulting Inc., of Princeton, New Jersey, works with clients across the USA on identifying areas of unnecessary waste and improving the overall performance of packaging, packaging processes, and company assets. Among the targets is to minimize the requirement for transport and production energy, make material economies, and optimize the finished product for its downstream journey, thus reducing the level of embedded carbon.
"We use a new generation of web-based, data-driven tools that focus on mapping constraints and cost impact points across the total packaging supply chain, from the product development process through to delivery on shelf," explains company director Ross Collins. "Tools focus on direct cost, sustainability impact (a CO2 equivalent value) and process capability mapping. This enables a client to navigate to the most effective solution based on actual need. We believe transitioning to a circular economy has to be driven by hard data, and our approach provides a better understanding of complex supply chains and the means to identify how business assets and effort can be more effectively used and re-used."
Data tools have been developed for analyzing the outbound supply chain and to take into account specific performance needs of packaged goods. The system recognizes constraints and requirements of production plant, distribution centers, route to market, and a customer's inbound and merchandising needs. Information is fed back into the new product development (NPD) process to help clients design packaging optimized for a specific supply chain.
"Our software platforms allow clients to work collaboratively," says Collins. "Project teams can see the data and the values whether they are in marketing or finance or R&D or out in the plant, so decision making becomes clear and easier. This is a logical approach because it informs decisions at the R&D, new product, and package development stages. Why would you develop a pack that you now can show is inefficient--unless there is a compelling marketing reason for doing so?
"By closely mapping actual performance need and by using data to create links across internal business functions, we have made direct cost and impact more transparent, supporting cross functional decision making. The logic behind this level of integrated or circular thinking has worked for clients both in the U.S. and elsewhere, generating millions of dollars in direct supply chain savings, as well as significant and measurable sustainability benefits, including CO2e reductions, using fewer trucks, and generating less waste to deliver product to the point of need."
Naturally fits the mold
Naturally-based packaging aims to mirror the circularity of nature and fits neatly into the circular economy mold.
"Nearly as natural as the eggs inside" is the strap-line for food packaging specialist Huhtamaki's new molded fiber egg carton, which is partly made from grass and marketed under the name GreeNest. Initially produced on a limited scale at the company's technical center in The Netherlands, Packaging World understands that by the end of the year manufacturing will be possible on a bigger scale. The grass fibre is recovered from nature reserves, so livestock is not deprived of feed and the grass has not been fertilized or treated. Using grass relieves pressure on forest production and cuts water use by half, claims Huhtamaki.
Favini, an Italian paper company, is harvesting damaging algae from the environmentally sensitive lagoon of Venice to use as a fiber source. This concept has been extended to protect other fragile marine areas, says Favini, also a pioneer user of tomato peels from the nearby agri-food industries.
Plastique is a company offering various recyclable and compostable packaging material options, including bamboo and sugar cane, as alternatives to plastics in clamshell inserts. Gillette Fusion branded men's razors nestle in Fibrepak thin-walled thermoformed packaging produced by cure-in-the-mold technology. Material sourced from sustainable virgin crop can be coloured and blended using food-safe pigment dyes for a variety of finishes. The Plastique Group based in the southeast of England was acquired in January by St. Louis-based ESCO Technologies.
Anyone fired up to make their production processes and products circular-ready have easy access to know-how on embedding new approaches within their business; tools, technologies, and inspiring examples of invention are all to hand. If at first the mountain seems too high to climb, it's better to make a start than risk the very survival of a company, or worse, see an entire packaging sector go to the wall.