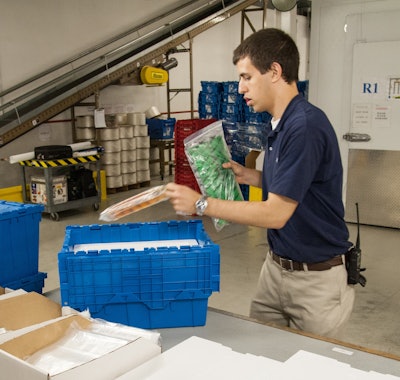 Cardinal Health, Inc., a global integrated healthcare services and products company, was recognized by the Reusable Packaging Assn. (RPA) for its holistic, innovative approach to ensuring the safe, efficient, and sustainable delivery of refrigerated pharmaceuticals
In early October, RPA announced Cardinal Health as the winner of the 2016 Excellence in Reusable Packaging award. "We were impressed with the innovation reflected in all of the entries we received this year," said Tim Debus, President & CEO of the RPA. "However, Cardinal Health's holistic approach and the significant business and environmental results they achieved made their submission stand out. In fact, our judges cited the impressive impact demonstrated in multiple areas, including material safety, material reuse, ergonomics, fuel/emissions, and cost savings as key factors in their selection."
Cardinal Health delivers refrigerated pharmaceuticals to more than 24,000 retail chain and independent pharmacies every day. Faced with $4 million in temperature-related product spoilage annually and the excessive cost and waste of single-use shipping materials, they needed cost-effective packaging solutions that could maintain product within narrow temperature levels and reduce their overall environmental impact. They partnered with Sonoco ThermoSafe to create innovative end-to-end solutions.
Reusable plastic totes with replaceable molded expanded polystyrene (EPS) liners were already the Cardinal Health standard. The water-based coolant gel-packs within the totes however were replaced with plant-based PureTemp® phase-change materials to improve temperature control.
Also developed was a custom-designed, ergonomically friendly, reusable bulk pallet shipper that allows both refrigerated and controlled room temperature product to ship on the same truck. This allows Cardinal to avoid the expense of multiple vehicle shipments or moveable bulkheads to create separate temperature environments.
The bottom line: product spoilage was reduced by 90%, the phase-change coolant packs are used an average of 87 times each, and the bulk shippers are used an average of 192 times and counting.
Today, Cardinal Health ships $18 billion in refrigerated pharmaceuticals in 6.5 million reusable totes per year, while saving $5.6 million and avoiding $9.3 million in additional cost.
"We have worked very hard across our network to reduce packaging waste through the use of sustainable, reusable packing components that protect costly refrigerated pharmaceuticals," said Chris Anderson, Director of Quality Systems for Cardinal Health. "High-quality, qualified, durable, reusable, and sustainable packaging is a must to protect the product while remaining operationally effective.
"Additionally, reusable packaging reduces the waste that our customers are left to dispose of as well as saves landfill space. While we have been recognized for innovative solutions to maintain temperature and prevent product spoilage, it is also gratifying to be recognized for the sustainability benefits of our approach."
Cardinal Health will give a presentation on their award-winning entry at the RPA Reusable Packaging Learning Center at Pack Expo International in Chicago on November 8, 2016.
Watch a Cardinal Health refrigerated packaging overview video here.
Companies in this article