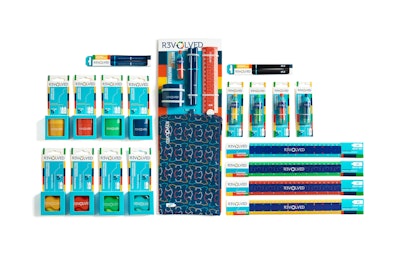 With back-to-school shopping well underway, Canadians have a new opportunity to be part of a movement to choose recycled and help divert pollution from landfills. Driven by a mission to make sustainable choices accessible to the average consumer, Canadian moms Jacquelyn Cyr and Suzanne Dyment founded R3VOLVED, a line of affordable and colorful school and office supplies made from recovered waste and available exclusively at Walmart.
R3VOLVED uses 100% recycled materials to make its products, packaging, and point-of-sale materials. Featuring lineup of supplies, including sharpeners, erasers, pencil cases, rulers, and writing instruments, R3VOLVED products are designed with unique icons on the product and packaging that detail the recovered materials going into each item.
Globally, more than 6,000 plastic bottles are manufactured every second of every day (according to Arnold, Emily, and Janet Larsen. "Bottled Water: Pouring Resources Down the Drain." Feb. 2, 2006 © Earth Policy Institute), while less than 10% of plastics are reclaimed (Wastes - Resource Conservation - Common Wastes & Materials. "Plastics." EPA.gov. Access Date: August 7. 2015). If people aren't buying recycled products, the global pollution problem will continue to threaten the planet, says R3VOLVED. While many environmentally preferable products can come with price points that are substantially more than those of traditional products, through its partnership with Walmart, R3VOLVED is making greener alternatives more accessible and affordable to consumers.
"If you can make environmentally preferable products accessible and appealing to the average person, you're going to have a serious impact on the planet," said co-founder Jacquelyn Cyr. "We are thrilled to have launched R3VOLVED through a partnership with Walmart, given its commitment to sustainability. With our great prices and bright, playful designs, we are inviting Canadians to choose recycled every day!"
According to R3VOLVED, during the back-to-school season, the company and Canadian families will:
Divert 300,000+ plastic bottles from landfills, incinerators or the ocean; the equivalent of over 25,000 cases of water
Conserve 63.7 L of water; enough to fuel the average person for 34 days
Avoid 8.2MT CO2 emissions; the equivalent of taking 1.7 cars off the road
R3VOLVED products are available at select Walmart stores across Canada and at R3VOLVED.com.