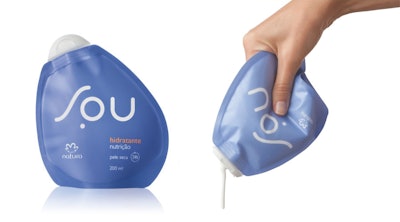 Packaging plays a key role in the cost advantage. All products are presented in 6.7oz. stand-up pouches with a teardrop shape, sealed with a flip-top cap. According to the company, the flexible packs require 70% less plastic than rigid plastic containers of the same volume. It does not only make the pouches more affordable; it also makes them more eco-friendly. "The goal was to create a line of products with low environmental impact and low cost," explains José Vicente Marino, Executive Vice President of Natura. "With Sou, consumers receive only the essential."

Based on a lamination of PET, nylon, and polyethylene, the pouches are produced on two form/fill/seal machines from Volpak. The packaging material is supplied by Dixie Toga, a Brazilian subsidiary of Bemis Corp. The process provides savings in transportation, notes Natura's innovation and sustainability manager Pamela Maiuolo. "A roll with 1,000 pouches occupies the same truck space as 28 empty bottles," she explains. In the accounts of the company, this means a 60% reduction in carbon dioxide emissions.

From the point of view of the consumer, the stand-up pouches are "allies against waste," says Marino. "They are small and practical, allowing extraction of contents to the last drop." Marino believes the new products will reach both people who are already loyal to the brand and new users who were unable due to buy the product in the past due to budget restraints.
To lower costs, formulae are simplified. Mineral and animal fats have been replaced by up to 80% vegetable components, and no color pigments are added to the products. "We reduced the number of ingredients for the sake of reducing logistics costs," says Marino. "But the main reduction was in the cost of packaging."
Natura's move with Sou is noteworthy because no other major company in the Brazilian personal care market uses stand-up pouches as the main presentation for products. "Flexible packaging is normally used as refill packets for rigid containers, not as primary packaging," Maiuolo observes. Other important aspect is that few Brazilian products are packaged in stand-up pouches with peculiar shapes.

Wielded as the company's main launch for 2013, Sou will comprise 27 products, ranging from liquid soap and moisturizing creams to shampoos and hair conditioner. All containers have the same size and shape, differing only by the color and the text. Created by the agencies Questo Nó and Tátil, the brand and packaging design includes a play on the words: When the package is turned upside down to dispense the product, the brand Sou ("I am," translated into English) becomes Nós ("We").
Source: EmbalagemMarca magazine, Brazil (www.embalagemmarca.com.br). All rights reserved.

Companies in this article