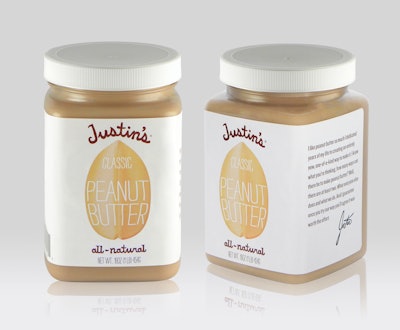 Gold's organic nut butter has been featured on Good Morning America as the star among 180,000 entries at New York's Fancy Foods Show, on Fox Business News for the product's economic success, as well as in Oprah and Men's Health magazines for its nutritional value.
With the help of TricorBraun, one of North America's largest providers of jars, bottles, and other rigid packaging components, Justin's nut butters have been re-launched in jars made with post-consumer PET, complying with Gold's commitment to reducing his firm's environmental footprint.
"Justin's, a leader in the natural products industry, will be the first company to use 100% post-consumer resin for nut butters," says Gold. "I feel that we have an obligation to be the best stewards of our natural environment as we can by delivering a high-quality product both inside and out. Switching to PCR plastic for our jars is a great step forward for us.
Justin's was founded in Boulder, Colo. in 2002, and the company now produces eight nut butter varieties: Classic Peanut, Honey Peanut, Chocolate Peanut, Classic Almond, Honey Almond, Maple Almond, Chocolate Almond and Chocolate Hazelnut in addition to Justin's Peanut Butter Cups in both dark chocolate and milk chocolate varieties.
Companies in this article