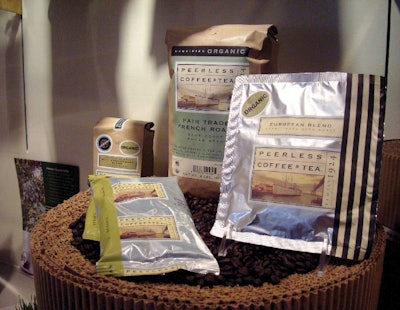 Yet, it still maintains visually striking packaging for its products.
The company provides custom coffee roasting, blending, and packaging services for both retail and foodservice environments, producing its own brand varieties, as well as private-label and contract-packaged products.
Through consultation and grant money from StopWaste.org—the group comprises the Alameda County Waste Management Authority and the Alameda County Source Reduction and Recycling Board—Peerless switched from a vacuum brick-pack machine for its custom-roasted coffee varieties to a vertical form/fill/seal machine.
"We focused on our biggest packaging issue, which was film waste," recalls George J. Vukasin Jr., Peerless Executive Vice President. "We've now transferred almost everything over to the new machine, which allows us to set up jobs much more quickly and easily, resulting in a lot less film waste."
Peerless was founded in 1924, and 75% of the company's business is in California, which enables Peerless to easily service and supply the coffee and equipment it provides to local restaurants, cafes, and hotels. Located at the site of its 70,000-sq-ft production facility is a retail store, which Vukasin says over the years has turned into a laboratory of sorts, allowing Peerless to experiment with new coffee blends and varieties. Vukasin estimates that the store is responsible for 1% to 2% of all whole-bean coffee sales in the Bay Area.
One requirement for the new equipment was energy efficiency, and in the process of reaching that objective, Peerless achieved the sleek package that is seen on shelves today. Peerless opted for a machine that produces a side-gusset package using
Fres-Co System USA Inc.
's Corner Seal® technology. It eliminates the traditional back seal on the pack and provides rigid corners that frame the package graphics.
"Not only does the machine cut down on waste," says Vukasin, "but it also produces a better-looking package. It's a win-win."