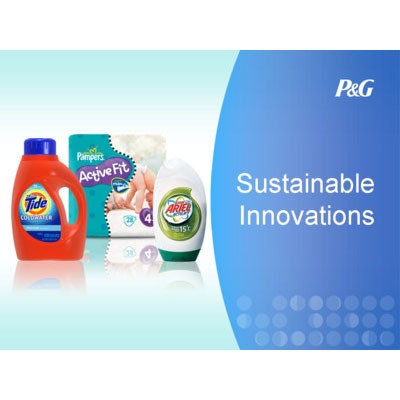 The Procter & Gamble Company has accelerated its commitment to sustainability by unveiling a long-term environmental sustainability vision. As part of P&G's strategy to grow responsibly, the company will work toward a long-term environmental sustainability vision that includes:
• Powering its plants with 100% renewable energy
• Using 100% renewable or recycled materials for all products and packaging
• Having zero consumer and manufacturing waste go to landfills
• Designing products that delight consumers while maximizing the conservation of resources
During an online event this morning, Bob McDonald, P&G chairman of the board, president, and CEO, told attendees that P&G is committed to growing its consumer base by 1 billion people in the next five years, from its current base of 4 billion. "But we must reach and serve these consumers responsibly," he said. "It does us no good to grow our business today at the expense of tomorrow." The new vision announced today provides P&G with a long-term framework to guide all sustainability decisions and goal setting within the organization.
To enable the company to track progress against its long-term sustainability vision, P&G will implement a series of 10-year sustainability goals. As this vision will take decades to achieve, these near-term goals will be used to focus company efforts, incrementally improve the organization's environmental performance, and hold P&G accountable against its stated, long-term sustainability vision. The first set of 10-year sustainability goals will be delivered by 2020 (see charts). These sustainability goals are in addition to the company's existing 2012 goals. As with its current practice, P&G will report progress against these goals on an annual basis, related Len Sauers, P&G vice president of global sustainability.
Carter Roberts, CEO and president of World Wildlife Fund U.S.joined the Webcast to articulate WWF's involvement. "P&G's commitment to sustainability can have a major influence on transforming the marketplace, and we are pleased to have worked with them on their new sustainability vision," he said. "By engaging with major companies like P&G, we can have broad and lasting impact on our conservation objectives. We look forward to continuing our work with P&G to achieve goals around renewable materials, packaging, forestry, energy, and water, and to support WWF's on-the-ground conservation projects."
Said Sauers, "We recognize our impact as a global company and accept our responsibility for continual improvement. By implementing this new vision, P&G is trying to help solve some of the key sustainability challenges the business community will face over the coming decades. "
I am convinced that innovation can uncover solutions to the major sustainability issues facing us—challenges like waste, emissions, and water use. Innovation and external partnerships are key components of a successful sustainability program. No one company can do it alone. It is important for companies to collaborate with external partners to tackle important topics that impact both our world and our businesses."