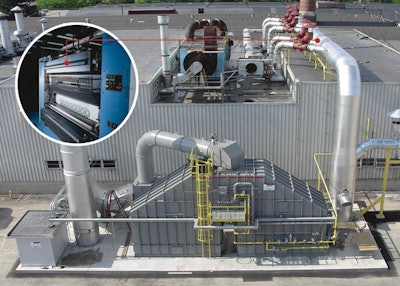 A leading manufacturer and printer of decorated metal and plastic containers, J.L. Clark (www.jlclark.com), Rockford, IL, has earned a Clean Manufacturing Award for its efforts on multiple environmental fronts.
The company installed a regenerative thermal oxidizer (RTO) with a 99%-plus volatile organic compound destruction rate to slash release of VOCs into the atmosphere during the container printing process. J.L. Clark also has reduced naphthalene (a substance under intensified scrutiny by the Environmental Protection Agency) usage in container coatings, and is now using 50% recycled versus virgin solvents.
Furthermore, J.L. Clark has light-weighted its containers and has converted from truck transport to railcar transport—reducing fuel usage by about 20% per year and greenhouse gas emissions by about 83 tons per year. And all the company's water-cooled air compressors and decorating-process water filters are on a closed-loop system that reclaims, cleans, and reuses the water—cutting water usage by more than 8 million gallons per year.
In conjunction with these proactive environmental steps, J.L. Clark also has undertaken a program to heighten employee awareness about the economical and ecological importance of maximizing the recycling of the plant's packaging scrap materials. Under this program, J.L. Clark documents that it was able to divert 145 tons of waste from landfills in one year.

See other
Greener Package Award winners
Companies in this article