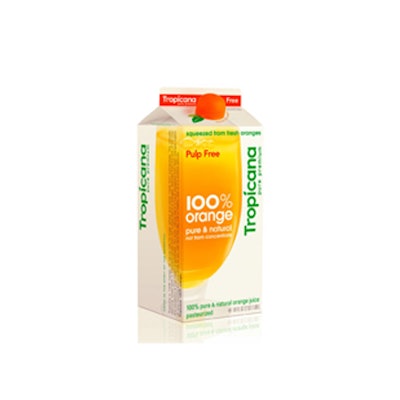 PepsiCo's Tropicana Pure Premium Orange Juice is the first consumer brand in North America to be independently certified by the Carbon Trust (www.carbontrust.co.uk). In late January, PepsiCo announced that it had formed a partnership with the Carbon Trust, a U.K. government-backed independent organization established to address climate change, to certify the carbon footprint of several of its products, beginning with the Tropicana brand.
"We are thrilled that PepsiCo has stepped forward as the first company to apply our rigorous standard in North America and that the company is committed to taking steps to reduce the carbon footprint of its products," says Tom Delay, chief executive of the Carbon Trust. "Everything we do or buy has a carbon impact, and establishing a globally recognized method of measurement is an important step in tackling climate change. PepsiCo is leading the way, and we hope that some of the other companies we are working with in the U.S. will soon follow its example."
Working with The Earth Institute at Columbia University (www.earthinstitute.columbia.edu), PepsiCo calculated the life-cycle carbon footprint of its 64-oz container of Tropicana using the Publicly Available Specification (PAS) 2050 guidelines. Certification of that footprint by the Carbon Trust gives PepsiCo a verifiable benchmark against which it can measure its greenhouse gas-reduction progress going forward.
Says Indra K. Nooyi, chairman and chief executive of PepsiCo, "PepsiCo's partnership with the Carbon Trust is a significant step in our environmental sustainability journey. As part of our company-wide 'Performance with Purpose' initiative, we are committed to reducing our overall environmental impact. Understanding what contributes to the carbon footprint of our products is critical both to achieving our sustainability commitments and to driving efficiency gains across our global business."
1.7 kilograms of carbon
The Carbon Trust conducted an extensive, independent review of scientific life-cycle data and certified the carbon footprint of a standard 64-oz carton of Tropicana orange juice by:
• Mapping the product life cycle, from growing and squeezing the oranges and getting the container on the shelves, to finally disposing of or recycling the packaging.
• Looking at the energy consumption directly involved in each of these stages of the life cycle, and converting this into equivalent carbon dioxide (CO2) emissions.
• Adding the equivalent CO2 emissions from each stage to estimate the total product greenhouse gas footprint of the product.
Using this process, the estimated carbon footprint for the 64-oz carton of Tropicana is 1.7 kilograms.
Tropicana determined that agricultural and manufacturing-related impacts account for approximately 60% of the carbon footprint of its orange juice. This impact is mostly a result of grove management and the energy required to process oranges. Transportation and distribution account for another 2%, packaging accounts for 15%, and consumer use and disposal accounts for the remaining 3%.
"Tropicana will use these findings to further prioritize our efforts to reduce our overall carbon footprint," says Neil Campbell, president of Tropicana Products North America. "We will build on our already robust sustainability initiatives to further reduce our carbon footprint in the coming years. Tropicana's initiatives to date include developing a comprehensive resource conservation program for all plants in North America, buying and using greenhouse gas-neutral energy sources where available, and training suppliers to join in emissions-reducing initiatives."
Companies in this article